<! Main body of page >

Call Center Provider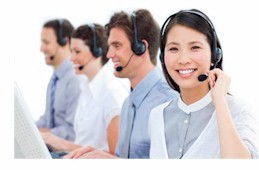 Database Systems Corp. develops the technology and products that can improve the productivity of a call center or help desk contact center. Our call center phone system and telemarketing software can streamline your operation while providing controls and consistency in a live answering service center.

Contact DSC to learn more about these call center products and technology.

The following organization provides call center operations and outsourcing services. Information presented on this page was provided by the company or found on the company's website. Database Systems Corp. does not endorse the company's products and services nor warrant the accuracy of this information. For current information, please visit the company's website listed below.


---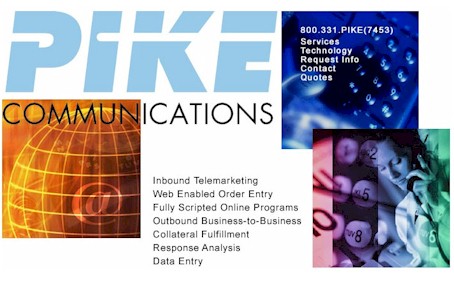 Pike Communications
Pike Communications a full service 24/7 Massachusetts Call Center, was incorporated in 1980 with a mission to offer quality inbound telemarketing, catalog sales and mail order services.

Today, we provide inbound telemarketing, outbound telemarketing, web-based order entry and Call Center outsourcing solutions for national and international companies, including catalogs, e-commerce, consumer and service accounts, business-to-business accounts and our state's Travel & Tourism Authority.

Some of our inbound telemarketing clients have been with us for over 20 years. For all of these companies, we are their Telemarketing Partner, 24 hours a day, 7 days a week.


---
Company Profile Information
Organization:



Pike Communications
100 Cummings Center
Suite 250E
Beverly, MA 01915-6118


Telephone: 1.800.331.PIKE (7453)

Website: www.pikecommunications.com

Contact: info@pikecommunications.com
Additional Company Information
PIKE Services
Business by telephone and the Internet is increasing dramatically in all industry sectors. Outsourcing Telemarketing and Call Center services to skilled professionals 24/7/365, allows your staff to concentrate on your company's core business.

Pike Communications is committed to becoming an integral part of our clients' business and support their telemarketing, e-commerce and customer service efforts with services that include:
Inbound Telemarketing/Outbound Telemarketing
Catalog sales
Catalog support services
Literature requests
Web-enabled order entry
Custom scripted programs
Single item sales
Direct response
Data entry and processing
Mail orders
Collateral fulfillment
Customer service
Web-based customer callback
Lead generation
Product information
Dealer location
Credit card processing
Database management
Customized reporting and analysis
Marketing consultation
Custom services to fit your needs. . .
---
Advanced Call Center Technology
Imagine having a call center with ALL of your call center agents talking ONLY with interested prospects. With technology from Database Systems Corp. this type of advanced call center is now a reality. By letting your advanced phone system do more work and qualification of your prospects, your call center service representatives can spend more productive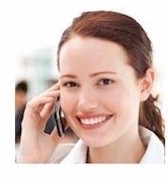 time selling and promoting rather than just trying to keep a prospect on the line.

Prospects can now be called and introduced with a consistent, professional message. Your call introduction will be a clear, concise message that YOU want to present.

Fewer agents can now process far more calls in this new call center. You can hire call center agents that can work from your center or from home. Recruiting telemarketers into this environment is much easier.

Call centers can become as much as 10 times more productive using this smart and professional marketing approach.

Phone campaigns that took days or weeks to perform can now be accomplished in just hours!

Contact DSC to learn more about this advanced call center technology.