IVR Outsourcing
Telecommuting Software
Window On the Web
Call Recording / Voice Logging
Predictive Dialer
Softphone
CRM Software - Customer Relationship Management
Telephony Software


Automated Phone Surveys
B2B Software Business To Business
Church Events Announcements
School Alert Reminders
Business Phone Systems
Debt Collection Predictive Dialers
Human Resources Software
Financial Services Marketing
Mortgage Software
Mortgage Calculator
Mortgage Leads
Call Centers
Marketing Leads
Real Estate Leads
Insurance Lead Providers
Fund Raising By Phone
Insurance Marketing
Political Activism
Call Congress / Roll Call Phone Dialer
Store Locator Phone Service
Mortgage Marketing
Political Call System
Political Activism
Real Estate Marketing
Real Estate Listings
Reminder System


Tuesday August 10, 10:00 am Eastern Time
SOURCE: Database Systems Corp.


Medtronic Selects EasyIVR Call Center For Automated Employee Training
PHOENIX, August 10, 2005 – Database Systems Corp. is pleased to announce that Medtronic has selected EasyIVR as the hosting center for its automated employee training and testing program. Medtronic employees call an 800 number which is answered at the EasyIVR call center using its award winning Interactive Voice Response (IVR) systems and software. Callers enter an employee identification number on the phone keypad and listen to the current week's medical process or procedure. The employee then answers several questions to ensure that the training and information is properly understood. All of this procedure is performed automatically over the phone using touch phone key responses.

Medtronic is the world leader in medical technology providing lifelong solutions for people with chronic disease. Medtronic offers products, therapies and services that enhance or extend the lives of millions of people. Each year, 5 million patients benefit from Medtronic's technology which is used to treat conditions such as diabetes, heart disease, neurological disorders, and vascular illnesses.

Database Systems Corp. developed a training script from the design presented to it by Medtronic. Medtronic provides a unique new script each week and its employees are required to participate in this automated training for several months. Employees may select archived training scripts from prior weeks to ensure the entire training program has been successfully completed.

Training results from each participant are accumulated and automatically transmitted to Medtronic from the Database Systems Corp. IVR Call Center.

EasyIVR is the IVR and voice broadcasting service division of Database Systems Corp. For further information about these services, visit the EasyIVR website at www.easyivr.com.

About Database Systems Corp.

Database Systems Corp. (DSC) is headquartered in Phoenix, Arizona. DSC was founded in 1978 and provides call center technology to contact centers throughout the country. Primarily a software company, Database has also developed its own PC based phone systems (PACER and WIZARD) for use in small to medium call centers. These contact center phone systems include predictive dialing, automatic call distribution, interactive voice response, and call recording features. Database has also developed a complete CRM software application toolkit (TELEMATION) as well as CTI software systems. DSC products run on most UNIX systems including IBM, SUN, HP, and LINUX, as well as WINDOWS based servers.


---
Human Resource (HRD) Software and Phone Services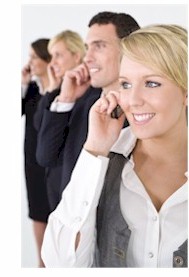 Database Systems Corp. provides an intelligent phone system that can greatly improve the productivity of any Human Resources department. Inbound calls can be processed efficiently, greatly improving the quality and quantity of service that is provided to your employees. Basic information dissemination is an easy function of a well designed system that expands the service provided by your department without additional people. Employee data can be extracted from your personnel databases and provided to your employees without human intervention.

Employees can use this system for inbound call processing to obtain directory information or company event information. Absentee related information can be recorded by our phone system, allowing employees to call and notify your company why they will not be at work.

Contact DSC today and let us show you how we can tailor a human resources phone campaign to meet your requirements, whether performed at our call center or yours. To view how other businesses and organizations are using this phone application, please visit our Human Resources Software Applications web page.
Inbound HRD Answering System Features
Our automated HRD phone software and system provides you with a highly customizable solution for your HRD application needs. Our staff can develop your HRD phone applications quickly and at an affordable price. If you wish to develop these programs yourself, we provide the training and tools to accomplish this. Here are just a few of the features that make our HRD phone software stand out from the rest.
Unlimited Phone Questions & Responses
Unlimited Phone Menu Branching
Text To Voice Data Question Insertion
Randomized Questions
Unlimited Recorded Digit Responses
Unlimited Recorded Voice Responses
Customized Summary Reports
Question Time-out Feature
Transfer Caller To a Live Representative