Automatic Call Distribution
Predictive Dialer
Business Phone Systems
Office Phone Systems
VOIP Service
Internet Phone Service
IP Phone Service
Phone Software
Softphone IVR System
Computer Phone Software
Web Phone Software
Softphone Phone System
Computer Telephony Solution
Text To Speech Demo
Text To Voice Software

Information
Computer Telephony Integration
CTI Software
ACD and CTI
Linux CTI Solutions
CRM and CTI
Linux IVR Software
Linux Computer Telephony
CTI IVR Solutions
CTI and DNIS Applications
ANI and CTI development
CTI Telephony Products
Phone Software
CTI Telephony Vendors
Text To Voice Software
Text To Speech
Computer Telephony Software
CTI Programming
Softphone Systems
Telephony Software
Computer Phone System
Text To Voice
CTI Applications
Softphone Software
Telephone Software
CTI Middleware



<! ************** MAIN BODY ************************************************>

DSC Tech Library



Computer Telephony Integration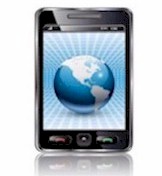 This section of our technical library presents information and documentation relating to CTI Computer Telephony Integration software and products. Computer Telephony Integration CTI software is a rich set of phone software library routines that enable application programs to control your phone system. This comprehensive CTI software lets you increase employee productivity, enhance customer service and reduce costs by combining the capabilities of our PACER phone system with the custom functionality of your Windows, Unix or Web applications. Data collected by your phone ACD (Automatic Call Distribution) or IVR (Interactive Voice Response) systems can be passed to your existing PC, Unix or Web applications through our phone software. The PACER predictive dialer can automatically call your customers and pass only connected calls to your agents. With our computer telephony software, your telephone and computer work together to provide cost-saving benefits.


Computer Telephony for the Enterprise
Page 8
By Michael Sampson


FAX SERVERS
Fax servers represent the final application area for discussion in this chapter. For many organizations, fax traffic is a large but hidden cost. One Pitney Bowes research study suggested that fax makes up 40 percent of long-distance telephony charges--and, because of the shared nature of the fax machine, it is very difficult to trace usage back to an individual. Imagine being identified as the person who helped cut fax costs in half through simple management initiatives! An architectured fax server implementation permits such manageability through three initiatives: by being able to track originating faxes to an individual; by migrating fax traffic from the switched carrier network to either your internal WAN backbone, a dedicated fax network or the internet; and finally by using least-cost routing algorithms and delivery services. For end users, a fax server implementation simplifies outbound fax tasks by allowing direct faxing from a de sktop productivity application, cutting out the wasted time involved in the printing-signing-dialing-waiting process for paper faxing.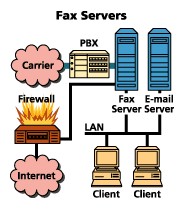 Implementing a fax server requires a new server with the appropriate number of fax ports (see below), a connection into the Internet and/or the carrier network for off-premises fax delivery, and client software for each end user.

Working towards the implementation of a fax server infrastructure requires consideration of three major issues:
Messaging infrastructure integration: Does the proposed solution integrate with your existing messaging infrastructure and associated client applications? How seamless is the visual process for sending a document to a mixed distribution list composed of both e-mail addresses and fax numbers? How much end-user tinkering is involved or is the entire process hidden as a network service?


Inbound routing options: What options are supported for the automatic routing of inbound faxes? This is the key weak spot of the current generation of fax server solutions. The easiest and most seamless alternative involves assigning a direct dial fax number to every user, but it is also one of the most expensive (needless to say that your local telephone carrier won't complain when you sign up for 10,000 DDI numbers!).


Fax port sizing: The fax server implementation must be sized with the right number of fax ports based on the composition of your user base and their inbound/outbound fax traffic profile. Forget organizational politics--this task calls for some serious collaboration between the MIS and telecom groups. The ultimate fax port scalability of your fax server needs careful consideration at this point also.
The two leading contenders in the fax server space are RightFax (a subsidiary of Applied Voice Technology) with its award-winning RightFax Enterprise line of fax server software, and Omtool with the award-winning FaxSr. product. The RightFax p roduct is available in different configurations based on the size of the deploying organization, and the RightFax Web Client server module allows for Web browser access to the fax message store. FaxSr. is also a top-notch product, given its multiplatform support (NT, Unix and VMS), wide modem capabilities, and its tight integration with e-mail systems.

Finally, prepare for the near-term future with an eye towards fax over IP networks. Both the IETF and the ITU-T have working groups working way on standards for IP fax, and most fax vendors are actively promoting their fax over IP solutions. If your company is standardizing on IP for data networking, why not include fax in the mix and get the benefits of a single network backbone for all internal traffic?
Deployment Issues
While the above sections on leading applications have included specific deployment advice, this section looks at some of the general deployment issues involved in the computer telephony area. Four issues are covered in more depth--integration with administration systems, deployment methods, organizational politics and the single network. One overarching comment is this: whatever your professional and educational background, don't throw away the tried and true principles of systems analysis, design and implementation; though the available technology continues to mature and change, the systems principles remain very valid.

A key factor for consideration in the analysis phase of any computer telephony project is the carefully planned product features that reduce life-cycle administration time (and, therefore, cost). These features derive their origin either from direct vendor development, or a third-party developer. For example, Novell shops running NDS should look for products that integrate with the user- and administration-information contained therein, either via proprietary links or the LDAP. As mentioned above, the CallWare voice mail product from CallWare Technologies has i ntegration with NDS as a feature, as does Octel Unified Messenger with the NT Directory Services for Exchange Server integration. If your organization has standardized on an enterprisewide network management tool, ensure there is integration with the new stuff. One thing that always impressed me with the Hewlett-Packard Co. OpenMail e-mail system was its integration with HP OpenView for management. Knowing before the event that the product with the highest upfront cost has the lowest total cost of ownership given its ability to integrate with all your existing systems will probably have significant bearing on your final product decision! <! *************** END OF MAIN *******************************************>


---
Page [1] [2] [3] [4] [5] [6] [7] [8] [9] Next
---