Automatic Call Distribution
Predictive Dialer
Business Phone Systems
Office Phone Systems
VOIP Service
Internet Phone Service
IP Phone Service
Phone Software
Softphone IVR System
Computer Phone Software
Web Phone Software
Softphone Phone System
Computer Telephony Solution
Text To Speech Demo
Text To Voice Software

Information
Computer Telephony Integration
CTI Software
ACD and CTI
Linux CTI Solutions
CRM and CTI
Linux IVR Software
Linux Computer Telephony
CTI IVR Solutions
CTI and DNIS Applications
ANI and CTI development
CTI Telephony Products
Phone Software
CTI Telephony Vendors
Text To Voice Software
Text To Speech
Computer Telephony Software
CTI Programming
Softphone Systems
Telephony Software
Computer Phone System
Text To Voice
CTI Applications
Softphone Software
Telephone Software
CTI Middleware



<! ************** MAIN BODY ************************************************>

DSC Tech Library



Computer Telephony Integration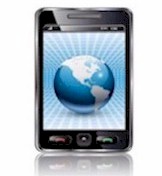 This section of our technical library presents information and documentation relating to CTI Computer Telephony Integration software and products. Computer Telephony Integration CTI software is a rich set of phone software library routines that enable application programs to control your phone system. This comprehensive CTI software lets you increase employee productivity, enhance customer service and reduce costs by combining the capabilities of our PACER phone system with the custom functionality of your Windows, Unix or Web applications. Data collected by your phone ACD (Automatic Call Distribution) or IVR (Interactive Voice Response) systems can be passed to your existing PC, Unix or Web applications through our phone software. The PACER predictive dialer can automatically call your customers and pass only connected calls to your agents. With our computer telephony software, your telephone and computer work together to provide cost-saving benefits.


Computer Telephony for the Enterprise
Page 2
By Michael Sampson

The second major difference between telephony and data is the respective intelligence of the end terminals. With telephony the normal terminal is a device with 12 keys, a microphone, a speaker, and if you're very lucky, a numeric single line display. The telephone is a remote extension of a telephony switch, a device which holds the intelligence for call routing and management. In the data world, over 90 percent of corporate end users have a Microsoft Windows-based personal computer, which has more intelligence and power than most people know how to use. The majority of tasks are carried out using a full alphanumeric keyboard, a graphically portrayed interface, and links to multiple network services. Computer telephony, as outlined in this chapter, is an example of moving the intelligence from the telephony server out to the end devices, while simultaneously harnessing the power of these devices for the communication task at hand.

The switching of a telephony call is handled by the t elephony switch, a special purpose computer. When an organization wants to build their own internal telephony network, they will purchase a PBX switch (combination hardware-software solution), or PBX, and deploy telephone devices throughout the physical building linked back to the PBX via cabling. The PBX provides the technology infrastructure for one person attached to the PBX to call someone else attached to the same PBX. Think of it as a telephone server that provides a telephony LAN. Just like the data world, multiple PBXs can be linked within an organization, using either internal infrastructure or leased infrastructure from a carrier. The rental or leasing of lines from a carrier provides a physical cable connection from a PBX to one of the carrier's switches (called a central office or CO switch). The carrier maintains a physical network of connected central office switches that integrate with the central office switches of other carriers for national and international call routing. This is analogous to a data WAN. For branch offices or small business organisations that do not want to incur the management and administration of a PBX, carriers also sell direct connections into their central office switches (this is what you've got at home). Lucent Technologies and Northern Telecom are the two leading vendors of PBX and central office switches. Nortel's line of telephone devices is second to none.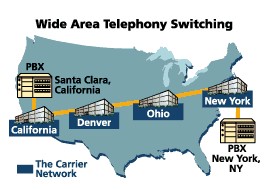 There a multiple ways of linking a PBX to a computer server, ranging from a basic RS-232 link to the more advanced board based approaches (remember, a PBX is just a special purpose computer). Companies such as Dialogic, Brooktrout and Voice Technologies Group design and build boards for computer-telephony integration, and your PBX vendor will very likely have their own recommended methodology too. For example, a Nortel Meridian PBX can use the Nortel Meridian Link for integrating with a range of computer servers. The good news is that this process will ge t simpler in the future! One of the key trends in the PBX industry started a few years ago with the release of PBX servers that sit on a computer LAN. These PBX servers run on standard computer hardware (for example, Intel-based), and run on software platforms such as Windows NT Server. They are cheaper to buy, install, manage and administer.
Business Case and Specific Issues for Leading Applications
It's difficult to read a current industry publication and not come across some advocation for computer telephony within your business. Many different types of projects can fall under the computer telephony banner, but this section focuses on the top six: integrated messaging, real-time computer call control, voice over IP networks, workgroup and team collaboration through conferencing technologies, desktop videoconferencing, and fax servers.
INTEGRATED MESSAGING
The centralization of all store-and-forward communication tools into a single application is driving vendor development and business attention. And so it should. Integrated messaging--the preferred name for this product category in this chapter--delivers clear benefits. Integrated messaging simplifies communication tasks by bringing together all store-and-forward tools, delivering in one place, through one interface all non-real-time communication. A single interface means that training costs are lower, as users need only learn to navigate one application. The second benefit is that the variable costs of remote access to messages is lower, because a single connection is required to retrieve all message types (for example, a dial-up connection to the Internet), rather than a telephone call to the voice mail system, a dial-up connection to e-mail, and a call to a secretary for faxes. This consolidation of access methods also means infrastructural costs are lower, because fewer connection ports are required (and therefore administration costs are lower too). Anot her benefit of the consolidation of access methods is the existence of fewer points of entry to the internal network, thereby raising the security of the network. The third benefit is that integrated messaging is one of the key enablers of the business move towards virtual teams, by delivering on the promise of being constantly in touch regardless of physical geography or time zone. The technology of integrated messaging helps the business achieve its goals of leveraging its best people assets.


---
Page [1] [2] [3] [4] [5] [6] [7] [8] [9] Next
---