Automatic Call Distribution
Predictive Dialer
Business Phone Systems
Office Phone Systems
VOIP Service
Internet Phone Service
IP Phone Service
Phone Software
Softphone IVR System
Computer Phone Software
Web Phone Software
Softphone Phone System
Computer Telephony Solution
Text To Speech Demo
Text To Voice Software

Information
Computer Telephony Integration
CTI Software
ACD and CTI
Linux CTI Solutions
CRM and CTI
Linux IVR Software
Linux Computer Telephony
CTI IVR Solutions
CTI and DNIS Applications
ANI and CTI development
CTI Telephony Products
Phone Software
CTI Telephony Vendors
Text To Voice Software
Text To Speech
Computer Telephony Software
CTI Programming
Softphone Systems
Telephony Software
Computer Phone System
Text To Voice
CTI Applications
Softphone Software
Telephone Software
CTI Middleware



<! ************** MAIN BODY ************************************************>

DSC Tech Library



Computer Telephony Integration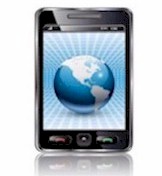 This section of our technical library presents information and documentation relating to CTI Computer Telephony Integration software and products. Computer Telephony Integration CTI software is a rich set of phone software library routines that enable application programs to control your phone system. This comprehensive CTI software lets you increase employee productivity, enhance customer service and reduce costs by combining the capabilities of our PACER phone system with the custom functionality of your Windows, Unix or Web applications. Data collected by your phone ACD (Automatic Call Distribution) or IVR (Interactive Voice Response) systems can be passed to your existing PC, Unix or Web applications through our phone software. The PACER predictive dialer can automatically call your customers and pass only connected calls to your agents. With our computer telephony software, your telephone and computer work together to provide cost-saving benefits.


Computer Telephony for the Enterprise
Page 5
By Michael Sampson


VOICE OVER IP
It's easy to spot an emerging technology with big potential when, first, it's difficult to pick up a current industry magazine and not find an article on it, and second, when established players dealing in the technology that is supposed to be replaced enter and evangelise the emerging one. Such is the case with the CT application of voice over IP (also called Internet/intranet telephony), whereby voice communications are packetized and transmitted over a TCP/IP data network (see discussion above on the fundamentals of telephony).

Voice over IP calling provides clear benefits for the enterprise. Its integration of calling and messaging tasks in a single end-user application lowers end-user training costs. The consolidation of all traffic onto a single TCP/IP network assists with keeping total cost of ownership down, as less network administration time is required because of a less-complex network configuration. For multinational bus iness enterprises, the use of a data backbone for voice communications will result in large savings on international long distance charges. Some savings also might occur on national long-distance calls by using voice-over-IP technology, but it depends on the per-minute long-distance price structure you have negotiated with your long distance carrier.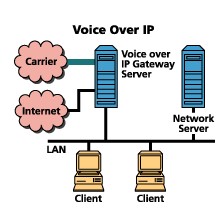 Implementing voice over IP will require the deployment of client software, and the maintenance of a suitably-provisioned IP connection to the Internet. For interconnection with international telephone networks, you could deploy your own network infrastructure of gateway servers that connect your internal network into the carrier network or use the network infrastructure of an IP carrier such as VocalTec or IDT Corporation.

Is IP telephony for your company? Here are some issues to consider and work through:
Network reliability: Centralization of all traffic onto a single network has its disadvantages--business continuity in the case of a network failure being one of the most important. Do you have a backup network option if your internal data network fails big time? If your proposed use of IP telephony is for national long-distance calling, do the benefits outweight the costs?


Talk to your router vendor: Intranet telephony is going to be a big market, and all the network router companies are moving to develop router modules to permit IP calling. Upgrading existing router infrastructure is a simpler task than deploying and integrating new stuff. Cisco Systems has recently released an IP add-on module, called the Cisco Voice Router, for Cisco 3600s.


Single network: Intranet telephony allows the leveraging of your internal data network for internal communication tasks. In large corporations, 40 percent of telephone traffic is between employees. What are the infrastructural cost savings (and don't forget the associated management and administration costs) of moving to a single network for all traffic?


MIS/telecom partnership: IP telephony is simultaneously hard-core computer stuff and telephony stuff. Ensure your IP telephony project team is suitably staffed with knowledgeable MIS and telecom personnel.


Start with a pilot: A pilot should be an early step. Find your early adopter group and let them go for it. Track the costs; analyze the value the group derives; and then put together the case for expanding your foray into IP calling.
<! *************** END OF MAIN *******************************************>


---
Page [1] [2] [3] [4] [5] [6] [7] [8] [9] Next
---