CRM Applications
Customer Service Software
Direct Response Marketing Software
Contact Management Software
Phone Attendant
Mortgage Marketing
Inbound Telemarketing Outbound Telemarketing
Mortgage Software
CRM Software Features
IVR Solution
Telemarketing Call Center
CRM Solution
Voice Broadcasting Service
Appointment Reminders


<! ************** MAIN BODY ************************************************>

DSC Tech Library



Customer Relationship Management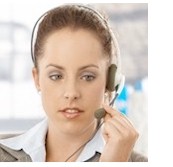 This section of our technical library presents information and documentation relating to CRM Solutions and customer relationship management software and products. Providing timely customer service information is vital to maintaining a successful business. Accurate information provided in an organized and thoughtful manner is key to business success.

TELEMATION, our CRM and contact center software, was originally built on this foundation. The ability to modify Customer Relationship Management software is important in this ever changing business environment.

Telemation Customer Relationship Management solution and contact center software is ideally suited for call centers throughout the world.



CRM in the call center and contact center
Page 1

By Jay Lassman
10/24/03 - Gartner

No doubt there are people who remember when just a short walk or drive got you to the section of town populated with clusters of shops and businesses. Often, the combination proprietor-salesperson-stock clerk recognized you on sight and knew your name as well as your preferences for shirts and ties or blouses and scarves. More advanced establishments even had a file about you that was stored on a device known as an "index card." Why? Because progressive shopkeepers recognized that offering personalized service was an intelligent, cost-effective way to retain your business. Today, we call this notion customer relationship management (CRM).

The advent and explosion of Internet-based commerce has done much to depersonalize the buying and selling process while at the same time converting it to a 24x7 experience. On the surface, a business might view these events as a bonanza that yields a much-reduced cost of sales. But as the "dot-com debacle" that began at the end of 2000 has taught us, there are other considerations. Our astute haberdasher intuitively understood the value of being familiar with a customer's preferences and buying habits and used it as a competitive edge to up-sell and generate repeat business. CRM technology provides a sophisticated and automated means to glean customer information that can be used to increase sales to established accounts while producing new sales opportunities and enhancing customer service. It draws on call center attributes to methodically identify, attract, service, and retain existing customers. In addition, CRM is evolving to where data from online contacts can be used to develop customer relationships. This requires merging multichannel customer contact information with customer intelligence, such as buying patterns, payment histories and service requirements. In a call center or contact center environment, CRM software can also serve to improve employee productivity, lower costs, and develop new customers and markets.

While traditional call centers handle voice-only customer contact, the term "contact center" includes all types of channels of customer contact, including voice, e-mail, World Wide Web, faxes, video kiosks, and mail. This is an inbound and outbound service-based environment in which agents and representatives handle all types of contact regarding sales, service, collections, and other functions.


Focus on customers
With organizations increasingly providing sales, customer service, and support via multiple channels of communication, like telephone, e-mail, and the Web, an enterprise must implement processes and technologies that support coordinated customer interactions throughout all channels.

Figure 1, "CRM in Action," shows various e-mail, Web, and phone interactions. The figure assumes an existing base of customers. Starting at the upper left (1) and proceeding clockwise, contact with electronic and human representatives takes place on various channels (color-coded). A central database enables interactions to be coordinated so that departments can effectively communicate and cooperate to satisfy the customer (14).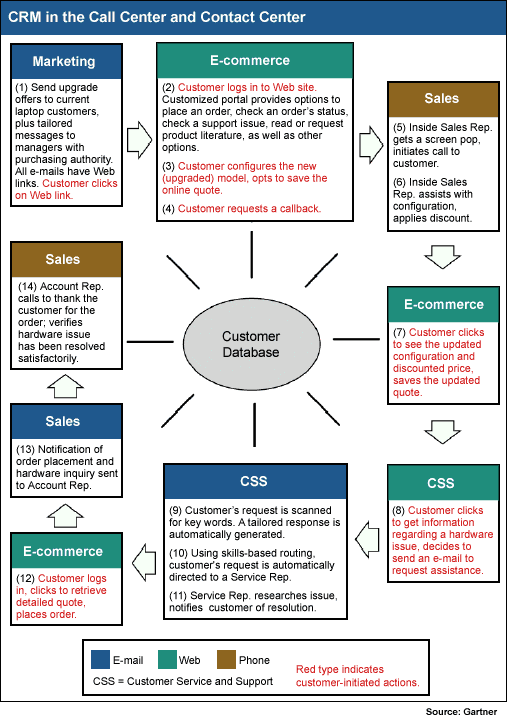 In this example, an upgrade offer is directed to existing customers, who interact using e-mail, Web, and phone.



Page.. [1] [2] [3] [4] [5] Next Page



<! *************** END OF MAIN *******************************************>