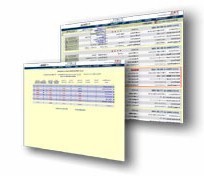 ProCall, Inc. provides mortgage marketing leads and is not affiliated with Database Systems Corp. PLEASE NOTE - DSC does NOT provide sales and marketing leads.

We at Database Systems Corp. develop the technology and products that can improve the productivity of your mortgage application processing department. Our mortgage telemarketing phone system and mortgage telemarketing software can streamline your operation while providing controls and consistency in your loan application process.

The following organization provides mortgage marketing leads to marketing and sales organizations. Information presented on this page was provided by the company or found on the company's website. Database Systems Corp. does not endorse the company's products and services nor warrant the accuracy of this information. For current information, please visit the company's website listed below.


---
HOME / Resources / Lead Generation / Mortgage Lead Providers


---

ProCall, Inc.
Building a Mortgage Company Is Serious Business! If you're spending your time looking for leads instead of processing and closing loans, its time to call the mortgage lead specialist, ProCall,Inc.

You may have tried telemarketing in-house. All those long hours spent interviewing, training and supervising your own staff; it's a business unto itself. After achieving only marginal results, you found telemarketing was not only costly but difficult to manage as well. That's why telemarketing should be left in the hands of experts that truly understand the mortgage business.


---
Company Profile Information
Organization:


Telephone: 866-515-3237

Email: info@mortgageleads4less.com

Website: www.mortgageleads4less.com
Additional Company Information
At ProCall, Inc. we have been connecting homeowners with mortgage sources since 1997. We have been helping lenders nationwide increase closings by effectively reaching specific target markets. Utilizing state of the art predictive dialing systems, we are able to reach thousands of prospects each day and produce superior results regularly.

Our TSRs have been thoroughly trained on all aspects of mortgage lead generation including Loan-to-Value ratios and other specific criteria. Each TSR has a complete understanding of your needs before the first call is made. They compile vital information on each prospect. ProCall, Inc. has the knowledge and understanding to consistently provide you with the highest quality mortgage prospects. In addition, your Account Manager will help you locate the most suitable list for your campaign. If you have been using a firm with less experience than ProCall, Inc., you may be dissatisfied with the results, with ProCall, Inc. those days are over. Our reps know the difference between a good lead and one that is worthless to you, and we guarantee results...



---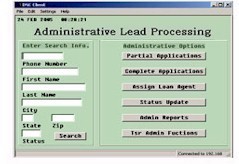 We at Database Systems Corp. develop mortgage software applications and lead tracking applications for the mortgage industry. This call center application is completely integrated with our auto dialer phone systems which can perform both inbound and outbound mortgage marketing campaigns.

Our mortgage marketing software was developed using TELEMATION, our award winning contact management software application toolkit. This CRM software tool is ideally suited for processing mortgage loans and managing customer information.

Our mortgage CRM software is employed in a wide variety of organizations including contact centers, help desks, customer service centers, service bureaus, reservation centers and corporate call centers.
Mortgage Software Information
Contact DSC to learn more about our mortgage application software and mortgage predictive dialers.


---