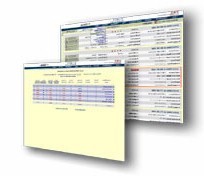 Database Systems Corp. provides the technology and products that can improve the productivity of your mortgage application processing department. Our mortgage telemarketing phone system and mortgage telemarketing software can streamline your operation while providing controls and consistency in your loan application process.

The following organization provides mortgage marketing leads to marketing and sales organizations. Information presented on this page was provided by the company or found on the company's website. Database Systems Corp. does not endorse the company's products and services nor warrant the accuracy of this information. For current information, please visit the company's website listed below.


---
HOME / Resources / Lead Generation / Mortgage Lead Providers


---

The Mortgage Leads Network Inc.
The Mortgage Leads Network Inc. is the largest and most comprehensive on-line marketplace for mortgage lenders and borrowers. With over 20,000 registered lenders, we offer consumers and lenders alike unparalleled choice and convenience.

Mortgage bankers and brokers can join for free, register their lending criteria and once accepted, browse through thousands of Internet mortgage leads submitted in real time directly by consumers requesting competitive mortgage quotes.


---
Company Profile Information
Organization:



The Mortgage Leads Network, Inc
3600 S. Harbor Blvd.
Channel Islands, CA 93035


Telephone: (none)

Email: (none)

Website: www.mortgageleads.com
Additional Company Information
The Mortgage Leads Network is different from other Internet mortgage referral sites in many ways. We never charge a fee to borrowers and lenders are never charged a fee when they close a transaction. Other sites charge lenders a back-end fee on each closed loan, and this of course is passed on to the consumer. The Mortgage Leads Network charges lenders only data transmission fees depending on the number of leads purchased and a monthly web site access fee.

Lenders sign up for free and enter their lending criteria. They select the geography (state, area codes, zip codes), loan types (purchase, refinance, second mortgages, commercial), the credit rating of the borrower (excellent, good, fair or poor), the loan to value ratio and minimum loan amounts. Lenders only purchase leads that match their lending criteria.



---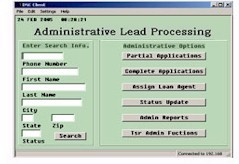 Database Systems Corp. (DSC) provides mortgage software applications and lead tracking applications for the mortgage industry. This call center application is completely integrated with our auto dialer phone systems which can perform both inbound and outbound mortgage marketing campaigns. Our mortgage marketing software was developed using TELEMATION, our award winning contact management software application toolkit. This CRM software tool is ideally suited for processing mortgage loans and managing customer information. Our mortgage CRM software is employed in a wide variety of organizations including contact centers, help desks, customer service centers, service bureaus, reservation centers and corporate call centers.
Mortgage Software Information
Contact DSC to learn more about our mortgage application software and mortgage predictive dialers.


---