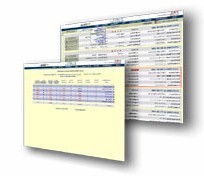 LeadsForMortgage provides mortgage marketing leads and is not affiliated with Database Systems Corp. PLEASE NOTE - DSC does NOT provide sales and marketing leads.

We at Database Systems Corp. develop the technology and products that can improve the productivity of your mortgage application processing department. Our mortgage telemarketing phone system and mortgage telemarketing software can streamline your operation while providing controls and consistency in your loan application process.

The following organization provides mortgage marketing leads to marketing and sales organizations. Information presented on this page was provided by the company or found on the company's website. Database Systems Corp. does not endorse the company's products and services nor warrant the accuracy of this information. For current information, please visit the company's website listed below.


---
HOME / Resources / Lead Generation / Mortgage Lead Providers


---

LeadsForMortgage
LeadsForMortgage is a leader in Mortgage Lead Generation in the US. Our Lead Generation Process is very scientific and has been developed to customize the lead flow as per your requirements. Be it lead generation, Appointment Setting, Taking Details, Analyzing the Mortgage Details, Counseling, and forwarding the same to you, we do it efficiently and cost-effectively.

You can get leads generated easily and cost-effectively by outsourcing it to experienced and quality lead generation experts like us who use state-of-the-art technology.


---
Company Profile Information
Organization:


Telephone: (none)

Email: (none)

Website: www.leadsformortgage.com
Additional Company Information
LeadsForMortgage focuses on providing qualified leads and marketing services to the mortgage industry in the US. Unique skills developed from experience and capabilities to effectively manage and execute in this specialized market give us an upper hand.

So, if you are a Banker, Direct Lender or a Mortgage broker looking for pre-qualified, exclusive and real-time leads from a reliable lead company, LeadsForMortgage is your one-stop-address to get the best deal. At LeadsForMortgage, we use state-of-the-art technology to deliver the highest standard of quality and accuracy in our leads for the mortgage loan industry in the US.

Check out our exclusive leads for mortgage, fresh and real-time exclusive home refinance mortgage leads, wholesale leads, and bulk delivery. Sample our mortgage refinance lead generation services and you will be a loyal client.



---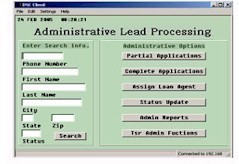 We at Database Systems Corp. develop mortgage software applications and lead tracking applications for the mortgage industry. This call center application is completely integrated with our auto dialer phone systems which can perform both inbound and outbound mortgage marketing campaigns.

Our mortgage marketing software was developed using TELEMATION, our award winning contact management software application toolkit. This CRM software tool is ideally suited for processing mortgage loans and managing customer information.

Our mortgage CRM software is employed in a wide variety of organizations including contact centers, help desks, customer service centers, service bureaus, reservation centers and corporate call centers.
Mortgage Software Information
Contact DSC to learn more about our mortgage application software and mortgage predictive dialers.


---