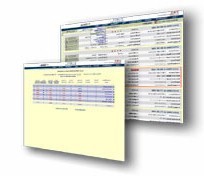 Database Systems Corp. provides the technology and products that can improve the productivity of your mortgage application processing department. Our mortgage telemarketing phone system and mortgage telemarketing software can streamline your operation while providing controls and consistency in your loan application process.

The following organization provides mortgage marketing leads to marketing and sales organizations. Information presented on this page was provided by the company or found on the company's website. Database Systems Corp. does not endorse the company's products and services nor warrant the accuracy of this information. For current information, please visit the company's website listed below.


---
HOME / Resources / Lead Generation / Mortgage Lead Providers


---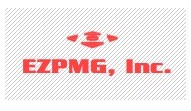 EZPMG Inc.
Does your organization need Mortgage leads? Has the refinance market dried up? Local advertising not pulling in the inbound phone calls anymore?

We have a great solution for you. Let EZPMG, Inc. generate your Mortgage leads for you. We generate 1000's of fresh exclusive mortgage leads everyday.

Let us know what state you are in and we will develop a customized campaign for your organization.


---
Company Profile Information
Organization:



EZPMG Inc.
28 Harrison Avenue Suite 213
Englishtown, NJ 07726
United States


Telephone: 800.556.0105

Email: KenElias@ezpmg.com

Website: www.ezpmg.com
Additional Company Information
Welcome to EZPMG, Inc.! 800.556.0105
Call now to find out about our Live call transfer lead. 800-556-0105 You will actually be speaking with the prospective buyer.

The closing ratio is tremendous. We will make your phones ring everyday with live prospects. Let us make your phones ring with live prospects every day. Are you tired of making hundreds of calls and not speaking with prospects.

Call Now 800-556-0105. This lead is proven to be successful and we have the clients to show for it. We guarantee that the prospect is looking for a mortgage or your money back. EZPMG,Inc. is your number one place for your advertising needs in the Mortgage world. Call now.800.556.0105. We help Companies grow.
How Our Program Works:
HotTransfer Lead! Prospects are driven to our call center though numerous differant types of advertising. Once the call center rep has qualified the caller, they will then put the caller on hold while they dial into your inbound room.

Once contact has been made with your end, our Call Center Rep will introduce himself and then give you the pertinent information about the prospect(Name, Phone number, and lead ID) and then merge the line and do a formal introduction between you and your prospect.

Our Call Center Rep will then terminate from the call, leaving you on the phone with your potential customer.



---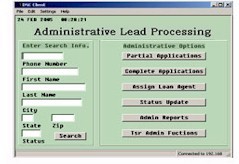 Database Systems Corp. (DSC) provides mortgage software applications and lead tracking applications for the mortgage industry. This call center application is completely integrated with our auto dialer phone systems which can perform both inbound and outbound mortgage marketing campaigns. Our mortgage marketing software was developed using TELEMATION, our award winning contact management software application toolkit. This CRM software tool is ideally suited for processing mortgage loans and managing customer information. Our mortgage CRM software is employed in a wide variety of organizations including contact centers, help desks, customer service centers, service bureaus, reservation centers and corporate call centers.
Mortgage Software Information
Contact DSC to learn more about our mortgage application software and mortgage predictive dialers.


---