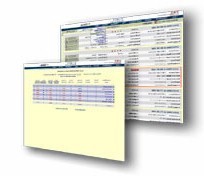 Database Systems Corp. provides the technology and products that can improve the productivity of your mortgage leads processing department. Our mortgage marketing phone system and mortgage leads telemarketing software can streamline your operation while providing controls and consistency in your loan application process.

The following organization provides mortgage marketing leads to marketing and sales organizations. Information presented on this page was provided by the company or found on the company's website. Database Systems Corp. does not endorse the company's products and services nor warrant the accuracy of this information. For current information, please visit the company's website listed below.


---
HOME / Resources / Lead Generation / Mortgage Lead Providers


---

ClientShop.com
We are a Mortgage Refinance Lead Generation Company providing the highest quality mortgage leads. We provide Mortgage Refinance Leads that are fresh and carefully filtered to provide accurate data. As a Mortgage Lead Company we sell both exclusive and non-exclusive mortgage loan leads to lenders and brokers. Receive Internet Mortgage Loan Leads in real time with detailed information with up to 30 fields.

Our Internet mortgage refinance leads are collected from multiple websites and our filters allow you to customize the leads you want to receive. The mortgage loan leads will be waiting for your call and sometimes might call you themselves. As a mortgage lead company we give you the right to submit a lead for refund. We offer a 100% satisfaction guarantee on our mortgage and debt leads.


---
Company Profile Information
Organization:



Client Shop Inc.
12670 High Bluff Dr., Suite 210
San Diego, CA 92130


Telephone: 800-238-4494 X81

Email: CustomerService@clientshop.com

Website: www.clientshop.com
Additional Company Information
The staff here at Client Shop has been working hard for years to improve the way Internet leads are produced and distributed to buyers. Client Shop has an advantage over other lead sources because we use proprietary technology to bring you together with the client in a referral type atmosphere. We not only introduce you to the client but we also introduce the client to you. This all happens automatically and instantaneously. Once the client fills out the form on our lead generating web site www.4lowrates.com the client's information is sorted through our database of buyers. The database then matches the lead with one buyer exclusively. If multiple buyers match the lead than it will rotate evenly between the buyers so everyone receives an equal amount of leads.

If you are the match your name, phone, e-mail, company name and a customizable e-mail about you and your company is instantly sent to the client. Also the client's information including over 40 fields about them is sent to you in an e-mail. This type of automated introduction eliminates the "cold calling" that is typical of leads. The client always knows your name and company name before you contact them and in some cases the client will contact you first.

Using this technology our buyers are having conversion rates from 20% up to 40%. The satisfaction from our clients has been very positive as you can read in our Client Testimonials. Our current client retention rate is currently over 95%.

We also strive to provide affordable pricing for our leads. Our non-exclusive refinance leads are as low as $25 (half the price of some competitors).

We have lead packages starting at $99 so you can test our quality without taking a big risk. Click on the links below to make a purchase or call us toll free 800-238-4494 and one of our account managers will get you started right over the phone. Thank you for visiting client shop and we look forward to providing you with excellent service.



---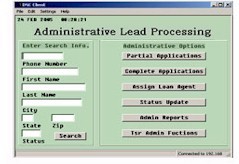 Database Systems Corp. (DSC) provides mortgage software applications and lead tracking applications for the mortgage industry. This call center application is completely integrated with our auto dialer phone systems which can perform both inbound and outbound mortgage marketing campaigns. Our mortgage marketing software was developed using TELEMATION, our award winning contact management software application toolkit. This CRM software tool is ideally suited for processing mortgage loans and managing customer information. Our mortgage CRM software is employed in a wide variety of organizations including contact centers, help desks, customer service centers, service bureaus, reservation centers and corporate call centers.
Mortgage Software Information
Contact DSC to learn more about our mortgage application software and mortgage predictive dialers.


---