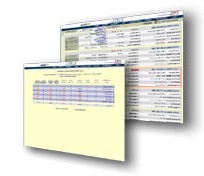 Database Systems Corp. provides the technology and products that can improve the productivity of your mortgage leads processing department. Our mortgage marketing phone system and mortgage leads telemarketing software can streamline your operation while providing controls and consistency in your loan application process.

The following organization provides mortgage marketing leads to marketing and sales organizations. Information presented on this page was provided by the company or found on the company's website. Database Systems Corp. does not endorse the company's products and services nor warrant the accuracy of this information. For current information, please visit the company's website listed below.


---
HOME / Resources / Lead Generation / Mortgage Lead Providers


---

1 Mortgage Leads
1 Mortgage Leads has been the leader in Internet Marketing since 1995. In our efforts to serve our clients, we have expanded our talents to Lead Generation.

All of our leads are Internet Generated, pre-qualified, and guaranteed to produce! Internet Generated Leads will definitely give you the competitive edge you need to strive past the competition. If you have a lead you wish to pursue, get in contact with one of our friendly representatives.


---
Company Profile Information
Organization:


Telephone: (888) 596-2699

Website: www.1mortgage-leads.com

Contact: (none)
Additional Company Information
The leads are compiled through various Internet marketing techniques. Our leads consist of people who are in the market for a mortgage and they are REQUESTING to be contacted by a Mortgage Loan Officer. These are HIGH QUALITY leads with a Closing Ratio of 10 to 30%!
INTERNET GENERATED LEADS
These Leads are maximum 24 hours old and are processed and distributed everyday. Filters are available and prices start at just $25/Lead. Right now, minimum orders are just 25 leads per week.
TELEMARKETED LEADS
These Leads are also a maximum of 24 hrs old and distributed everyday. These leads are phone generated and have all asked that a broker contact them. Prices start at just $35/Lead with a minimum order of just 25 leads per week.
REAL TIME LEADS
Real-Time Leads are in great demand right now. These leads are delivered to you within seconds of a customer completing the application. We all know that the first broker to contact a customer is normally the one to close the deal. Prices for these leads start at just $35/Lead.




---
Mortgage Software Solutions
DSC has developed an online mortgage software application using TELEMATION, our contact management software solution. This CRM software tool is ideally suited for processing mortgage leads, tracking telemarketing mortgage leads and managing customer information. This award winning application is employed in a wide variety of organizations including contact centers, help desks, customer service centers, service bureaus, reservation centers and corporate call centers. The package has extensive computer telephony features and is fully integrated with our marketing phone system. TELEMATION operates on Linux, Unix or Windows servers. Mortgage applications can be quickly developed using the robost features found in our mortgage software toolkit. Mortgage loan companies such as Advanta Mortgage and Chase Manhattan Mortgage Corporation are just a few of the organizations who have relied upon TELEMATION to handle their data processing requirements.
Contact Database Systems Corp. Today
Contact DSC to learn more about our mortgage marketing products and services.