IVR Outsourcing
Telecommuting Software
Window On the Web
Call Recording / Voice Logging
Predictive Dialer
Softphone
CRM Software - Customer Relationship Management
Telephony Software


Mortgage Marketing
Mortgage Software
Mortgage Calculator
Mortgage Leads
Call Centers
Marketing Leads
Real Estate Leads
Insurance Lead Providers
Fund Raising By Phone
Insurance Marketing
Political Activism
Call Congress / Roll Call Phone Dialer
Store Locator Phone Service
Political Call System
Political Activism
Real Estate Marketing
Real Estate Listings
Reminder System


Wednesday March 8, 2004
SOURCE: Parija Bhatnagar, CNN/Money Staff Writer

Will you take cash for annoying calls? Adnoodle's registered customers set bids between 25 cents to a $1 for telemarketers who want to call
March 8, 2004: 3:43 PM EST NEW YORK (CNN/Money) - Hate telemarketers? Then you're gonna like this. One company is offering consumers the opportunity to make money every time they listen to a pre-recorded sales pitch in the middle of dinner.
According to New York-based Adnoodle, a division of Rights Marketing Inc., 15,000 people currently are making $100 or more each month by registering on the company's Web site Adnoodle.com.

"As far as we know, this is the first time ever that consumers are being offered such a service," said Daniel Shifrin, CEO of Rights Marketing, which has a patent pending on the concept.

Shifrin's idea is to pay people for every telemarketing pitch that they agree to receive for a set bid, anywhere from 25 cents to a dollar. "It's a reverse bid, similar to how eBay works," said Shifrin. "Consumers set the terms. In other words, they say, 'You pay me X amount a call, call me these number of times, for these products.'"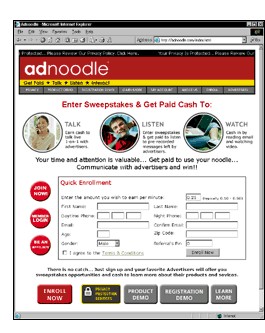 Adnoodle customers make a bid to be paid between 25 cents to a $1 for each telemarketing pitch they receive. Adnoodle, which launched in February, is already adding about 1,000 registered users a day, Shifrin said. He anticipates hitting a goal of 1 million users over the next couple of months.

To reach that end, the company has a pilot program with Data Resource Consulting Inc. , an e-mail marketing provider with a database of about 30 million customers. "The basis of the pilot is to see how we can gain more people for Adnoodle through our e-mail campaign," said Laura Betterly, president of Data Resource Consulting. Consumers "pitch" price bids to advertisers

So how does this work?

People who register with Adnoodle.com list up to three phone numbers and an e-mail address where they can be contacted. Yes, there is an age limit --18 and older only. They will be asked personal information such as spending habits, type of products they like to buy and brand preferences and the amount they want to earn per minute. "The sweet spot is 25 cents a minute. That will attract more calls," said Shifrin. "But BMW might want to reach you even if your bid is $1 or more."

Advertisers pick their target audience based on customer profiles and bids. Once you're set up with Adnoodle, expect 10 pre-recorded, 15-second calls a day, earning you your bid price per call on condition that you accept and actually listen to the call. You're not paid if you hang up. Payments are transmitted via PayPal. "About 10 percent of people will cheat the system but we're hoping they will be ferreted out by the other checks we have in place," Shifrin said.

About Database Systems Corp.

Database Systems Corp. provides the technology and facilities for this Opt In marketing program by Rights Marketing Inc.

Headquartered in Phoenix, Arizona, Database Systems Corp., founded in 1978, provides call center technology to small, medium and large call centers throughout the country. Primarily a software company, Database has also developed its own PC based phone system (PACER) for use in small to medium call centers. PACER includes predictive dialer, automatic call distribution, interactive voice response, and call recording features. Database has also developed a complete CRM software application toolkit (TELEMATION) as well as CTI software systems. DSC products run on most UNIX servers including IBM, SUN, HP, and LINUX, as well as WINDOWS based servers. Further information about Database can be found on the Web at www.databasesystemscorp.com