Text To Voice Software
T1 Line Service
T1 Line IVR Phone Systems
Digital Service
Automatic Call Distribution
Predictive Dialer
Business Phone Systems
Auto Attendant Software
Call Answering Service
IVR Services
Message Broadcast
Telecommuting Software
Voice Recording Software
Softphone
Linux ACD Systems

Information
Speech Recognition Software
Voice Recognition Software
Interactive Voice Response
Toll Free Services
IVR Systems
IVR Software
Open IVR Solutions
IVR Services
Voice Response Unit
IVR Design Program
ACD Systems
IVR Hosting Service
IVR Outsourcing
Phone Answering Service
Inbound Telemarketing


<! ************** MAIN BODY ************************************************>


Interactive Voice Response
This section of our technical library presents information and documentation relating to IVR and interactive voice response software as well as automatic call answering solutions. Business phone systems and toll free answering systems (generally 800 numbers and their equivalent) are very popular for service and sales organizations, allowing customers and prospects to call your organization anywhere in the country. Our PACER and Wizard IVR systems add another dimension to our call center phone system solutions. An Interactive Voice Response (IVR) processes inbound phone calls, plays recorded messages including information extracted from databases and the internet, and potentially routes calls to either in-house service agents or transfers the caller to an outside extension.



Speech Recognition
www.computerworld.com
Quickstudy by Steve Alexander

Speech recognition is gaining popularity in the corporate world among nontypists, people with disabilities and business travelers who tape-record information for later transcription.

Most frequently used for dictation, screen navigation and Web browsing, PC-based speech-recognition systems have relatively high accuracy rates (consultants rate them

at 80% to 99%) and retail prices starting at about $40. That makes low-end systems suitable for office dictation, while higher-end systems are aimed at professions with special vocabularies.

In simple terms, the software works this way: When a person speaks, the software captures the sound through a microphone and converts it to a digital signal. It analyzes that digital pattern to find matches with known sounds contained in a database, then passes the recognized words to an application such as Microsoft Word or WordPerfect.

Part of that database consists of predefined sound patterns — a one-size-fits-all vocabulary for recognizing speech from as many different voices as possible. The rest is built when a user "trains" the software by repeating keywords so it can recognize the user's distinctive speech patterns.
Shop Talk
Major speech-recognition software vendors — including Newton, Mass.-based Dragon Systems Inc., IBM, Woburn, Mass.-based Lernout & Hauspie Speech Products U.S.A. Inc. and Knoxville, Tenn.-based Philips Consumer Electronics Co. — all use the same family of mathematical models to match spoken words with the database, although the technical approach varies. In Dragon's NaturallySpeaking dictation software, spoken words are identified in two ways: by matching their phonemes, or basic language sounds, and by analyzing what preceded or followed a spoken sound to determine the context in which it was said.

"All the voice-recognition systems have pre-existing speech databases. When you train the software, you are superimposing your words on the database," says Peter Fleming, a consultant at Aristotle Systems in Watertown, Mass. After the training, the software is likely to be able to guess what you said, even if it didn't understand every word. "It may be a phrase rather than a word that is recognized. Longer utterances are recognized more easily because they are harder to confuse with

other sounds. Words spoken out of context are harder to recognize," Fleming said.

Speech-recognition software vendors claim a 98% accuracy rate. Consultants say that may be true but only because the software has been tuned to perform well on the tests that measure voice-recognition accuracy.

"The systems have been built to pass the challenges the tests provide," says Judith Mark- owitz, an analyst at J. Mark- owitz Consultants in Chicago. "But for some people, accuracy could be 80%, and for others it could be 99%."

It's important to remember that accuracy and user satisfaction aren't the same thing, Markowitz says. A person with an injury that makes typing difficult may get 80% accuracy doing work that wouldn't otherwise be possible and love the software despite the occasional errors, she said.
User Attitudes
Sometimes accuracy varies for technical reasons, but the user's attitude toward the technology also is important, consultants say. Fleming recommends that companies interested in speech recognition "buy one system and use it for a while because there's more to it than just voice-recognition percentage of accuracy. There's also user acceptability. See if your users are likely to take to it."

The sometimes touchy relationship between user and software may be the strongest argument for information technology departments to get involved in the selection of speech-recognition packages. Besides helping users adapt to the technology, IT also can help choose the software that best matches the task at hand and is compatible with the corporate network.

Markowitz says dictation programs tend to vary by the features they have optimized, such as foreign-language recognition, tight integration with Windows or desktop navigation or Web page use. She advises checking out claims of network compatibility.

"Some of these products work in networks and others don't, even though they are said to," she says. "Which one you choose depends on what your company is focused on."

Alexander is a freelance writer in Edina, Minn.

A typical speech-recognition process for a speaker-independent system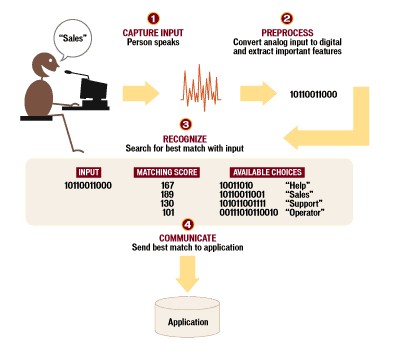 ---
Wizard Simplifies Development
DSC provides IVR software including our IVR wizard development tool for creating interactive voice response applications. Our IVR software lets you increase IVR development productivity by providing a visual development environment. IVR applications can be defined in minutes using this sophisticated, yet easy to use development tool. DSC also has available a comprehensive IVR software library known as our IVR Wizard Software Development Kit. This optional package is available for programmers and systems adminstrators who wish to manage IVR programs fromLinux IVR, Unix, or Windows IVR operating environments.

Data collected by your phone ACD (Automatic Call Distribution) or IVR (Interactive Voice Response) systems can be passed to your existing PC, Unix or Web applications through our phone software. The PACER predictive dialer can automatically call your customers and pass only connected calls to your agents. With our computer telephony software, your telephone and computer work together to provide cost-saving benefits.

<! *************** END OF MAIN *******************************************>