Automatic Call Distribution
Phone Dialer
Autodialer Software
Automatic Telephone Dialer
Digital Phone Systems
Predictive Dialers
Auto Dialer Phone System
Telecom Software

Information
Predictive Dialer
Predictive Dialing Software
Business Phone Systems
B2B Phone System
Auto Dialers
Predictive Dialers
Phone Dialers
Autodialing
Auto Dialer Software
Automatic Dialer Solutions
CRM Software Solutions
Emergency Phone Tree Service
Predictive Dialer Software
Autodialer Software
Phone Tree Messaging
Business Phone System
Automatic Phone Dialer
Telemarketing Autodialers
Call Center Phone Dialing
Progressiver Dialer
Automated Dialer
Telephone Dialers
Automatic Telephone Dialing
Telephone Dialer Software


DSC Tech Library
Predictive Dialer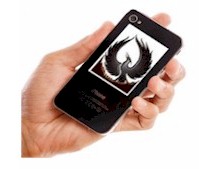 This section of our technical library presents information and documentation relating to Predictive Dialers and Auto Dialer software and products. The PACER and Wizard phone systems are PC based call center phone systems that are recognized as premier inbound and outbound computer telephony systems. Features such as automatic call distribution (ACD), interactive voice response (IVR) and call recording have added a new dimension to the predictive dialer and auto dialer capabilities of these systems. These computer based dialing systems can perform various types of auto dialing campaigns simultaneously. These types include Predictive Dialing, Progressive Dialing, Preview Dialing and Dial on Demand. <! ************** MAIN BODY ************************************************>
Call center technology benchmarking highlights
Call Center Learning Center

This tutorial is an excerpt from our Best Practices in Call Center - Special Technology Edition benchmarking report. 120 centers contributed best practices and lessons learned to the 2004 study. Below are highlights from the study.

The figure below shows the current usage levels of different technologies by the study participants (note that participants could indicate more than one technology). CTI jumped from 37% usage in 2001 to 52% usage in 2004. Email and voice response systems retained the top two positions.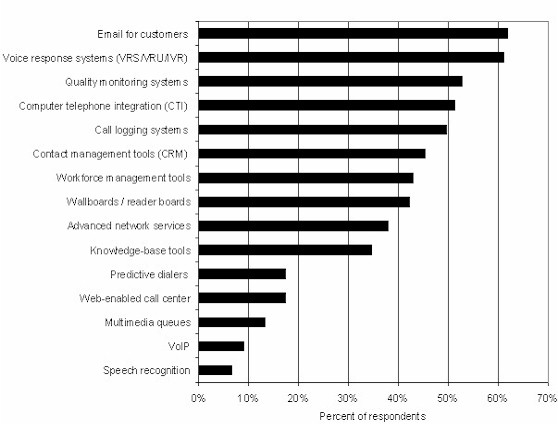 Call center technologies in use by study participants
Key findings related to technology in general
Although there are a number of advanced technologies that are offered for call centers, there are many call centers (especially smaller ones) that do not use the most up-to-date technology.

Email and voice response systems, equally considered, have become the most frequently used vehicles for customer contact other than voice calls to agents.

As the different forms of technology have become more readily available and more widely used, implementation and development times have decreased.

Email turnaround times have improved over time, but the reality for email response times is still not matching goals.

The greatest emphasis for future technology projects lies in Web-enabled call centers and Web-based technology.
Average decrease in talk time
Participants reported decreases in their average talk times due to various technology changes (see the figure below). Contact management systems accounted for the most dramatic decrease in talk times, averaging a reduction of 28 seconds per call. Knowledge-base applications averaged a 26 second decrease per call, quality monitoring systems accounted for an average decrease of 13 seconds per call and CTI accounted for an average decrease of 12 seconds per call.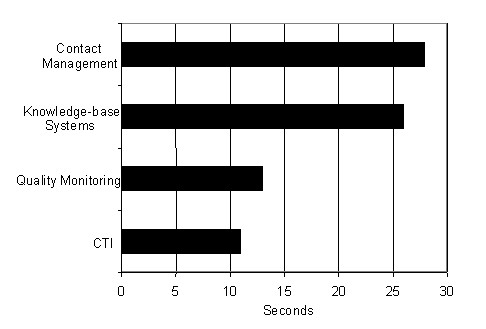 Average decrase in talk time from technology implementation
Overall ranking of improvement initiatives
The table below summarizes the technology findings from the studies conducted in 2001 and 2004. The technologies having had the greatest positive impact on call center customers and call center efficiency are listed and ranked by their impact level. For example, a ranking of "1" in the call center efficiency column for voice response systems defines this change as the most cited to positively impact call center efficiency in 2004. Impactful technologies Greatest positive impact on customers Greatest positive impact on call center efficiency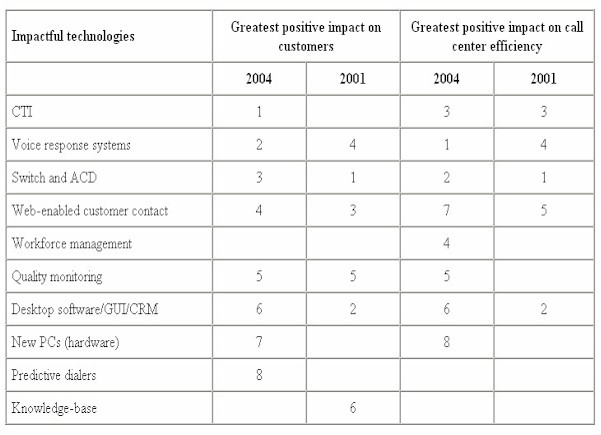 Improvement initiative rankings

<! *************** END OF MAIN *******************************************>


---


Predictive Dialer Software and Call Center Predictive Dialers - Database Systems Corp. provides CRM call center software plus CTI phone systems, predictive dialers, IVR systems, ACD systems, Voice Broadcasting systems.