CRM Applications
Customer Service Software
Direct Response Marketing Software
Contact Management Software
Phone Attendant
Mortgage Marketing
Inbound Telemarketing Outbound Telemarketing
Mortgage Software
CRM Software Features
IVR Solution
Telemarketing Call Center
CRM Solution
Voice Broadcasting Service
Appointment Reminders


<! ************** MAIN BODY ************************************************>

DSC Tech Library



Customer Relationship Management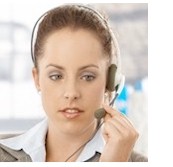 This section of our technical library presents information and documentation relating to CRM Solutions and customer relationship management software and products. Providing timely customer service information is vital to maintaining a successful business. Accurate information provided in an organized and thoughtful manner is key to business success.

TELEMATION, our CRM and contact center software, was originally built on this foundation. The ability to modify Customer Relationship Management software is important in this ever changing business environment.

Telemation Customer Relationship Management solution and contact center software is ideally suited for call centers throughout the world.



The Importance of Organization Structure and Processes in Effective Sales Strategy
By Scott Sims, Frank Lynn & Associates, Inc

We know that the sales process can be improved by taking a more holistic view of the sales function and applying some of the process re-engineering techniques that have proven to be effective over the last decade. This includes assessing and aligning all aspects of the sales operation in the context of the overall sales process to derive maximum sales efficiency and effectiveness for the enterprise.

Frank Lynn & Associates' sales process improvement technique, known as the Sales Force Effectiveness (SFE) Program, is built around four components that are addressed from the top down, in order of strategic importance, beginning with the sales strategy.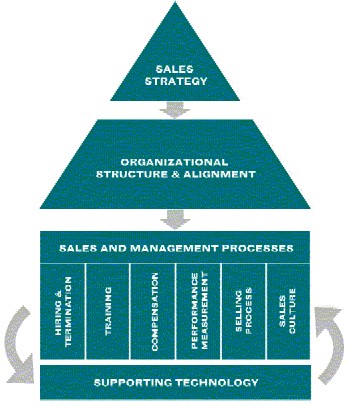 This article builds on our previous discussion of sales force effectiveness and the importance of a solid strategy by discussing the need to align the sales organization, and sales and management processes with the sales strategy.

Structure and process alignment are where most organizations fail in their attempts to maximize go-to-market efforts. While they develop great strategies, they often try to fit an existing structure and process to the new strategy and ultimately fail to realize any benefits. The organization structure and processes must be aligned to the strategy in order to achieve meaningful, long-term benefits.
Organization Structure and Alignment
A solid organization structure provides the framework to deliver upon the sales strategy. Therefore, once you have created a sales strategy, including clearly defined customer segments and a "clear and compelling" strategic sales message, it's important to assess whether you have the right sales organization structure.

Key considerations should include:

Interaction with customer segments. You need to determine if your sales organization has the right go-to-market structure to maximize interaction with each customer segment. Considerations should include the activities that are essential for success with each segment (i.e., interest creation, purchase, post-purchase, applications support, etc.) and what the best sales channels are to conduct the essential work with each segment (i.e., telemarketing calls, direct sales, distributors, etc.)

Structure. Whether to structure the sales force around product lines, geography or industries is another key decision. And after choosing a structure, you need to make sure everyone involved in the sales process (global and national account managers, outside and inside sales reps, applications engineers, technical support personnel) is aligned with the organization structure and clearly understands their roles and responsibilities. That usually means linking everyone's compensation and performance measures, to some degree, to successfully fulfilling their sales process responsibilities – whether they have a solid line or dotted line reporting relationship to the sales operation.

Maximum coverage. You also need to decide what size the sales organization should be to achieve maximum coverage and market share. Care needs to be taken to make sizing decisions based on market opportunity – not financial constraints.
Sales and Management Processes
A sales organization employs both sales and sales management processes – both of which help the sales force execute the sales strategy. The processes are, in effect, the "glue" that holds the strategy and organization structure together.

All processes must meet the following requirements: • processes should only exist if they motivate and/or support a successful sales effort; • processes should be flexible to be changed to reflect the needs of the organization.

Sales processes. The sales process needs to maximize time spent on value added activities such as finding, qualifying, selling, closing, and servicing. If elements of the sales process are not effective, they must be re-engineered so they do not detract from the sales effort. Figure 2 provides an overview of the most common sales process elements.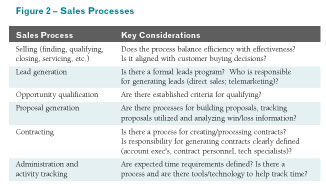 Figure 2 – Sales Processes



Sales management processes. Sales management processes need to support the go-to- market personnel and drive superior sales performance. If the elements of these processes are not effective, they too must be re-engineered or they'll seriously undermine sales efforts. Figure 3 provides an overview of the most common sales management process elements.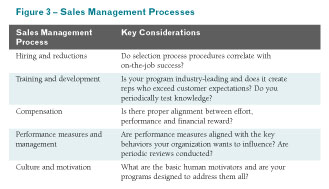 Figure 3 – Sales Management Processes



The fourth key component of the Sales Force Effectiveness Program (see Figure 1), supporting technology will be discussed in a future issue of Client Communiqué. It's valuable to note, however, that the issues of mis-aligned organization structure and processes discussed in this article are also the key reasons for technology implementation failure.
Summary
Following the creation of a sales strategy, the Sales Force Effectiveness Program considers other elements of the sales effort to make sure they are aligned with the sales strategy -- including the sales organization structure and sales and management processes. When assessing/aligning the organization, careful attention must be given to making sure the sales force is maximizing its interaction with all customer segments. Similarly, when assessing/aligning sales and management processes, attention must be given to making sure the processes maximize time spent on the value added activities of selling.

Scott Sims is Vice President at Frank Lynn & Associates, and heads the firm's Sales Force Effectiveness (SFE) Practice. The practice area is devoted to helping clients increase the effectiveness of their sales operation in order to maximize their market share and improve overall profitability. Scott has more than 18 years of consulting experience including nine years at Andersen and BearingPoint (formerly KPMG Consulting) helping clients realize the value of their customer relationships through the use of sales and marketing techniques and technology tools. Access a self diagnostic as a first step in the assessment/analysis/alignment process at www.franklynn.com/sfediagnostic.html. Or contact Scott Sims at 312.558.4831 or swsims@franklynn.com.



<! *************** END OF MAIN *******************************************>