CRM Applications
Customer Service Software
Direct Response Marketing Software
Contact Management Software
Phone Attendant
Mortgage Marketing
Inbound Telemarketing Outbound Telemarketing
Mortgage Software
CRM Software Features
IVR Solution
Telemarketing Call Center
CRM Solution
Voice Broadcasting Service
Appointment Reminders


<! ************** MAIN BODY ************************************************>

DSC Tech Library



Customer Relationship Management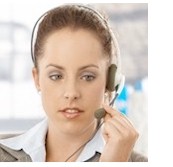 This section of our technical library presents information and documentation relating to CRM Solutions and customer relationship management software and products. Providing timely customer service information is vital to maintaining a successful business. Accurate information provided in an organized and thoughtful manner is key to business success.

TELEMATION, our CRM and contact center software, was originally built on this foundation. The ability to modify Customer Relationship Management software is important in this ever changing business environment.

Telemation Customer Relationship Management solution and contact center software is ideally suited for call centers throughout the world.



The Sales Effectiveness Ecosystem: How to Increase Sales Productivity
By Scott Santucci, BluePrint Marketing LLC

When your CEO asks, "Why haven't we realized the sales performance boosts we expected when we (insert investment of your choice)
...implemented our SFA system?
...trained our sales organization?
...launched our sales portal?"
How will you respond?
If you (and the CEO) thought that investment was "the answer" to improving sales performance, we have some bad news. There is no such thing as a sales effectiveness silver bullet.

While, there are many different types of organizations that claim they can help you improve your sales productivity, few of these solutions can offer measurable gains in productivity on their own. For example:
CRM vendors argue that implementing their software will help you drive more business by providing better structure to the sales process and improving the accuracy of your forecasting.
Sales training firms suggest that you can improve your sales fundamentals by teaching a common sales methodology and best practices.
Market intelligence firms claim that better and more up-to-date information about market trends and your competitors' actions will do the trick.
However, companies that have implemented these solutions report that they are not realizing the desired impact of these investments.

And now that you find your firm in this same situation, how will you respond?
Potential Response #1: "We Must Have the Wrong Salespeople"
We don't recommend this answer. While it's true that many executives who feel they have been burned by these investments view missed sales quotas as a performance issue, we don't necessarily agree.

Perhaps from an ivory tower, one might assume it's a simple task – selling your wonderful product to customers who must have it. While this might be a reasonable expectation when selling an item that people are familiar with (like a luxury car or laundry detergent), this perspective is dead wrong if you provide complex offerings and sell primarily to businesses. In fact it could be argued that selling enterprise, B2B solutions is fundamentally harder than any other business model in the market. The basic reality is that you are demanding a lot more from your field selling organization than you may realize.

Consider these concepts:
Customers buy solutions to their business problems, not products. In this scenario, your sales people must operate like consultants by helping their prospects determine the root causes of the business issues and providing a vision for solving them. Additionally, they must communicate your capabilities in a way that helps your customers understand the role your company will play in delivering the solution.
People buy from people. At the end of the day, your customers are taking a risk in working with you. Stakes are high, and their careers can be on the line. Increasingly, the companies that win are the ones that address these fears, in other words, they address the "softer" elements of the sale. For example, according to IT Research Company META Group, 35% of all outsourcing contracts are decided by how "comfortable" the buyer "feels" with the vendor they select. This trend is increasing.
"You get delegated to people you talk like." One of the most common phrases you will hear if you speak with enough CEOs or Sales VPs is, "We've got to sell higher in the organization." It's hard to argue with the logic that higher-level people have more budget authority, so therefore we should be calling on them. Yet, if one of your sales people actually gets an appointment with a CFO, what are they going to talk about? As soon as they utter, "our best practice architecture allows for complete scalability," the meeting will be over and your sales person will be back talking to the same people your firm has been speaking with for years.
Value is in the eye of the beholder. One common frustration we hear from executives is that their customers don't seem to see the value in their offerings. They have invested a lot of money building competitively differentiated products. They've validated their assumptions with "excellent" market intelligence. Yet still the sales people can't sell it. We've found time and time again that, ironically, the things vendors find most important are afterthoughts or, worse, irrelevant to customers. If you focus and train your sales teams to emphasize attributes that your customers don't care about, then your company isn't really communicating value.
Value is communicated over a period of time. We like to think about value as a bank account. Each time you interact with a client you have an opportunity to make a value deposit. At the end of the buying cycle – the vendor who has the most value in their account will generally win the business. Yet, just as you accumulate wealth over time, value is communicated in stages. When selling complex offerings, there is a tremendous amount of information for your customers to digest. They must acquire knowledge at their own pace in order to feel comfortable moving forward. Messages must be delivered when the customer is ready to hear them. This type of selling requires patience and a deep understanding of how the customer buys.
So, in reality, you are asking your selling teams to do a lot more than perhaps you had considered. The good news is that the sales people you have in place are probably fully qualified to do the job, they just lack some basic content building blocks to be effective. Given that enterprise selling is a very dynamic process, you should look at investments in sales productivity more as contributions to an ecosystem, rather than a means to themselves.
Potential Response #2: "We're not meeting our sales team's needs"
Brutally honest, we'll admit. But probably true.

According to the American Marketing Association, 90% of marketing collateral is never used by the sales force. A survey of over 100 IT vendor organizations by Current Analysis (a competitive research and analysis firm), found that the average sales person only spends 35% of their time engaged in actual selling activity.

The rest of their time is spent on a combination of activities including, internal meetings, paperwork, researching customers and account profiling, coordinating internal resources, looking for or creating relevant content to advance opportunities, etc. Before we examine areas to make investments in sales productivity, lets first get a sense for what we ask sales executives to do each day (either intentionally or unintentionally).
Understanding the customer's needs. Identifying the true customer is challenging enough. With most technology purchases, there are many buyers involved. Business sponsors, IT executives, requirements analysts, financial analysts, enterprise architects, and application engineers are all common participants in an enterprise solution purchase decision. It is almost impossible for a typical sales person to understand the business goals of each stakeholder and translate your offering so that it is relevant to each of them. And, even those that can have to perform this time-consuming activity from scratch for each opportunity.
Following up on leads and prospect opportunities. What happens when marketing passes a lead to sales? All too often these leads only contain contact information and a list of products the customer may be interested in. The sales person who is tasked to follow up on that lead does not have insight into the business goals of that prospect, nor a compelling way to engage in a conversation with them. If given a lead from your marketing organization today, how would you follow up? What would you say when you called the contact? How excited are they going to be to hear from you?
Advancing opportunities through the pipeline. Sales people are expected to continually advance opportunities through the sales process towards closure. Methodologies allow sales executives to focus their skills on various stages of the selling process and define key milestones to help determine how soon an opportunity will close. However, your customers are not making decisions based on the artificial milestones that your organization sets – they have their own buying process and very few sales people have insight into how the customer will really make the decision.
Translating product knowledge into business advantages. A lot of time and energy is invested in training sales people on the functional attributes of the offerings they sell. However, sales professionals lack the personal experience of working with your offerings and have difficulty understanding why the features and functions are important to your clients. Meanwhile, your clients are less interested in the features. They want to know how your products or services will help their business. Since most sales people have difficulty making their offerings relevant to business issues, they rely on the product demo to tell the story and hope the customer will connect the dots themselves.
Unfortunately, today IT organizations are less interested in technical merits because standards are improving and they have architectural processes in place to help them better understand the strengths and weaknesses of certain technologies. They are much more interested in the elements of the business relationship. For example, they want to know how you can help them implement the solution, how it relates to their business, how you can help them justify it, what you can do the help gain buy-in, and what it will take to maintain the system.
Financially justifying investments. IT investments are under a tremendous amount of scrutiny. Organizations want to know how your offering is going to impact their business, when they will realize that return, and how that investment will impact their budget. Corporate financial metrics, cash flow outlays, and internal rates of return are all examples of topics common in evaluations of technology investments. Yet, most sales people lack the ability to have a meaningful conversation about these subjects – let alone prepare the tools to help your clients perform these analyzes.
It's true that most organizations can improve their productivity with investments in infrastructure. Likewise, they can always benefit from a solid sales process and an occasional fine-tuning of their selling skills. And, no one questions that sales organizations require up-to-date information about market trends and competitor actions. These steps are critical to continuously improving sales effectiveness.

However, the fundamental sales need that organizations rarely provide is relevant, targeted content that is directly correlated to the customer's buying process and considerations.
The Five Disciplines of Sales
To empower your sales force with the resources it needs to maximize efficiency, we have developed the "five disciplines of sales" framework. This model should be viewed as an ecosystem that requires balance to produce the greatest return. For example, organizations that continually invest in "market dynamics" would realize diminishing returns on those expenditures if investments in other disciplines were not made. Below are some brief definitions of each of these disciplines.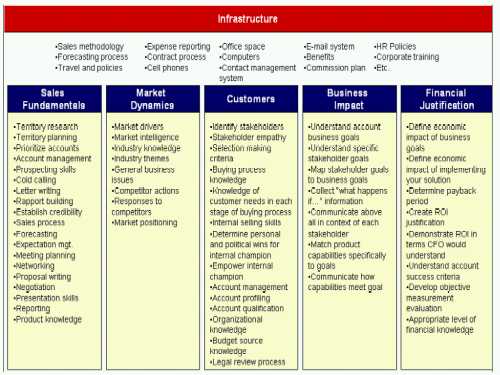 Figure 1 Five Disciplines of Sales
Infrastructure. Investments in infrastructure include all of the expenditures you make to maintain a sales organization. This includes salaries, benefits, travel expenses, cell phones, computers, office resources, and software investments. We typically find that companies with higher than average selling costs are over invested in infrastructure.
Sales fundamentals. There are several sales productivity companies that will help implement a sales methodology in your organization. In these training classes, sales people are trained on best practice skills that can immediately improve their abilities. However, most organizations do not equip sales people with the right content to enable them to practice these methodologies. Over time, no matter how positive the sales team is about the process, they revert back to bad habits because they lack the content to sell solutions. When organizations tell us, "our sales methodology doesn't work", we generally find that marketing is not delivering content and tools aligned to that sales process.
Market dynamics. Investments made, typically by the marketing organization, to uncover market trends and competitor actions are elements of the market dynamics discipline. Whether this function is performed in-house, or outsourced to the many syndicated resource providers in the market, this information is only half of the battle. Sales people require this information to keep from being blind-sided by customers and to develop an intelligent counter to competitor claims. But, to truly make this information useful in the selling process, sales people require the analysis that translates these trends and competitive moves into usable content. Expecting them to make the connection independently or asking them to navigate several web sites or read reports reduces their time spent in front of clients.
Customers. Enabling your sales people (through a combination of tools and training) to understand the roles and responsibilities of the various stakeholders involved in procuring your solution, and the process by which they evaluate your offering, are sample outcomes of the "customers" discipline. We rarely find technology organizations that provide this information in an easily digestible manner—usable to sales people. Amazingly, this is the typically the most under invested discipline of all. When we talk to vendors, they generally believe they have institutional knowledge about the customer. Yet, even if this knowledge does indeed exist, it is very rarely shared from a holistic perspective and ultimately the point-of-view of just one or two stakeholders is what emerges – not the perspective the whole customer.
Business impact. The primary focus of this discipline is to enable a typical sales person to map your features and functions into specific business outcomes your customer will realize from working with your firm and to translate those outcomes into the goals of each of the stakeholders involved in the buying process. There are very few organizations working on this right now. Whenever an individual in a corporate function tells us that their sales people "just don't understand what we offer", this is a red flag to us that the organization has under-invested in this discipline.
Financial justification. Today, IT investments require a business case and cost justification to be approved. This discipline focuses on helping your sales people define a clear business advantage and support that advantage with a strong financial case. When we hear vendors tell us they are losing a lot more of their business to "no decsion" than to a competitor, this tells us the business case for the project has been placed on the back-burner because something more compelling for the business has surfaced. We strongly urge the firms we work with to focus on helping their clients defend the budget for their project first and justify the vendor's portion of it second. Based on our experience and research, the majority of IT vendor organizations are extremely unbalanced across each of these disciplines. The most common mistake is over-investment in sales infrastructure. The chart below highlights how a prototypical IT vendor is mastering each of these disciplines. The index on the left is a scale from 0 to 100, with 100 indicating that an organization is sufficiently competent in a given discipline. While your organization may score differently, chart provides an aggregate view of our industry.




Figure 2 Sales discipline mastery of a common IT vendor.



The "performance gap" is especially eye-opening because these under-invested areas are the disciplines that are the most important to customers. We believe closing this gap is a critical success factor to achieving a highly efficient and effective sales organization within your firm.

Summary

Selling complex offerings to multiple stakeholders creates sales challenges that are equally complicated. In this ecosystem of interconnected and interdependent disciplines, the only sure thing a "silver bullet" mentality will do is waste valuable time and resources. True sales effectiveness is gained by first understanding the interdependencies of your business development ecosystem, and then, by balancing the investments across all disciplines.

The closest thing to a silver bullet that we can offer is this: content drives the sale, yet the development and delivery of quality content to the sales force is the most heavily neglected discipline by far.

Invest in the creation and delivery of relevant, targeted content to help your (existing) sales team make your complex solutions easier to buy. This investment will deliver the true, measurable sales effectiveness gains…and it will make the next call from your CEO much more pleasant!

Scott Santucci is President of Blueprint Marketing, the only company offering a proven methodology that transforms the sales and marketing organizations of enterprise technology vendors into an integrated sales engine driven by more effective knowledge of the customers' buying process. The result is increased sales in less time and higher returns from marketing investments. Contact Scott at scott.santucci@blueprintmarketing.com or visit http://www.blueprintmarketing.com.



<! *************** END OF MAIN *******************************************>