CRM Applications
Customer Support Software
Direct Response Marketing Software
Contact Management Software
Phone Attendant
Mortgage Marketing
Inbound Telemarketing Outbound Telemarketing
Mortgage Software
CRM Software Features
IVR Software
CRM Software Solutions
Telemarketing Call Center
Voice Broadcasting Service
Appointment Reminders


<! ************** MAIN BODY ************************************************>

DSC Tech Library



Customer Relationship Management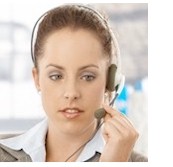 This section of our technical library presents information and documentation relating to CRM Solutions and customer relationship management software and products. Providing timely customer service information is vital to maintaining a successful business. Accurate information provided in an organized and thoughtful manner is key to business success.

TELEMATION, our CRM and contact center software, was originally built on this foundation. The ability to modify Customer Relationship Management software is important in this ever changing business environment.

Telemation Customer Relationship Management solution and contact center software is ideally suited for call centers throughout the world.



CRM Strategies for Managing Service Operations
As service businesses move from cost centers to profit centers or strategic lines of business, service executives and managers are looking for new approaches to improving profitability and efficiency. Recent in-depth studies conducted by Donald F. Blumberg, CEO of D.F. Blumberg Associates, a management consulting firm specializing in field service business based on cross sectional studies of over 200 high tech service businesses, indicates that service profitability is directly affected by:
- Real time service management systems and infrastructure for optimizing service operations.
-Increased density of the service customer base through improved marketing, sales, pricing, and service portfolios.

Integrated systems for call management, logistics management, field communications, data base management, and functional optimization for call assignment, dispatch, scheduling, and logistics management and forecasting, can more than double the productivity and efficiency of service force and logistics utilization.

By using this increased efficiency to increase the service base in existing customer areas, profitability can be significantly increased.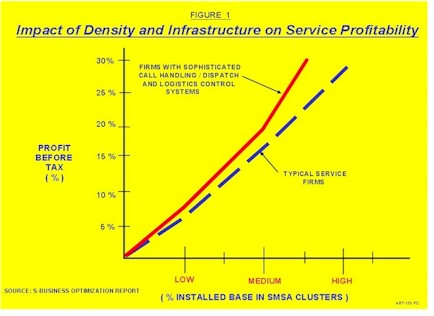 As shown above. both density and systems infrastructure independently improves service profitability. The combination of both creates a major increase in profitability.

Field service systems and the directly related marketing and sale of improved and more responsive service performance (provided by the systems) provides a great return on investment (ROI), and represents critical and vital mechanisms for service management. This proven track record* of improved and optimized field service performance through field service management systems should not be ignored.

From the above analysis, there appears to be little question that the typical service business infrastructure can be improved. Taking the broader concept of Customer Relationship Management (CRM) into the service business will lead to

• A rapid increase in the pace of business transactions with increased demand
• Increased need for flexibility and enhanced service reaction time which customers will expect from their vendors
• Realignment, consolidation or elimination of inefficient sales distribution channels (particularly indirect channels)
• Increase in added value (of services), primarily in terms of significant changes in time to service
• Full integration and provision of services and support due to the need for full support over the life cycle
• Maximum use of all data and intelligence over the continuing integration between company and customer to fully focus on both met and unmet customer requirements and needs
• Ability to rapidly recognize and adjust to new service customer requirements and needs
• Need for continuing real time customer satisfaction measurement
• Ability to accurately recognize customer service needs and requirements and willingness to pay by segment and market niches, rather than treating all customers the same

It is critical to recognize that the typical business organization viewed the sales and service function as related roles. Traditionally, sales and service were generally combined in one organization with service acting in a subordinate role, often as a cost center. In some high tech markets, service has now been moved out from under sales, and set up as a separately managed business. The move into CRM will require some re-integration of, at least, the systems infrastructure of both sales and service, with after sales services given an equal, rather than subordinate role to pre-sales functions and support.




As shown above, CRM requires a full integration of all pre-sales and post sales services systems operating off a common database, using a variety of voice, data, and image communication links (wireless, internet, etc.). This should be designed to create a seamless interface for the customer, as perceived by the customer, and a full focus on the present and potential customer's service needs and requirements, as perceived by the vendor. CRM calls for a full integrated real-time, added-value linkage to the company. It also is intended to provide all functions and elements of the company with a common database, allowing continuous tracking, coordination, and control of all interactions with a given customer and customer segment. The array of field force automation technology supports this infrastructure as well as sales automation technology, such as data mining, data warehousing, sales planning and scheduling, etc.

What, then, is the critical issue in the creation, implementation and roll out of a full CRM system that also supports the service business. To a large extent, the problem is in the need for a fully articulated customer oriented service, strategy, and in the need for overcoming the political, behavioral, and organizational issues and differences between sales and service. There are some common issues between sales and services; both deal with perceptions, rather than realities. Both personnel tend to be involved in travel and are often mobile. Both deal with random, unscheduled events and demands and, thus, market and customer intelligence is very critical. However, there are also some significant differences. Sales are often incentivized, while service is generally not. Services have to deal with reality on the ground with the forward cutting edge, as well as with perceptions. Sales mainly deal with perceptions, images, and "smoke and mirrors."

These differentiators are most critical in the management of product businesses versus service businesses. Products can be stock piled and inventoried, but services cannot. Our experience indicates that CRM applied to service businesses can have an even higher payoff than the CRM applied to product businesses. This is particularly true because the service business sales person is often "selling from an empty store", and thus, needs to have a full understanding of all customer requirements and relationships in real time to add value to the customer.

CRM DESIGN

In designing and specifying a CRM system, how is it possible to achieve a common ground on the value and return on investment of various systems and technology; some supporting sales/marketing, and others supporting post sales service?

As a good example of this type of trade-off required, we must look at data mining supporting call management. For the service business, functional improvements in call management, especially in introducing call diagnostics and call avoidance, using data mining, can have very high and measurable ROI, whereas data mining may only offer qualitative improvements in the selling process. Thus, a CRM system designed by sales personnel will have a tendency to focus on more qualitative areas of sales support, as opposed to the much more precise measurement needs of the service organization. Another good example is data mining done in support of predictive planning and scheduling of sales and service. While to some, both principals apply, the sales executives may not fully recognize the applicability of data mining to service planning, coordination, and control, while for service executives, this process is critical.

SUMMARY

In summary, the technology to create the full CRM model, systems infrastructure, and interface is now available. The critical issue is to overcome the political, administrative and organizational barriers to a full strategic re-integration of sales, service, and support, through a seamless infrastructure and support system. To a large extent, the basic CRM concepts are already embedded in the integrated field service management systems available, but primarily with respect to the service side of the equation. Sales force automation packages typically tend to focus only on the product oriented sales side of the CRM equation, ignoring or minimizing support for the after service sales functions. Only a few systems are now becoming available which fully embrace both sales and service fully. It is, therefore, important to avoid rushing to solutions and technology which suboptimize one role over another in the attempt to fully roll out CRM concepts rapidly. In summary, the full plan for CRM in both the sales management and service management role is a necessary first step in full and cost effective implementation.

________________
*For more information see "S-Business Optimization Study" by Donald Blumberg, D.F. Blumberg Associates, Inc., 2002
THE CRM/E-BUSINESS PARADIGM




Donald F. Blumberg, President


Donald F. Blumberg is an internationally recognized authority on the service and support industry and market, and on the design, operation, service, and support of computer, telecommunications, process control and plant automation, and related high technology equipment and software service. Mr. Blumberg is the President, Chief Executive Officer, and founder of D. F. Blumberg & Associates.





<! *************** END OF MAIN *******************************************>