CRM Applications
Customer Service Software
Direct Response Marketing Software
Contact Management Software
Phone Attendant
Mortgage Marketing
Inbound Telemarketing Outbound Telemarketing
Mortgage Software
CRM Software Features
IVR Solution
Telemarketing Call Center
CRM Solution
Voice Broadcasting Service
Appointment Reminders


<! ************** MAIN BODY ************************************************>

DSC Tech Library



Customer Relationship Management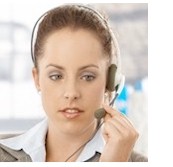 This section of our technical library presents information and documentation relating to CRM Solutions and customer relationship management software and products. Providing timely customer service information is vital to maintaining a successful business. Accurate information provided in an organized and thoughtful manner is key to business success.

TELEMATION, our CRM and contact center software, was originally built on this foundation. The ability to modify Customer Relationship Management software is important in this ever changing business environment.

Telemation Customer Relationship Management solution and contact center software is ideally suited for call centers throughout the world.



CRM Applications Serve Employees, Customers, and Partners
According to Insight Technology Group's Jim Dickie, after studying hundreds of CRM projects, buying technology before you have developed your CRM business goals can lead to disaster. It's a common pitfall.
Plenty of well-meaning companies are confused about why they're buying CRM applications, which stems from not understanding customer loyalty drivers, according to Craig Lashmet, group president for North America for Chicago-based eLoyalty. Relatively few also take the serious time to understand the business benefits they derive from the CRM technology solutions. žSure I can lower the time spent on calls,Ó Lashmet says, žbut how does that help my bottom line?Ó
Despite the confusion, or maybe because of it, vast sums of money are being spent attempting to improve customer relationships. AMR Research predicts the CRM market will exceed $5 billion in 2000, and will grow at 50 percent per year. The Aberdeen Group estimates that in 1999 the CRM market generated $7.8 billion in revenue from software licenses, integration services, and peripheral and hardware sales. Some analysts forecast the CRM market to grow to $9.4 billion by 2002, led by sales automation and customer service software.
As the total revenue grows explosively, CRM solutions are also evolving at a manic pace, fueled by the same Internet forces driving the demand for CRM itself. Vendors that focused on client/server-based sales automation or customer service software are scrambling to embrace eBusiness technology. Upstart eCommerce suppliers are adding relationship management technologies, as it becomes increasingly apparent that online customers aren't much different from their žbrick and mortarÓ counterparts. Meanwhile, ERP stalwarts are leveraging their back-office dominance by adding modules for front-office functions like sales and customer service.
While strong vendors are present in certain segments of the CRM market, no one vendor offers a complete, best-of-breed CRM package providing all functions, for all channels, for every industry. žOne of the myths is that the technology is complete,Ó says Julie Fitzpatrick, senior vice president of marketing for Chicago-based eLoyalty. žCompanies need to understand how they're going to do what the technology can't do, such as having a data model to store information about the relationship - actionable data about the relationship.Ó The upshot: you'll probably need to acquire your CRM applications piece by piece out of sheer necessity, although multi-function software suites are a popular choice to get started.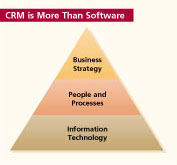 To make sense of the bewildering array of vendors, applications, and technologies, start by thinking about the users of the CRM application:
Employees - This is where client/server-based CRM solutions started in the mid-1990s, focused on automating internal sales, service, and marketing processes.
Customers - If customers want to serve (or sell) themselves via the Web, why not? The flood of eBusiness applications is testimony to this hot trend.
Partners - Often overlooked in the eCommerce hype, indirect sales channels are still vital. Partner Relationship Management (PRM) applications serve these users. Next, consider the functions or processes involved in the customer relationship lifecycle:
Marketing - targeting prospects and acquiring new customers through data mining, campaign management and lead distribution.
Sales - closing business with effective selling processes, using proposal generators, configurators, knowledge management tools, contact managers, and forecasting aids.
eCommerce - in the Internet age, selling processes should
transfer seamlessly into purchasing transactions, done quickly, conveniently, and at the lowest cost.
Service - handling post-sales service and support issues with sophisticated call center applications or Web-based customer self-service products.
The CRM Solutions Market Map diagram shows both of these dimensions and positions the major application categories. So, to find a good starting point in vendor selection, think about the most important users and the key functions you need to execute your CRM strategy.
Regardless of their design point, CRM applications must ultimately help the enterprise satisfy end customers, whether they are handled with a direct sales force, call centers, web sites, channel partners, or some combination. This multi-channel world is the result of customer mandates to ždo business my way.Ó It's enough to give a CIO a severe migraine. The challenge is coordinating information across all channels to provide a pleasant customer experience and avoid the problem of žcorporate amnesia.Ó (Sorry, our system doesn't have any record of your Web site this morning. Could you tell us again what you wanted?) To get there, however, will probably require integrating new technologies.
Internet customer service, email routing, Web-chat, Web-collaboration, speech-enabled applications, and Computer-Telephony Integration (CTI) can all be found in today's CRM systems. A well-crafted CRM application strategy should effectively combine all elements into a consistent, pre-integrated architecture to understand customer behavior across all contact channels, using the customer as the starting point, not your internal business processes.
Where did CRM technology get its start? Al Baker, director of product management global call center solutions from Siemens, says call centers are where it all began. žYou're providing service to a customer above and beyond what they're used to. This is where the whole CRM thing started,Ó he says. Anne Nickerson, president of Call Center Coach in Ellington, Connecticut, prefers the terms žcustomer contact centersÓ or žcustomer interaction centers.Ó See the difference? One is a place to dispose of pesky phone calls, the other is a place to interact with customers and collect important data.
Technology will certainly continue to evolve rapidly, but there is one thing that won't change: people are instrumental for effective CRM. Nickerson says the qualities most prized in call center staff today are a focus on customersůthat žservice geneÓ some people are simply born with, an ability to communicate, to hear and transcribe information accurately and to learn quickly. Certain industries have certain specialized needs. If you're in financials you should look for an analytical staff, since žwe can script or prompt, but the rep needs to hear the customers' needs and choose to cross-sell or take some other route,Ó Nickerson says. In call center CRM you should also have applications for mining and using the information you capture in a call, Nickerson says: žIf a company doesn't value that, then they won't make the investment to get the best technology, the best person, and the best training.Ó
People will continue to be a vital part of customer service, even in the online world. Many companies want to extend traditional call centers to handle online interactions, according to Jim Speros, president and COO of eCRM vendor Sideware. For example, why not give online customers a "click for help" button that will immediately connect them to a live person via a real-time chat feature? "E-mails are not responsive enough, and most go unanswered anyway. To develop a sticky web site and build customer loyalty, you must give users an immediate answer," says Speros.
Kathleen Riehle, director of communications at Synchrony, says that online customers still value telephone support when they have an issue. Research studies show that most users will abandon Web sites that don't provide good customer service. "Long-term, you need to understand the total customer view and find cost effective ways to deal with customers on their terms," says Riehle. "Many customers prefer telephone support, but this must be integrated with electronic support via the Web or e-mail." This multi-channel integration of customer interactions is a new frontier for the CRM technology market.
Assuming the people side of CRM is handled well, CRM applications can provide the competitive boost companies are searching for. Just make sure the technology is focused on the right problems. For example, some companies err by optimizing one channelůdirect field sales, typicallyůwhen their customers would rather interact with them over the Web or via channel partners. Truly successful CRM applications meet customers in their terms.
Today customers are looking for more individual attention, more responsiveness, and much more customization. Customers want, no, demand, great service. They want the information they need when they need it. They want suppliers to deliver products wrapped in a superior customer experience. Is your business up to the task? The right applications, if backed by an appropriate CRM strategy and organization support, can help any business succeed in this Customer Era.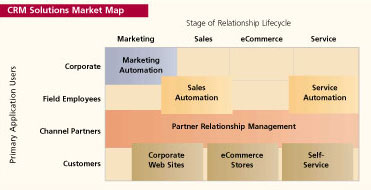 <! *************** END OF MAIN *******************************************>