Call Center Company
Call Center Solutions
Call Center Monitoring System
Call Center Simulator
IVR / ACD Simulation
Predictive Dialer Simulator
Voice Broadcast Simulator
Contact Center Technology
Predictive Dialer
Business Phone Systems
Office Phone Systems

Information
Contact Center Technology
Call Center Monitoring
Contact Center Software
Call Center Software
Customer Contact Center Technology
Call Center Solutions
Telemarketing Software
Call Center Recording
Voice Recording
Call Recording Software
Call Logging
Linux Call Center
Call Center Technology
Telemarketing CRM
Call Center Autodialer

DSC Tech Library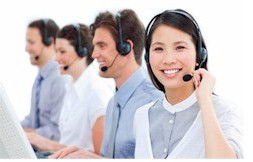 This section of our technical library presents information and documentation relating to Call Center technology and Best Practices plus software and products. DSC is a leading provider of contact center technology and software solutions as well as predictive dialer phone systems for the modern call center. Customer contact center software includes CRM software and computer telephony integration solutions. These modern products help call center phone agents communicate effectively with your customers and prospects.

The following article presents product or service information relating to contact centers and customer service help desks.



---
<! ************** Beginning Of Main ************************>
Contact Center Technology
The following information is an extract from the Intel Solutions Catalog page entitled "Contact Center Technology".

Contact Center Technology
"New technologies are leading the way in the evolution of the contact center. As focal points of communications, contact centers were the first to integrate voice and data technologies, deploying interactive voice response (IVR) systems that linked caller information with database records to accelerate response and improve customer service.

Today's challenge is providing personalized service that can handle both voice and multi-media contacts (fax, email, voice mail, Web interaction). Enterprises are also incorporating a new array of contact center services such as video, wireless access, and compatibility with personal digital assistants (PDAs) and other smart devices.

Virtual contact centers - networked sites operating as a single entity - are expanding the labor pool and providing new options for disaster recovery and around-the-clock customer service. Contact centers need user-friendly automated systems to handle high volumes of inbound and outbound contacts. They rely on agents to answer complex inquiries and to provide personalized service to customers.
Key technologies for today's contact centers include:
Communications Web services


Computer telephony (CT)


High-speed Ethernet


Internet Protocol (IP)


Speech


Multimedia


Wireless and mobility
Communications Web Services
Contact centers need a consistent architecture on which to run applications - not diverse platforms for applications such as IVR, messaging, and conferencing. This need is based on the requirements for consistent channel management, as well as simplified support and cost savings.

The requirement for a single communications infrastructure has driven the transition to standards-based application servers based on Web servers - small, building block applications that can connect to each other as well as to other applications on the Internet. Web Services is a new set of standards for structured transactions flowing between Web servers. Web Services transactions use Extensible Markup Language (XML) encoding, with schemas published in directories that can be consulted by participating applications.

Communications Web Services (CWS) is the provisioning of communications services so that they can be controlled and managed by Web-style applications. CWS provides voice and speech integration to an enterprise's existing data infrastructure. This architecture enables channel consistency, allowing applications to "see" relevant information from databases and allowing customers to interact with the contact center through a variety of voice and data channels.
Computer Telephony (CT)
A basic call center can be transformed into a next-generation contact center through computer telephony (CT) features such as IVR, screen pop, intelligent call routing, and automated outbound dialing.

CT technology lets the application route telephone calls and associated data to systems or agents as determined by business rules within the application. For example, a caller requests and receives information via the IVR. When the caller needs to speak to an agent, the application routes the call and the data to the agent based on criteria such as language, skill level, time of day, or client/agent relationship.
High-Speed Ethernet
As contact center applications become increasingly sophisticated, it is important to consider the demands that innovations such as video will place on the network infrastructure. High-speed technologies such as 10 Gigabyte Ethernet can provide the underlying infrastructure for high bandwidth requirements. The IEEE 802.3ae* 2002 (10 Gigabyte Ethernet standard) means that Ethernet can now progress to 10 gigabits per second while retaining its critical Ethernet properties. This increased capacity is an important enabler for contact centers expanding into multimedia applications.
Internet Protocol (IP)
IP allows packetized voice to travel over a data network such as a LAN or WAN. Contact centers are deploying IP systems due to its capabilities:
Support for remote agents, such as agents working from home, who need access to the same telephony and data resources as they would have in an office.


Distributed or multi-site contact centers operating as one virtual center with calls and data seamlessly routed between locations.


Multi-media contact centers where systems and agents handle both telephone calls and contacts from faxes, email, and Web communications. For example, a "click-to-talk" application lets an agent and Web user talk while jointly browsing Web pages.
Total cost of ownership benefits are derived from being able to maintain a single network with simplified centralized administration.
Speech
The most natural way to communicate is through speech - the human voice. Dramatic advances in automatic speech recognition (ASR) and text-to-speech (TTS) technologies are driving an evolution in IVR and messaging applications. Speech-enabled IVRs let callers navigate through speech commands, freeing them from lengthy menus and repetitive touchtone inputs to process transactions. Benefits to contact centers include improved service, improved agent productivity, and reduced long-distance costs through faster transactions and information retrieval.
Multimedia
Customers expect to access information and process transactions through the media channels of their choice. Wireless connectivity through mobile phones, personal digital assistance (PDAs), and laptops provide new options for consumers to connect with corporations. Contact centers are deploying universal queuing applications to manage voice and data contacts from all media channels through a centralized queuing engine, saving agent time and providing customized service with a more satisfying user and agent experience.
Wireless and Mobility
Contact center customers demand anywhere, anytime access and the ability to use a variety of wireless PCs, PDAs, and mobile phones to communicate with enterprises. Wireless is one of the largest trends in telecommunications. The rapid adoption of Wi-Fi technology, as shown by the proliferation of mobile technology from Intel, is ushering in new contact center applications requiring messaging, collaboration, and multimedia for wireless devices. Wireless broadband technology such as WiMAX will offer the ability to communicate, transmit video, and provide interaction in a wireless environment...."

---

To view the entire information page, please visit their website here:
http://www.intel.com/network/csp/solutions/contact_cntr/7288tch.htm. <! ***************** End Of Page ****************>


---

Contact DSC to learn more about our contact center technology and solutions. <! *************** END OF MAIN *******************************************>