Call Center Company
Call Center Solutions
Call Center Monitoring System
Call Center Simulator
IVR / ACD Simulation
Predictive Dialer Simulator
Voice Broadcast Simulator
Contact Center Technology
Predictive Dialer
Business Phone Systems
Office Phone Systems

Information
Contact Center Technology
Call Center Monitoring
Contact Center Software
Call Center Software
Customer Contact Center Technology
Call Center Solutions
Telemarketing Software
Call Center Recording
Voice Recording
Call Recording Software
Call Logging
Linux Call Center
Call Center Technology
Telemarketing CRM
Call Center Autodialer

DSC Tech Library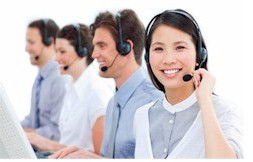 This section of our technical library presents information and documentation relating to Call Center technology and Best Practices plus software and products. DSC is a leading provider of contact center technology and software solutions as well as predictive dialer phone systems for the modern call center. Customer contact center software includes CRM software and computer telephony integration solutions. These modern products help call center phone agents communicate effectively with your customers and prospects.

The following article presents product or service information relating to contact centers and customer service help desks.




---
<! ************** Beginning Of Main ************************>
Customer Contact Centers (Call Centers)
The following is an extract from the University of Michigan - Information Technology Central Services entitled "Customer Contact Centers (Call Centers)".
What is a Customer Contact Center?
A customer contact center (previously referred to as a Call Center) is a feature which allows a department to handle a large volume of calls in an efficient and effective manner. A customer contact center directs incoming calls to an available agent. Much like you see during fund raisers or telethons. A customer contact center is designed for departments such as: help desks, registrar's office, admissions office, reservation desk, customer service, ticket sales, or desktop support.

In the beginning customer contact centers were designed to process telephone calls; they have now evolved to become customer contact centers, processing all types of media transactions…not just telephone calls. The customer contact center is now viewed as the core of the business due to its critical role in maximizing customer satisfaction while at the same time realizing efficiency.

The integral parts of a customer contact center consist of:
representatives who handle customer requests (agents)
management personnel
technology to handle customer requests, including the routing, treatment, and fulfillment of the request (route calls to an agent with a particular level of expertise.
Goals of a customer contact center include the following:
deliver customer satisfaction through prompt, professional, transaction handling
control costs by using resources and technology more efficiently
help staff work more productively
increase profitability
Customer contact centers are designed with technology that delivers timely and quality service your customers expect.


---

To view the entire Contact Center information page, please visit their website, specifically
http://www.itcom.itd.umich.edu/telephone/callcenter.html . <! ***************** End Of Page ****************>


---

Contact DSC for a FREE analysis and quote and to learn more about our contact center technology and solutions. <! *************** END OF MAIN *******************************************>