Automatic Call Distribution
Predictive Dialer
Autodialer Software
Automatic Telephone Dialer
Business Phone Systems
Message Broadcast

Information
Predictive Dialer
Predictive Dialing Software
Business Phone Systems
B2B Phone System
Auto Dialers
Predictive Dialers
Phone Dialers
Autodialing
Auto Dialer Software
Automatic Dialer Solutions
CRM Software Solutions
Predictive Dialer Software
Autodialer Software
Business Phone System
Automatic Phone Dialer
Telemarketing Autodialers
Call Center Phone Dialing
Progressiver Dialer
Automated Dialer
Telephone Dialers
Automatic Telephone Dialing
Voice Broadcasting Voice Message Broadcast Telephone Dialer Software Voice Broadcast Software Voice Broadcasting Autodialer



<! ************** MAIN BODY ************************************************>

DSC Tech Library



WIZARD Phone Systems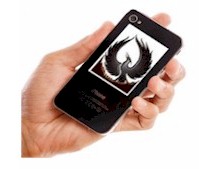 This section of our technical library presents information and documentation relating to the WIZARD and PACER Phone systems. The PACER digital phone system supports T1 lines while the Wizard phone systems support analog phone lines. Both are PC based call center phone systems that are recognized as premier inbound and outbound computer telephony systems. Features such as automatic call distribution (ACD), Interactive Voice Response (IVR) and Voice Broadcasting have added a new dimension to the predictive dialer and auto dialer capabilities of these systems. These computer based dialing systems can perform various types of auto dialing campaigns simultaneously. These types include Predictive Dialing, Progressive Dialing, Preview Dialing and Dial on Demand.
WIZARD REPORTS > Campaign Summary Report
The Campaign Summary report simply provides a listing of the general performance of a voice broadcast campaign. Items include a count and percentage of numbers called plus the total connect times for live answers and answering machines.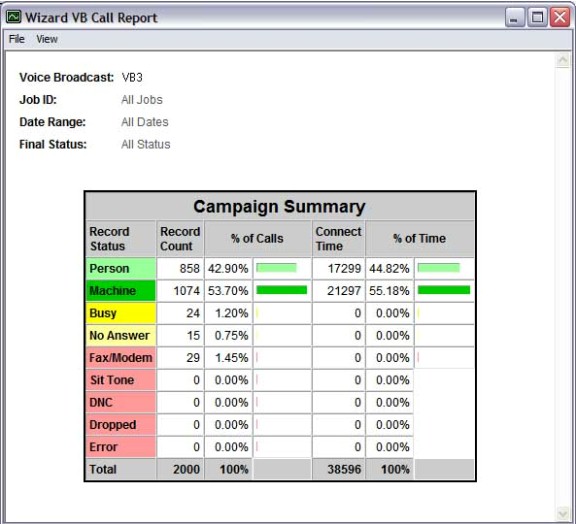 Return To Manual Index



<! *************** END OF MAIN *******************************************>