Automatic Call Distribution
Predictive Dialer
Business Phone Systems
T1 Line Service
T1 Line IVR Phone Systems
Digital Service
Auto Attendant Software
Call Answering Service

Information
Interactive Voice Response
Toll Free Services
T1 Line Phone Service
IVR Systems
Toll Free Phone Service
IVR Software
Open IVR Solutions
IVR Services
Voice Response Unit
IVR Design Program
ACD Systems
IVR Hosting Service
IVR Outsourcing
Phone Answering Service
Inbound Telemarketing


<! ************** MAIN BODY ************************************************>


Interactive Voice Response
This section of our technical library presents information and documentation relating to IVR development and IVR software and products. Business phone systems and toll free answering systems (generally 800 numbers and their equivalent) are very popular for service and sales organizations, allowing customers and prospects to call your organization anywhere in the country. Our PACER and Wizard IVR systems add another dimension to our call center phone system solutions. An Interactive Voice Response (IVR) processes inbound phone calls, plays recorded messages including information extracted from databases and the internet, and potentially routes calls to either in-house service agents or transfers the caller to an outside extension.
Hosting to Provide IVR Market with Much Needed Boost
Despite a recently failed ASP-based model, current economic conditions, short ROI times, VXML, increased use of speech recognition, and the need for spike demand, is driving the overall demand for hosted Interactive Voice Response (IVR), according to In-Stat/MDR. The high-tech market research firm reports that, in the current down economy, hosted IVR providers are poised to offer IVR services faster, better, and cheaper than ever before, and price-restrained customers are in the prime position to take advantage of the cost efficiency it offers. As a result, the hosted IVR market is poised for significant growth, with the number of IVR ports used for hosting in the US expected to experience a 19.1 % CAGR between 2002 and 2006.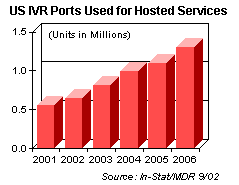 In the past, the IVR was a proprietary device confined to specific enterprise applications. However, today the business model is entirely changed. IVRs can provide a voice front end to anything available on the Internet, and do so using a speech recognition interface. Almost any business can save money and improve customer service with an IVR, yet the pricing can be prohibitive in this down economy. The hosted IVR solution promises to offer IVR at a cost that is palatable to the general business population.

In-Stat/MDR reports that the market drivers for hosted IVR are:

Lack of available capital

Easily achieved ROI

Ability of VoiceXML to decouple data from telephony

Minutes of use billing model that cost-effectively allows for spiked demand nature of IVR users

Ability of hosted IVR provider to defray increased technological complexity inherent in in-house IVR systems

Ability to leverage existing Web investment
This Market Alert is drawn from the In-Stat/MDR report, Hosted IVR: Faster, Better, Cheaper (#IN020247CT), which covers the emerging hosted IVR market with a forecast and analysis.
---
Wizard Simplifies Development
DSC provides IVR software including our IVR wizard development tool for creating interactive voice response applications. Our IVR software lets you increase IVR development productivity by providing a visual development environment. IVR applications can be defined in minutes using this sophisticated, yet easy to use development tool. DSC also has available a comprehensive IVR software library known as our IVR Wizard Software Development Kit. This optional package is available for programmers and systems adminstrators who wish to manage IVR programs fromLinux IVR, Unix, or Windows IVR operating environments.

Data collected by your phone ACD (Automatic Call Distribution) or IVR (Interactive Voice Response) systems can be passed to your existing PC, Unix or Web applications through our phone software. The PACER predictive dialer can automatically call your customers and pass only connected calls to your agents. With our computer telephony software, your telephone and computer work together to provide cost-saving benefits.

<! *************** END OF MAIN *******************************************>