Automatic Call Distribution
Predictive Dialer
Business Phone Systems
T1 Line Service
T1 Line IVR Phone Systems
Digital Service
Auto Attendant Software
Call Answering Service

Information
Interactive Voice Response
Toll Free Services
T1 Line Phone Service
IVR Systems
Toll Free Phone Service
IVR Software
Open IVR Solutions
IVR Services
Voice Response Unit
IVR Design Program
ACD Systems
IVR Hosting Service
IVR Outsourcing
Phone Answering Service
Inbound Telemarketing


<! ************** MAIN BODY ************************************************>


Interactive Voice Response
This section of our technical library presents information and documentation relating to IVR and interactive voice response software as well as automatic call answering solutions. Business phone systems and toll free answering systems (generally 800 numbers and their equivalent) are very popular for service and sales organizations, allowing customers and prospects to call your organization anywhere in the country. Our PACER and Wizard IVR systems add another dimension to our call center phone system solutions. An Interactive Voice Response (IVR) processes inbound phone calls, plays recorded messages including information extracted from databases and the internet, and potentially routes calls to either in-house service agents or transfers the caller to an outside extension.
How automation increases support desk efficiency

By Kris Brittain, Raymond Paquet, and Steven J. Cain

Enterprises are experiencing a technical support crisis with increased demand for support and corporate desire to reduce support budget expenditures. Self-support technologies and new service processes alter the delivery model from one-to-one (agent-to-employee) to one-to-many (automated-solution-to-employees). The primary value of enhancing the consolidated service desk (CSD) with self-service capabilities is to provide proactive, more-automated, and better-quality service at increasingly lower costs. However, to do so requires a deep understanding of where success lies by aligning tools, processes, and problem types to improve overall productivity.


What is automated self-service?
Automated support or self-service began with tools such as interactive voice response (IVR), which has had an impact on results in recent years. The delivery of this technology offered early capabilities in areas such as call routing, password reset, and outage alert information delivery. In the mid-1990s, CSD organizations added Web-based access to frequently asked questions and e-mail problem submissions as a mechanism to aid in call/problem handling. Since 1999, the current generation of self-service technologies leverage new resolution tools deployed as Web-based or end-user-resident solutions.


Does self-service affect performance?
In the course of IT service desk studies since 1999, Gartner has observed distinct trends associated with the type of support automation tools deployed and CSD productivity. In Figure 1, the top line describes "calls handled per agent," which is the number of calls handled by human agents on average per month from 1999 through 2001. There has been a slow but steady decline in calls during this period. At the same time, the average talk time for agent-handled calls has increased. By contrast, the "calls handled per total help desk full-time equivalents (FTEs)," which represents all of the employees in the IT service desk organization, have increased. This number is derived from the total calls—automated (via IVR and self-service) and handled by human agents—each month divided into the total help desk staff, including agents, managers, trainers, and self-help support staff. It is important to point out that "calls" are e-mail and telephone calls, with voice calls representing more than 95 percent of the total volume. IT service desk productivity is growing as agent resources are leveraged in more complex problem-solving activities.

Figure 1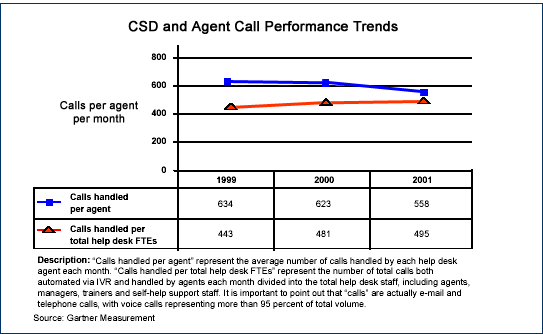 Does problem categorization play to productivity?
Prior to support automation, tier 1 analysts would handle all the calls offered to the help desk. This meant that they would answer some difficult/time-consuming questions and some easy/quickly-handled questions. To automate the support model, the CSD needs to have an understanding of the problem type and categorization. The more granular the understanding of problem typing, the better the possibility of success in support automation. As the percentage of automated calls increases (predominantly through the use of IVR as Web self-help), the call types being handled by tier 1 agents evolve. With automation in place, the agents are left with the more difficult questions, and the corresponding average talk time per agent-handled contact has increased. With this increase in talk time, the number of calls handled per agent has decreased consistently since 1999.


Will this productivity continue?
The reason that the calls handled per total help desk FTE have increased since 1999 has become evident. Fundamentally, automation increases efficiency by enabling the help desk to handle more calls than it could before there was automation with the same number of agents. The extent to which overall help desk productivity has improved is dependent on what percentage of calls can be automated in the environment in question. Generally speaking, the higher the percentage of calls that can be automated, the better the overall impact on the help desk. There is one caveat: In cases where the CSD has been poor in support performance, self-service tools will not reduce overall call volume. These circumstances find the call volume artificially low and, with improving service, the call volume grows to its natural state.

There is a catch. In most IT service desk environments, automation only buys time before the number of agents must be increased because call volume and complexity continue to increase. It is more common for service levels to improve for a period of time with a temporary reduction of pressure on the underfunded CSD staff. Typically, the volume of calls offloaded to automation equates to a year or two at most in contact volume increases.


Bottom Line
IVR and self-service additions to the support model increase the overall productivity of the support organization beyond the service desk agents. On average, this functionality enables the support staff to increase the number of calls managed with the same staffing. Enterprises should invest in automation technology to improve the efficiency of the overall support staff, while accepting a "perceived" decrease in productivity from the service desk agents. However, this perception is false because help desk agents are now addressing more complex and time-consuming problems.

Gartner originally published this article on Jan. 14, 2002.
---
Wizard Simplifies Development
DSC provides IVR software including our IVR wizard development tool for creating interactive voice response applications. Our IVR software lets you increase IVR development productivity by providing a visual development environment. IVR applications can be defined in minutes using this sophisticated, yet easy to use development tool. DSC also has available a comprehensive IVR software library known as our IVR Wizard Software Development Kit. This optional package is available for programmers and systems adminstrators who wish to manage IVR programs fromLinux IVR, Unix, or Windows IVR operating environments.

Data collected by your phone ACD (Automatic Call Distribution) or IVR (Interactive Voice Response) systems can be passed to your existing PC, Unix or Web applications through our phone software. The PACER predictive dialer can automatically call your customers and pass only connected calls to your agents. With our computer telephony software, your telephone and computer work together to provide cost-saving benefits.

<! *************** END OF MAIN *******************************************>