<! ************** MAIN BODY ************************************************>

DSC Tech Library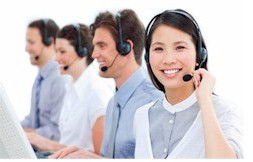 This section of our technical library presents information and documentation relating to Call Center technology and Best Practices plus software and products. Since the Company's inception in 1978, DSC has specialized in the development of communications software and systems. Beginning with our CRM and call center applications, DSC has developed computer telephony integration software and PC based phone systems. These products have been developed to run on a wide variety of telecom computer systems and environments.

The following article relates to call center technology or customer service best practices and techniques.


Call Center Statistics
callcenternews.com
Call Center Industry Size
The number of call centers in Europe will grow from 12,750 in 1999 to 28,289 in 2006.
Frost & Sullivan, 6/2000
---
The cellular telephone subscriber base in the Asian region is likely to expand to 167.0 million by 2005. Total revenues have climbed to $16 billion in 1999, forecast to take a massive leap over the period, with an estimated revenue level of $38.34 billion by 2005.
Frost & Sullivan, 5/2000
---
Europe's call center market is around $9 billion. Great Britain, France, Germany and Holland together accounted for 80% of call center sales revenues within the 15-member European Union EU. During the five-year period from 1999 through 2003, sales of call center systems among those Big Four will total more than 1.8 million seats, over $3.6 billion in base revenues, and over $9 billion in gross revenues.
Pelorus Group, report entitled European Call Center Markets, 3/00.
---
The global call center software market will nearly triple in size, to be $8.5 billion, by 2003. Growth will be driven primarily by demand for Web-enabling software and media-neutral call monitoring solutions. The aggregate market for all call center software is currently worth $2.9 billion. Customer care software is the largest segment of the call center software market, with sales in excess of $690 million in 1999. 90% of all mergers and acquisitions aimed at call center software vendors has been initiated by companies with no historical experience in the call center software space. (This is $7 billion in M&A over the last four years.) Growth in the call center software industry will not occur uniformly within all of the software segments. Market share claimed by each of the three CRM sub-segments (customer care, sales force automation and help desk software) will diminish slightly between 1999 and 2003. Global spending on software that supports Web-enablement will grow more than six-fold between 1999 and 2003, from $245 million to $1.6 billion. The value of the market for call monitoring software is set to grow from $120 million in 1999 to $850 million in 2003.
Datamonitor, 11/99
---
The electronic voice market (IVR) is expected to surpass $1 billion in 2001 and $2 billion by 2005. The electronic voice market as a whole will increase more than 340% by 2005.
Computer Economics, 11/99
---
Online retailing revenues in North America are expected to top $36 billion by the end of 1999, with a projected growth rate of 145% in 1999. Based on data from 328 online retailers, 158 of which participated in a detailed survey, they found that total 1998 online revenues across all categories reached $14.9 billion, representing 0.5% of all retail sales. Online orders in 1998 were up 200% and the number of online shoppers was up 300%.
62% of the $14.9 billion of online revenues in 1998 were from retailers who had businesses that predated the web. Customer acquisition costs for online-only retailers are $42 per customer, almost double that for multichannel retailers at $22 per customer.
The Boston Consulting Group in a report for the online retailers trade association Shop.org, 7/99.
---
The average cost of handling a call in a telephony-based center ranges from US$50-74, and the average cost falls 43% in a web-based call center.
Nortel, citing statistics by Forrester Research, 7/99.
---
The rate of growth in the number of call centers is slowing, from 4% in 1999 to an estimated .8% in 2003, attributed to both maturation and consolidation within the call center industry.
Datamonitor, 5/99
---
There are 69,500 call centers in the US, growing to approximately 78,000 in 2003.
Datamonitor, 5/99
---
The worldwide call center services market totalled $23 billion in revenues in 1998, and is projected to double to $58.6 billion by 2003. (This is based on dividing the overall call center service marketing into these segments: consulting, systems integration and outsourcing.) Outsourcing is the largest segment, with $17 billion in 1998, or 74% of the total market, headed for $42 billion in 2003.
IDC, 6/99
---
Frost & Sullivan estimates the size of the market for e-mail management systems: they predict the e-mail management market to grow 115.7% in 1999 and reach $223.3 million by 2005. The report claims that Brightware has the most market share of vendors in the category, with 28.0%, nearly twice the share of the number two vendor.
Frost & Sullivan, 5/99
---
Outbound telemarketing reached a record $482.2 billion in sales in 1998, including $209.5 billion in sales to consumers.
Direct Marketing Association, 1/99, U.S. Direct Marketing Today: Economic Impact, 1998.
---
On an average business day about 40% of the more than 260 million calls on AT&T's network are toll-free, adding up to 24 billion calls per year.
AT&T, 11/98
---
More than 70% of business transactions take place over the telephone.
GeoTel, citing Gartner Group, 9/98.
---
$700 billion in products and services were sold through call centers in 1997 and this figure is expanding by 20% annually.
GeoTel citing Telemarketing Magazine, 9/98.
---
3% of the US working population is currently employed in call centers, for a total of 1.55 million agent positions in the US call center market. At a 6.5% CAGR, the number of agent positions will grow to 1.979 million by 2002.
Datamonitor, 1998.
---
70% of all customer interaction occurs in the call center.
Vantive, citing Ron Zemke in Harvard Business Review, 12/96.
---
Call center growth has slowed to 32%. More than 90% of call centers have websites.
Dr. Jon Anton, Benchmarking Study, 1998.
---
The number of US companies using call centers in 1993: 41%. In 1995: 81%.
Rosanne D'Ausilio, Human Technologies, 8/98.
---
There are approximately 7,000,000 agents now working in 70,000 call centers in the US, with an annual growth rate of up to 20% in agent positions.
Davox, citing F.A.C./Equities, 1998.
---
Consumer products and remote shopping represent a combined 44% of total call center facilities; these are the largest vertical markets within the call center industry. Deregulation promises to make utilities the fastest growing sector, with a CAGR of 17.1%.
Datamonitor, 1998.
---
The UK's call center industry is chronically short of skilled staff and therefore more than one in ten calls leave customers feeling "irritated, annoyed or furious." The call center industry in the UK is growing at a reported 50% annual rate, with spending on computer equipment in centers alone rising from 300 million pounds in 1994 to 1.8 billion last year.
Financial Times of London, 2/98
---
The number of call center reps in Germany will rise from 65,000 in 1997 to 148,000 in 2001.
German Industrial Investment Council, citing Datamonitor, 1998.
---
The 1996 market for call center services in the US generated revenues of $15.4 billion. The forecast for compound annual growth rate in the U.S. call center services market from 1996-2003 is 15.8 percent.
Frost & Sullivan, 1997.
---
The call center operations market will grow 21% annually, from $7 billion in 1998 to $18 billion in 2002.
Input, 1998.
---
More than half of the largest companies in the United States use toll-free numbers for customer service, and a majority of the U.S. advertisers use or plan to start using call center operations in their businesses. The market leaders are ATT, MCI and Sprint, who are creating a significant barrier to others interested in the market. In order to meet the various challenges facing this growing but competitive industry, continuing consolidation (both mergers and strategic alliances) on the part of service bureaus are predicted.
Frost & Sullivan, 1998.
---
More than 31 million PCs in the United States access the Internet regularly, double the number found a year earlier. Home PCs continue to account for the largest portion of Internet users, but the number of workplace PCs accessing the Internet has increased most rapidly, rising from 3.6 million PCs in early 1996 to nearly 11 million in early 1997. Once connected, the most popular Internet activities are e-mail and Web browsing, followed by downloading software. 30 percent of home Internet users reported engaging in one or more commercial activities, such as using the internet for home banking and stock trading, or to purchase consumer services or electronics.
Computer Intelligence's 1997 Consumer Technology Index (CTI) Study.
---
In 1997 insurance companies and securities firms bought $29 billion worth of information technology. That'll hit $38.5 billion by 2002. Firms in the US spend more on this than any other country. Datamonitor predicts that call centers in those sectors will grow at a compound annual rate of 12% over the next five years.
Datamonitor, 1998.
---
A study of call centers in banks concluded that:
Large banks (defined as those with deposits over $1 billion) run about 1,300 call centers.


Those large banks have an average of 4 centers each. But the top 20 banks average 23 call centers per institution (and as many as 30).


Said banks spent $325 million in 1995 on "building call center technology."
The total volume of retail transactions processed through all delivery channels in 1995 was "around 20 billion."


In 1995 between 6% and 10% of banks (depending on size) outsourced their call centers.


Large banks pay between $2.50 and $3 to process an in-branch staffed teller transaction, $1.75 to $2 for a live agent call center transaction, and 25 cents to 75 cents for a VRU transaction. About 60% to 70% of incoming calls are VRU queries.
Mentis Group, 1996.
---
11% of the 78 billion contacts that occur annually between retail customers and financial companies are handled by telephone, growing to 16% by 2001. It is estimated that global financial services firms spent just over $3 billion (US) on IT related to consumer call centers in 1997. This spending is currently growing at an annual rate of about 10% and is expected to reach $3.3 billion (US) by the end of 1998, before accelerating to approximately 15% annual growth for the subsequent two-year period. North American financial institutions have historically invested the most in call centers, representing 68% of the total current investment. The strongest growth in spending, though, is predicted to come from the European market, as European banks and insurers start to employ call centers in larger numbers. Most customers interact with financial companies either through automated teller machines or physical branches. Electronic (non-telephony) just 1.4% of the total.
Meridien, 1998.


<! *************** END OF MAIN *******************************************>