ACD Automatic Call Distribution
Real Estate Marketing
Predictive Dialer
Call Center Software
Advanced Call Center Solutions
Reminder Calls
Contact Center Technology
Contact Management Software
Telecommuting Software
Virtual Call Center PBX

Information
Call Center Software
Customer Service Call Centers
India Call Centers
Offshore Call Centers
Telemarketing Call Centers
Call Center Solutions
Telemarketing Software
Linux Call Center
Call Center Technology
Telemarketing CRM
Call Center Autodialer
Call Center CTI
Inbound Call Center
Outbound Call Center
Call Center Outsourcing
Call Center Services
Call Center Development
Contact Center
Contact Management Center
Call Center CRM


<! ************** MAIN BODY ************************************************>

DSC Tech Library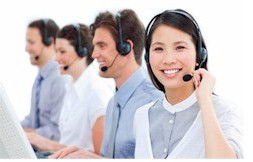 This section of our technical library presents information and documentation relating to Call Center technology and Best Practices plus software and products. Since the Company's inception in 1978, DSC has specialized in the development of communications software and systems. Beginning with our CRM and call center applications, DSC has developed computer telephony integration software and PC based phone systems. These products have been developed to run on a wide variety of telecom computer systems and environments.

The following article relates to call center technology or customer service best practices and techniques.


Call Center Statistics
callcenternews.com
Call Center Human Resources Issues
According to a survey of 771 US call centers, the 186 managers who participated stated that the average hourly wage of top-paid full-time agents ranged from $6.90 to $40 (median $15). The five most competitive industries for top-paid agents' hourly wages who paid $15 and up were Computers (91%), Manufacturing (86%), Healthcare (63%), Insurance (62%), and Telecommunications (62%), which may suggest when correlated with other salary data from the survey that businesses in these industries value agents once they are fully trained in the company's products/services.
Incoming Calls Management Institute, 6/2000
---
Inbound centers have an average annual turnover of 26% for full-time reps, and 33% for part-timers. Nearly half of centers said that part-timers handle 5% or less of their total calls.
1999 Call Center Benchmark Report, Purdue University Center for Customer Driven Quality.
---
3% of the US working population is currently employed in call centers, for a total of 1.55 million agent positions in the US call center market. At a 6.5% CAGR, the number of agent positions will grow to 1.979 million by 2002.
Datamonitor, 1998.
---
Average agent compensation is now at $32,000 per year. The average cost to hire a new TSR is $6,500. The average cost for recruiting and training a call center representative is between $5,000 and $18,000.
Dr. Jon Anton, Benchmarking Study, 1998.
---
There are approximately 7,000,000 agents now working in 70,000 call centers in the US, with an annual growth rate of up to 20% in agent positions.
Davox, citing F.A.C./Equities, 1998.
---
The UK's call center industry is chronically short of skilled staff and therefore more than one in ten calls leave customers feeling "irritated, annoyed or furious." The call center industry in the UK is growing at a reported 50% annual rate, with spending on computer equipment in centers alone rising from 300 million pounds in 1994 to 1.8 billion last year.
Financial Times of London, 2/98
---
The number of call center reps in Germany will rise from 65,000 in 1997 to 148,000 in 2001.
German Industrial Investment Council, citing Datamonitor, 1998.
---
A survey of call center opportunities in the Asia Pacific region found that:
Only a quarter of surveyed centers use externally-assessed quality control, something commonplace in other regions.


Technology is lagging in areas covered by the study, with less than half of these centers using specialized software packages to assist in planning and operation, and less than half having a disaster recovery plan.


One quarter of the centers are dissatisfied with their telephone service.


Average operator training is 15 days, 5 days below the world's best practice level of 20 days, which is standard.


Centers are often established with little regard for how they function as an integral part of the business, with up to 80 percent of the respondents indicating they don't measure cost and revenue per call: a sign they don't consider call centers as revenue-generating assets.
Sydney, Australia-based ACA Research, surveying 1,860 contacts in 12 countries, covering size, traffic, human resources recruitment, training and pay, technology, performance, management, satisfaction with suppliers and investment intentions.
---
From "Learning and Development Best Practices for Call Centers", a study that focused on centers in financial services and insurance:
Call center training is primarily given in an instructor-led setting, despite tremendous advances in technology. 84% of the participants in the study cited stand-up instruction as their main delivery method, with only 3% using computer-based training.


Half of the respondents conducted course evaluations relating to training quality and effectiveness, and their impact on business goals and financials. Almost all (90%) recorded employees' reactions to training course content and instruction effectiveness.


More than half (55%) measured competency levels before and after course completion, and 47% measured and observed behavior on the job immediately following training.


None of the companies surveyed, however, formally calculated a return on their training investment.


On average, there is one trainer for every 121 employees.


At least half of the trainers (50%) have a background in a product or technical area with training time allocated to various activities.


The top three activities that trainers allocate time to are program delivery (38%), program design (19%) and administration (15%).
Deloitte & Touche, 1998
---
Why do customers leave? Primarily because they don't get what they want. But it has less to do with price than attention. 45% of those who leave do so because of "poor service"; another 20% because of "lack of attention" (that's 65% leaving because you've done something wrong). 15% leave because they can find a cheaper product elsewhere, and another 15% because they find a better product elsewhere, and 5% for other unspecified reasons.
Call Center Enterprises and The Forum Group, 5/98 (presentation at CTI Expo, Baltimore).


<! *************** END OF MAIN *******************************************>