ACD Automatic Call Distribution
Real Estate Marketing
Predictive Dialer
Call Center Software
Advanced Call Center Solutions
Reminder Calls
Contact Center Technology
Contact Management Software
Telecommuting Software
Virtual Call Center PBX

Information
Call Center Software
Customer Service Call Centers
India Call Centers
Offshore Call Centers
Telemarketing Call Centers
Call Center Solutions
Telemarketing Software
Linux Call Center
Call Center Technology
Telemarketing CRM
Call Center Autodialer
Call Center CTI
Inbound Call Center
Outbound Call Center
Call Center Outsourcing
Call Center Services
Call Center Development
Contact Center
Contact Management Center
Call Center CRM


<! ************** MAIN BODY ************************************************>

DSC Tech Library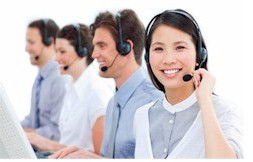 This section of our technical library presents information and documentation relating to Call Center technology and Best Practices plus software and products. Since the Company's inception in 1978, DSC has specialized in the development of communications software and systems. Beginning with our CRM and call center applications, DSC has developed computer telephony integration software and PC based phone systems. These products have been developed to run on a wide variety of telecom computer systems and environments.

The following article relates to call center technology or customer service best practices and techniques.


Not Your Father's Call Center
The economy and trickle-down regulations have some collections experts advocating redesigns for collections call centers. How is technology changing the business?

By Darren Waggoner

Turning a handsome profit in the collections call center business is no longer a sure bet, not with a tricky economy and the threat that points tucked within new federal do-not-call regulations could be applied to the collections trade.

In the heyday 1990s, building a successful collections call center was simpler –akin to assembling a healthy stock portfolio. Luck was often as much a factor as business acumen in its successful construction. "Now, we have record unemployment and record bankruptcies, yet we're utilizing the same call centers we had during the boom times," says Alex G. Demczak, co-author of the book "Optimizing Outbound Calling." Says Demczak: "That doesn't add up. It's time to reinvent."

Collections call centers already are making major changes – with customer service initiatives, better use of technology, and employee training leading the way. "We're dealing with a new animal when it comes to the debtor, so call center managers must make sure their employees are kept current," Demczak says. "Collectors are increasingly competing for unemployment checks, not paychecks."

Agents should be well versed on refinancing options and bill consolidation, for example. If not, they may be handcuffed when helping debtors figure out how to pay their bills.

Training employees to use the technology is key, but teaching them about rules and regulations is critical, adds Paul MacAree, vice president of marketing and corporate development at Universal Systems – an application services provider offering predictive dialing outsourcing designed to speed up dialers. "Employees who don't understand the basic compliance issues, or aren't trained to keep from getting worked up and saying something they shouldn't, are bound to prompt legal action," he says.

Software providers are clawing deeper into the collections call center market – touting various new and redesigned products. Concerto Software, Castel Inc., First Data Corp., Experian, Austin Logistics, Noble Systems Corp., and Information Access Technology are among many software providers offering new or improved ways to schedule calls, limit abandoned calls, open lines for inbound and outbound, and boost the basic ability of routing calls to the proper agent.

Edmond, Okla.-based Amcat – a call center and predictive dialing solutions provider – is focusing on customer service by using call blending technology. "Most people are really pretty forthright. If they have an obligation, they want to meet it, so it's important to give them opportunities to get back to you," says Richard Costello, Amcat's president. "That's where call blending technology comes into play."

Call blending lets agents manage both inbound and outbound calls, routing calls to available agents with the idea of limiting downtime. The technology isn't new but, more than a decade after becoming available to the industry, many call center managers remain leery – with Demczak estimating 50% have not installed it.

Many call center managers believe there are different skills for inbound versus outbound and feel it's too difficult to train or find agents capable of handling both roles. "But if you trust an agent to make a collections call, why not trust that same agent with handling the call coming back?" Demczak says. "Call blending is a great way to keep the inbound group busy and also create some diversity for those doing outbound."

Other technologies include Amcat's "Virtual Queuing" – allowing consumers calling a contact center to leave a number and hang up without losing their place. A call manager calls consumers back when it's their turn. "We can't rely strictly on outbound anymore," Costello says. "We have to be innovative. We have to be smart."

Experian recently launched "Call Center Scheduler" – a tool designed to increase the odds of reaching consumer when they're home. Call Center Scheduler studies calling patterns to eliminate wasted efforts and cut outbound call volumes that don't result in contacts. Data is pulled from Experian's database of consumer marketing information to do this.

Increasing the number of connects per hour is one of the biggest challenges facing collectors today, says Laura DeSoto, Experian's vice president of credit services. "[Using Call Center Scheduler] collectors can improve their hourly connect rate by 10% to 30%," she says.

Concerto, meanwhile, has released Unison 7 – an outbound and blended call solution that doubles the size of the firm's dialing products and allows twice the agents on a single system.
Do-Not Call List
The elephant in the collections call center space is the Federal Trade Commission's do-not-call registry. The registry is designed solely to block telephone sales pitches and has grown to more than 30 million numbers since opening June 27. The FTC predicts that will double by next summer.

Collections, of course, is exempt under the Fair Debt Collections Practices Act because there is a pre-existing relationship between the debtor and the agency, bank, or other financial institution, and many in the collections trade breathed easier when the registry did not single out collections calls.

But some believe related measures governing call abandonment and caller ID eventually will hit the business. As of Oct. 1, 2003, call centers are required to limit abandoned calls – defined as not having a live agent on the phone within two seconds of the called-party's greeting – to no more than 3% of all connected calls. "The telemarketing law is aimed at regulating the use of predictive dialers overall. Collection call centers clearly use them," says Jim Mitchell, chief technology officer, Concerto Software. "So while collection call centers seem exempt, there is some confusion about what may happen later."

"The challenge with predictive dialers is that most can't detect if a voice is automated, as in an answering machine, or is a human voice," Mitchell says. "Companies with older predictive dialers will have to operate them with the answering machine detection feature off, which will waste time and money. Our system can detect whether it's an answering machine and get a connection in under two seconds."

Geoff Burr, president and chief executive of Beverly, Mass.-based Castel Inc., says collections calls account for about 40% of outbound traffic coming from predictive dialers. "If collectors don't have to abide by the same rules on caller ID and call abandonment as telemarketers, then why should the rules apply to anyone," he says. "If you get a call at home and there's dead air, how can you know who called if the caller doesn't have to abide by the ID regulations?"

The regulations governing Caller ID kick in Jan. 1, 2004. Telephone companies won't accept a call being placed unless there is an ID associated with it.

Meanwhile, Burr believes agencies not worried about ramifications of the do-not-call regulations are kidding themselves. It's critical for call centers to understand the predictive dialer functions needed to comply with call abandonment and caller ID regulations. "Ultimately, if agencies aren't ready and don't have the right technology to abide by the abandonment and ID regulations, call centers using Digital Signal Processing dialers won't be able to comply and could see a 30% to 50% reduction in connection rates and agent productivity," Burr says.

The gist of the new regulations is that anyone using predictive dialers will have to find a compliant solution – eventually, he says. "They will either revert to "managed auto dialing" or some other form of one-to-one dialing to achieve acceptable call abandonment limits. And they will have to put out a form of caller ID, which they can't do with existing DSP dialers," he says.

Amcat's Costello says that many companies already have begun to improve their systems and have all the pieces ready to comply. "I believe that's a very good thing because if collections doesn't pay attention to what telemarketers are dealing with, the FTC will surely draw some more boundaries and next time look at collections," he says.

Many software solution firms are rolling out products to help. Castel offers DirectQuest, a call management system designed as a peripheral to the normal call center system. While most predictive dialers are essentially stand-alone systems, DirectQuest's technology allows an existing application to become a dialing application. A firm using Columbia Ultimate or Ontario Systems products, for example, can fold DirectQuest into them and create a telephony peripheral to the collections application.

"It means you can take a collections package and enable it to be a full-blown predictive dialing environment without changing what the agency is used to," Burr says. "Collectors don't have to be retrained and it leaves the company essentially unaffected by any coming call abandonment-related rules."

Essentially, Burr believes Castel's technology bypasses the traditional DSP predictive dialer makeup that the federal government objects to. A June 2003 report from contact center analyst McGee-Smith Analytics awarded Castel with its "best-in-class" rating for achieving compliance with current regulations on outbound predictive dialing.

The ability to meet the new standards and anticipate others that may be coming is what will set these providers and collectors apart from the pack and ensure profits remain tidy while the economy works out its kinks.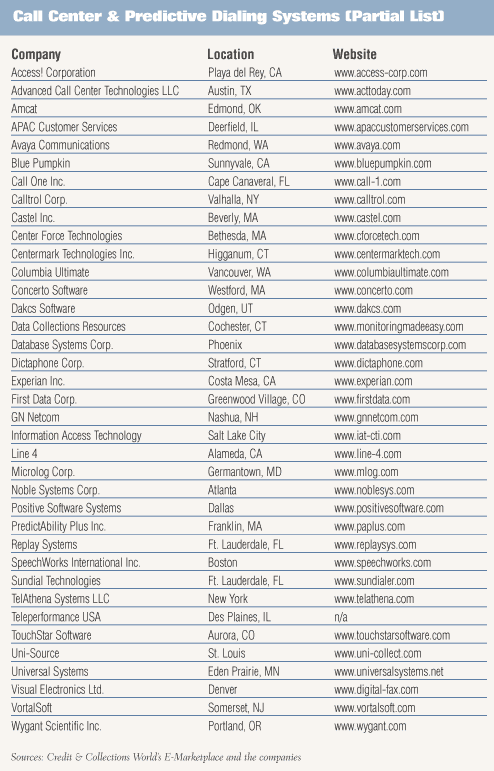 <! *************** END OF MAIN *******************************************>