<! ************** MAIN BODY ************************************************>

DSC Tech Library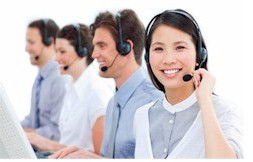 This section of our technical library presents information and documentation relating to Call Center technology and Best Practices plus software and products. Since the Company's inception in 1978, DSC has specialized in the development of communications software and systems. Beginning with our CRM and call center applications, DSC has developed computer telephony integration software and PC based phone systems. These products have been developed to run on a wide variety of telecom computer systems and environments.

The following article relates to call center technology or customer service best practices and techniques.


A Call Center in your Enterprise
Want to build up your own in-house contact center, rather than outsource? Here's how to pick the right platforms, technologies and processes

by Rajneesh De

Wednesday, February 11, 2004



Amidst all the brouhaha about the global offshoring and its impact on the Indian BPO/call center industry, there is a general tendency to ignore a steadily growing constituency—the domestic captive call centers. Some third party call centers currently do cater to Indian customers, but as India Inc. becomes more and more service-focused, there is an increasing trend amongst enterprises to set up in house call centers.

This poses a new set of challenges for enterprise CIOs, since setting up call centers requires different dynamics which many of the old economy CIOs are not really familiar with.

In many instances, it has often been found that though a CIO has been mandated by the company to set up a call center for internal usage, he is often at sea about how to go ahead. And the scale of the call center operation might not justify outsourcing the services to a third party. The first issue that concerns most CIOs in these cases is which technology to opt for during set up phase. The options available are traditional EPABX-based systems, the next-generation server-based systems and lastly the state-of-the-art IP based systems. Other than the technologies involved, this choice would also depend on a number of factors, including the domain in which the enterprise belongs, size of the operation, whether scaling up would be required in the future and the available skill sets within the existing IT team.
Five Considerations for an In-house Call Center
1.
Make the right technology choice depending on the business requirement—either traditional EPABX, server-based or IP-based call centers. Shift to IP-based only if the business demands.
2.
Appropriately size different call center equipments to handle projected call loads.
3.
Basic telecom infrastructure and agent infrastructure should be properly monitored and call center designed accordingly.
4.
Basic operational areas like facility design, workforce management, tracking call center performance and management and reporting tools must be in place.
5.
Set up a holistic CRM ecosystem that should include such elements as interaction management, commitment management and business intelligence.
Technology—What Will it Be?
The evolution of a call center could be traced back to the traditional EPABX-based system—the PBX was deployed to distribute calls coming on common lines to the desks of the agents. To create a full-fledged call center predictive dialers, IVR systems and CTI were later added over the EPABX system. A predictive dialer is an automated dialing system that empowers call centers so that they can spend 50 minutes of each hour talking to live prospects.
Says Atul Kunwar, MD-global outsourcing operations, eFunds, "Telemarketers no longer waste time dialing numbers–all they do is talk to prospects. Predictive dialers have more telephone lines than telemarketers, which are used to initiate phone calls while telemarketers talk to prospects."
A complex algorithm is used to predict the average time it takes to get a live answer and the average length of each conversation, so that telemarketers flow seamlessly from good-bye to hello. It is common for productivity to double or triple when making the transition to a predictive dialer. Avaya, Nortel and NEC are some of the leading vendors in the country dealing with predictive dialers.
Computer telephone integration (CTI) is all about enabling computers to know about and control telephony functions such as making and receiving voice, fax, and data calls, telephone directory services, and caller ID.
According to S Madhavan, CTO, Servion Global Solutions, the main CTI functions are integrating messaging with databases, word processors etc., controlling voice, fax, and e-mail messaging systems from a single application-program; graphical call control using a GUI to perform functions such as making and receiving calls, forwarding and conferencing; call and data association–provision of information about the caller from databases or other applications automatically before the call is answered or transferred; speech synthesis and speech recognition; automatic logging of call related information for invoicing purposes.
In fact, Servion had developed a CTI engine for call centers in India which is compatible with CTI solutions from vendors like Avaya and Nortel.
Though EPABX-based call centers were the first model, server-based call centers, that integrates all the components of a call center into one server as software components, could just make life easier for CIOs.
Anwer Bagdadi, CTO, Epicenter Technologies, lists three main advantages of a server-based call center over a traditional EPABX-based system. Most importantly, it drastically reduces the costs over the traditional architecture, often by nearly 80%. With call center components becoming software modules on a common platform, the exorbitant integration costs can be avoided. The other advantages are the flexibility available for scaling up operations—with most enterprises becoming bigger in a flourishing economy this is a real possibility for which provision must made. With Web and multimedia becoming important delivery channels, server-based systems score over EPABX, as they allow CIOs to make a seamless integration between video, voice and data.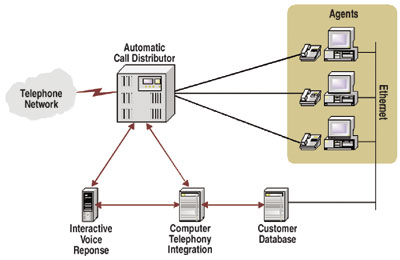 In a traditional environment, while a multi-location contact center would need an automatic call distributor at every site, a single ACD could suffice for all sites if the network is IP-based

The Indian call center market is now witnessing a move towards IP-based solutions—it makes sense for call centers to ride high on IP since that provides opportunities for seamless addition of new, multi-location sites. Remarks Sanjay Kumar, CEO, Vcustomer, " Investment into developing TDM-based technology stopped about 12 years back. While it is now proven and mature, IP is where the action is. You can therefore look forward to all innovations happening on the IP front".

Kumar advises that if companies are starting out anew, then it is better that the IP-way is chosen. Whereas if one is expanding a TDM-based set up, then go for IP that is compatible with TDM.

Says Suchitra Srinivasan, Avaya, "IP-based converged voice and data platforms are better equipped to meet customer demands of consistency across all channels." This is because it can facilitate voice and data interaction over a single network and single platform. IP also offers cost savings in terms of more flexible adds, moves and changes. For CIOs setting up multi-location contact centers or even location-less (home-based) centers, IP offers tremendous potential. For instance, in a traditional environment, while a multi-location contact center would need an automatic call distributor (ACD) at every site, a single ACD could suffice for all sites if the network is IP-based.

Adds Bagdadi, "The IP-based solution also enhances the productivity of the contact agents. Location independence is a key benefit of an IP based contact center infrastructure. No matter where the agents are physically located, as long as they have access to the corporate WAN, they can still function as if onsite."

This also helps the CIO to reduce operational costs of the call center—he can even convince the CFO showing him quantifiable benefits in terms of RoI. The operation could be organized in a distributed manner, making the infrastructure resilient to eventualities of failure/disaster. With an underlying IP-based contact center infrastructure, one deploys and maintains a single network. All these factors significantly reduce the total cost of network ownership, which would make all–CFO/CIO/CEOs–happy.

Running Repairs
Most often, the kind of equipment and software required in a call-center spans generations of technologies and standards. Serviceability of the whole set up is a paramount consideration.

Adds Kumar, "This consideration should not come as an afterthought…it has to be there right in the planning stage." Once the choice of technology has been made, the CIO faces the more crucial issue of sizing different call center equipments appropriately to handle call loads projected for a call center. A certain number of incoming PSTN trunks will be required to handle a specific load. PBX/ACD and IVR units must have an appropriate number of ports to receive incoming trunks and additional ports to handle internal agent lines.

Server-based call center architectures are generally non-blocking, hence the complexity is reduced to estimating the call load, which is used to derive the number of PSTN ports required. A general rule of thumb is that the ratio of PSTN ports to number of agents for effective agent utilization should be between 1.5 and 2.

Telecom equipment is generally sized based on peak loads and desired performance levels. Various formulae and queuing algorithms are used to determine line and port configurations for incoming call center operations. These models are based on performance parameters including:

Blocking levels—number of callers who get a busy signal in a specified period of time. Queue times—duration of time for which a caller is held in queue prior to connecting to an agent.

IVR time—the time required to complete an IVR portion of a script. Agent time—the time required to complete an agent portion of a script.

Re-dial rates—the percentage of blocked callers who re-dial within a peak hour. Average number of calls per month; number of calls during a peak hour and peak call volumes are traditionally used for equipment sizing. A number of peak load situations may actually occur in an operation, all of which must be considered when developing loading models.

Once the call center is ready, it is important for a CIO to check out certain telecom nitty-gritties which could become crucial at the time of scaling up the call center.

Bagdadi, a veteran in setting up call centers at Godrej-Lawkim, GE and Epicenter, agrees on these points which many CIOs often gloss over. The issues involved are whether the local exchange provides analog or digital links, whether the PSTN service provider could give routing from two different exchanges to increase reliability and whether existing PBX and phone lines can be re-used in call centers.

Management & Reporting
Finally, the operational issues involved in a running call center include facility design, staffing and workforce management, employee motivation and training, performance management and utilization for cross selling. Once the basic gear has been hooked up, the most important consideration is to assess the management and reporting capabilities.

The operational part of call-centers involve the following :

Facility design: Call center development will, in many cases, require the design of new facilities or redesign of the existing facilities. In either case, it is important to create a well thought out facility plan, with process work flows and employee satisfaction being two important criteria in the design.

Workforce management: Periods for peak claim loads may generally be identified through call volume statistics. Bagdadi lists this as a priority for most CIOs in 2004. The exact volume of calls at any point in time is unknown. Optimizing the number of staff available to deal with these unknown volumes, is critical.

Tracking call center performance: Important criteria are abandonment rates, numbers of calls handled by each agent, average speed of answer and/or wait times, average time of each call (by agent) and percentage of blocked calls (busy). But, quality customer service is more important than achieving these goals. Various reporting tools from vendors like Blue Pumpkin, Aspect and IEX can refine this step.

Cross-selling services: Call centers that consistently cross-sell at every opportunity can quickly become a profit center as opposed to a cost-center.

CRM is another important aspect that a CIO should look once the call center is operational. A holistic CRM ecosystem should include such elements as interaction management, commitment management and business intelligence. Keeping this in mind, one can start putting in place a contact center solution. For instance, one must take into connsideration that customers appreciate communication consistency across all communications channels. Similarly, the business intelligence of the contact center solution should have tools that satisfy an enterprise's growing need to know its customers more and better.



<! *************** END OF MAIN *******************************************>