Call Center Company
Call Center Solutions
Call Center Monitoring System
Call Center Simulation
Call Center IVR Simulation
Predictive Dialer Simulation
Contact Center Technology
Voice Broadcast Simulation

Information
Modern Call Centers
Contact Center Software
Call Center Software
Customer Contact Center Technology
Call Center Solutions
Telemarketing Software
Linux Call Center
Call Center Technology
Telemarketing CRM
Call Center Autodialer
Call Center CTI
Inbound Call Center
Outbound Call Center
Call Center Outsourcing
Call Center Services
Call Center Development
Contact Center
Contact Management Center
Call Center CRM

DSC Tech Library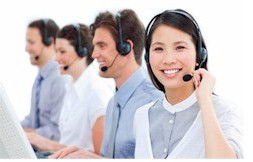 This section of our technical library presents information and documentation relating to Call Center technology and Best Practices plus software and products. DSC is a leading provider of contact center technology and software solutions as well as predictive dialer phone systems for the modern call center. Customer contact center software includes CRM software and computer telephony integration solutions. These modern products help call center phone agents communicate effectively with your customers and prospects.

The following article presents product or service information relating to call centers and customer service help desks.




---
<! ************** Beginning Of Main ************************>
The New Era in Call Centers
By Tanja Lian Sablosky
ABA Bank Marketing
From CRMBuyer

Call centers and customer relationship management programs are starting to overlap, according to Igal Hauer, president of Help Desk Technology. To enhance customer service, banks today are creating a library of "corporate knowledge" for the call center.

"I'm evolving into a more dynamic channel for to interact with their customers."

If your call center could ring you up, that is probably what it would say. In the past, a call center was an expensive luxury employing hundreds of agents. Only big banks could afford one.

Today, changing technology has made the call center more affordable. Even community banks have small centers, some employing as few as four or five agents.
Integrated Call Center
A call center is no longer merely an expense. Today's center is integrated with the bank's customer relationship management program and is expected to generate profit. In recent years, the center has:

Increased the amount of information available to the agent to enable customer problems to be resolved more quickly.

Improved the quality of customer service-through such tactics as using technology to service routine transactions, thus freeing up the agent's time to assist high-value customers.

With the advent of privacy-driven "do not call" laws, a typical center today de-emphasizes cold calls and, instead, focuses on each inbound call as an opportunity to either cross-sell or up-sell an existing customer.

ABA Bank Marketing magazine talked with a sample of vendors and asked them to describe how call centers are evolving and what these changes mean for bank marketing.
Making Corporate Knowledge Available
Call centers and customer relationship management programs are starting to overlap, according to Igal Hauer, president of Help Desk Technology Corp., which has its United States office in Crestview, Fla. To enhance customer service, banks today are creating a library of "corporate knowledge" for the call center. Call agents can access this library. That way, there will be a consistent front presented to the customers and a readily available set of answers for the agents. A library of knowledge also decreases the need to put customers on hold while a more expert responder is located.

Hauer says that banks are becoming more sensitive to the importance of having a good call center. "If you don't do it right, you can lose money and damage your customer relationships."

For banks just starting a call center, Hauer recommends first establishing what the center's service objectives are and ensuring they are in line with the business objectives. "I am a big believer in quantification; everyone must buy into the business and performance targets for the call center to be a success, even your vendors and suppliers." As part of your assessment, establish objectives for call handling and resolution times. Focus on increasing first-call resolutions, and decreasing the need for passing the customer along to a second or third agent for resolution.

For the future, Hauer believes both "process handling" and "information transfer" will become more automated. These improvements will allow agents to handle more complex questions and become "universal agents" capable of fielding all incoming calls.
Quick Answers Is Key
One trend is toward providing the agents with more support and customer service options, according to Guy Hillbert, vice president of industry solutions for KANA, Menlo Park, Calif. The company specializes in knowledge-powered CRM solutions.

Contemporary call center systems help streamline the steps to handling customers: getting the customer to the right person, tracking the calls, resolving the request and tracking follow-up.

In response to this market demand, the company's latest product is designed to improve customer service by giving agents access to a wide variety of solutions. For example, the agent can enter a query about content that is specific to the customer's question (let's say on wire transfers) and hit a "resolve" button. The system will access information from the corporate knowledge base to provide the agent with comprehensive information on wire transfers.

Banks can add information as demand for knowledge increases or other situations occur to create a cumulative corporate knowledge bank. The system also tracks the date, question, and answer and notes whether the question was resolved or if a follow-up call is needed. The company also offers software that includes information on regulations built in so banks can help agents stay up-to-date with new compliance issues (like Check 21).

Hubert also sees the call center agents becoming more "universal"-able to answer more complex questions because they have access to more sophisticated tools and knowledge. "In two to five years, call centers will probably have more responsibility and become more important as a customer service differentiator and as a cross-sell/up-sell mechanism," he says.

He also notes that a coming trend is voice over Internet protocol (VoIP). According to the Federal Communications Commission , VoIP allows you to make telephone calls using a computer network , over a data network like the Internet. VoIP converts the voice signal from your telephone into a digital signal that travels over the Internet then converts it back at the other end so you can speak to anyone with a regular phone number. When placing a VoIP call using a phone with an adapter, you'll hear a dial tone and dial just as you always have. VoIP may also allow you to make a call directly from a computer using a conventional telephone or a microphone.

Hubert says this new technology will reduce call-center costs and integrate systems.

Combining phone contact with Web chats and websites is a great way to get the most out of your system, says Hillnert. "Some banks are offering Web chats which permit customers to be talking to an agent who can watch and help as the customer fills out a form online."
Quality Assurance Software
As smaller banks develop their own call centers, there is a rising demand for systems that monitor call-center quality-regardless of whether the centers are large or small.

"Small call centers often overlook best practices when it comes to quality management," says Kristyn Emenecker, product manager, contact center solutions, for Mercom Systems of Lyndhurst, N.J. "While small centers may conduct some quality monitoring and may even have a paper checklist, evaluator calibration and detailed trend, skill and error reporting is not really possible without a great deal of manual entry. As with scheduling packages, quality monitoring software integrated with recording of voice and screens for better quality tracking is now available in smaller, affordable packages."

Emenecker says call center enhancements today focus on the human factor, since staffing is a large portion of the center's budget. "Center managers should consider investing in technology that lets them know how their representatives are performing, to increase feedback, recognition and satisfaction among employees." Ignoring quality in performance measurement and incentives, focusing instead on calls handled, call times or sales numbers alone will lead to dissatisfied customers. It also overlooks the importance of keeping employees rewarded and maintaining low turnover. "These call metrics without the balance of quality monitoring information create an environment where rushing through calls with customers, not answering all questions, and overly aggressive sales tactics can easily become the norm. By including quality metrics in agent performance assessments and incentive plans, the center more accurately defines and controls the type of experiences it desires its customers to have."

You may also have tools at your fingertips that you are not using, says Emenecker. "Many small centers I've been to have been unfamiliar with the reporting already available to them from their phone system or Automatic Call Distribution. The information contained in these is essential in efficiently and cost-effectively managing a center, as well as in supporting strong customer experiences (if a customer had to wait over three minutes today, that's a sign of a problem!)." To ensure that you are making the most of the system you have, Emenecker recommends "bringing in a call center consultant or trainer who can ensure that the center is using all existing resources and understands which technology investments will bring the quick measurable returns that will more than pay for themselves."

"Finally, I would suggest using on-line call center management websites and resources-these can give tips and advice on the current trends and experiences of other centers for little or no cost."
High-Value Customers
With rising call center operating costs and legal limitations on outbound calling, the focus of call centers has changed, says Pam Ravesi, senior product marketing manager for ATG (Nasdaq: ARTG) , located in Cambridge, Mass. "A dramatic trend in the past two years has been the change in focus from customer acquisition to customer retention," says Ravesi. "Companies are now focused on 'How do I sell more to my existing customers?' and 'How do I retain more customers?'"

To reduce costs while maintaining quick response and quality service, Ravesi says many banks are turning to self-service applications. "Banks were the early adopters of self-service with ATMs," says Ravesi. "They sought ways to provide increased service and differentiation, but without the increased cost burden."

Ravesi says many organizations are now turning to "proactive service," which allows banks to communicate with customers and prospects in a way that reduces the number of inbound contacts, as well as the peaks and valleys of call times, and also lowers costs. ''Proactive service increases customer satisfaction by communicating with the customer before they contact you," says Ravesi. "For example, if you can communicate the status of a mortgage application before the Realtor or customer contacts you, you can increase their satisfaction, reduce your cost per transaction and show better customer service."

Ravesi believes that proactive service and self-service are major areas of growth that will reduce the cost per contact as well as the cost associated with traditional call centers. "Further, it will reduce the number of agents needed and free up agents to engage in more high value and high worth interactions with customers and prospects," she says.

Ravesi offers this advice: "If you already have a call center, review and analy/e the facts: customer retention rates, talk times, wait times and service levels. L(X)k at your competition. Are you aligned, are you behind or are you leading? Leading the service curve is the way to differentiate your business and that may mean replacing some older technologies with some of the newer self-service, lower cost solutions.

However, if you are just considering launching a cull center, check out alternative technologies first," says Ravesi. "Many online self-service solutions are very affordable, easy to deploy and easy to maintain. A self-service oriented website can 1% more efficient and less costly than five live call-center agents."

Customers will embrace an online channel with varying degrees of acceptance, Ravesi says. In deploying such a solution, you can create an environment in which call center agents are able to focus their attention on the high-value, high-worth customers, and you can integrate your online and Web systems so that when your customers go to your website, you can present them with personalized and relevant infomiation that will differentiate your organization from your competitors.

"Empower your customers -- let them help themselves, which for the most part is what customers want," says Ravesi. <! ***************** End Of Page ****************>


---




<! *************** END OF MAIN *******************************************>