Call Center Company
Call Center Solutions
Call Center Monitoring System
Call Center Simulation
Call Center IVR Simulation
Predictive Dialer Simulation
Contact Center Technology
Voice Broadcast Simulation

Information
Call Center Staging
Call Center Simulation
Contact Center Software
Call Center Software
Customer Contact Center Technology
Call Center Solutions
Telemarketing Software

DSC Tech Library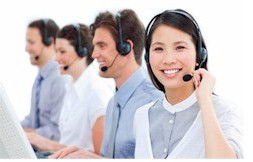 This section of our technical library presents information and documentation relating to Call Center technology and Best Practices plus software and products. DSC is a leading provider of contact center technology and software solutions as well as predictive dialer phone systems for the modern call center. Customer contact center software includes CRM software and computer telephony integration solutions. These modern products help call center phone agents communicate effectively with your customers and prospects.

The following article presents product or service information relating to call centers and customer service help desks.




---
<! ************** Beginning Of Main ************************>
DNC Compliance and Overseas Investment Lead Call Center Agenda
---


The following is an extract from the article "DNC Compliance and Overseas Investment Lead Call Center Agenda" by Jason Compton from CRM Magazine:

"The Telecommunications Industry Association, in conjunction with Wilkofsky Gruin Associates, has released its 2004 Telecommunications Market Review and Forecast. Of particular interest to CRM practitioners and strategists are the shifting investment trends made necessary by both market and legislative forces.

Report coauthor David Wilkofsky says that election-year politics are likely to result in calls for stringent enforcement of various do-not-call rules. Part of the spreading impact of do-not-call restrictions will be an uptick in predictive dialer equipment sales, as telemarketers are forced to upgrade to more sophisticated systems to comply with regulations. "That's going to produce a near-term upward bump in the marketplace of double-digit increases in 2004 to 2005," says report coauthor Arthur Gruin. "I think this legislation is requiring folks to upgrade their systems to do more things than they thought they would need to."

The TIA report calls for resumed slow but steady growth in IVR systems, scheduled to reach $1.9 billion in sales in 2007, with any potential spikes dictated by how quickly speech recognition matures. "The more outsourcing there is, the more automated voice response systems there are; and the more layoffs there are, the more automated voice response systems there are," Wilkofsky says. "There's a close correlation, and nothing in the near term says that it's going to change."

According to the more than 200-page report, only about 1,000 U.S. call centers can be considered IP-based. The move to IP contact centers remains an incremental one, as equipment is slowly upgraded, although the report predicts that shipments of IP-based PBX systems will outstrip conventional PBX systems by 2006. "Some of this equipment is getting long in the tooth since people haven't been buying much in the last three to four years," Gruin says. "So we are looking for an acceleration of spending on IP......"


---

To view the entire article, please visit www.destinationcrm.com.


---




<! *************** END OF MAIN *******************************************>