Call Center Company
Call Center Solutions
Call Center Equipment
Call Center Monitoring System
Call Center Simulation
Call Center IVR Simulation
Predictive Dialer Simulation
Contact Center Technology
Voice Broadcast Simulation

Information
Call Center Staging
Call Center Simulation
Contact Center Software
Call Center Software
Customer Contact Center Technology
Call Center Solutions
Telemarketing Software
Linux Call Center
Call Center Technology
Telemarketing CRM
Call Center Autodialer
Call Center CTI
Inbound Call Center
Outbound Call Center
Call Center Outsourcing
Call Center Services
Call Center Development
Contact Center
Contact Management Center
Call Center CRM

DSC Tech Library
Call Center Technology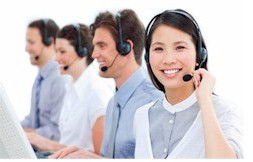 This section of our technical library presents information and documentation relating to Call Center technology and Best Practices plus software and products. DSC is a leading provider of contact center technology and software solutions as well as predictive dialer phone systems for the modern call center. Customer contact center software includes CRM software and computer telephony integration solutions. These modern products help call center phone agents communicate effectively with your customers and prospects.

The following article presents product or service information relating to call centers and customer service help desks.




---
<! ************** Beginning Of Main ************************>
Call Centers Stage Training
---


The following is an extract from the article "Call Centers Stage Training" by Jason Compton from CRM Magazine:

"All eyes are on the call center: epicenter of customer dissatisfaction, cross-sell enthusiasts and toll free defenders of brand and integrity. With agent turnover a constant enemy and the slate of responsibilities constantly expanding, building and maintaining a qualified staff in the call center classroom is a challenge.

Atlanta-based Simtrex offers its answer in star Trainer, a voice-interactive call center simulation environment that attempts to train and reinforce agents with repeatable, real-world skills and tasks.

star Trainer's servers integrate with a call center's telephone system. The servers place calls to training desks, playing back recorded voice clips to order product, request technical support or lodge a complaint. During the call, agents use a replica of the company's CRM system on their computers, carefully recreated to look and feel like the actual application without exposing live customer data to accidental corruption. "It's no different than a flight simulator," says Tom Lynch, president and CEO of Simtrex. Unlike airlines, Lynch says that most companies have not learned that risk can and should be minimized by putting employees through realistic simulation rather than relying on on-the-job training.

Trainers can also review the call log and suggest corrections to the agent's approach. In addition to audio playback, all mouse and keyboard actions are captured, so if the problem is not with the agent's phone skills but with the software navigation, the problem can be properly identified.

Hilton Reservations Worldwide, which handles 30 million calls each year for the Hilton family of hotels, first implemented star Trainer in November 2000. Currently up and running in three of five national call centers, with full rollout scheduled by the end of the year, star Trainer has taken the place of some 900 minutes of instructor-led role play in Hilton's four-week training course.

Although star Trainer is new to Hilton's training process, Hilton Reservations Director of Training Carl Pollock says the payoff has come quickly. Agents are coming out of star Trainer-powered courses with a 12 percent call resolution time, and are meeting Hilton's average performance benchmarks in half the time of conventionally trained reps.

Like many star Trainer customers, Hilton currently uses the system for new-hire training only, although Lynch says the platform is ideal not only for retraining veteran reps who have strayed from the acceptable service formula, but also for coordinating cutovers to an upgrade or replacement of a call center CRM application. "You can't take 1,000 people off the phone and spend days upon days training them how to do the new stuff, so companies generally flip the switch with only a modicum of exposure to the new application," he says. "Then, it's trial-and-error with customers to get up to speed. The cost of doing that is catastrophic in terms of errors, customer satisfaction levels and loss of customers because of the incredible amount of learning going on in real life."

The biggest challenge turned out to be adjusting the role of the existing training staff after star Trainer took them out of the live practice equation. "They thought they could just turn on star Trainer and have a cigarette, but it's not an electronic babysitter," Pollock says. Rather than leading the role play personally, trainers now observe the performance of the classroom during simulation time, and pull aside struggling students for personal coaching as needed. "That's where I want them to be. That's a more efficient use of their time......"


---

To view the entire article, please visit www.destinationcrm.com.


---
<! ***************** End Of Page ****************>

<! *************** END OF MAIN *******************************************>