Call Center Company
Call Center Solutions
Call Center Equipment
Call Center Monitoring System
Call Center Simulation
Call Center IVR Simulation
Predictive Dialer Simulation
Contact Center Technology
Voice Broadcast Simulation

Information
Call center Simulation
Contact Center Software
Call Center Software
Customer Contact Center Technology
Call Center Solutions
Telemarketing Software
Linux Call Center
Call Center Technology
Telemarketing CRM
Call Center Autodialer
Call Center CTI
Inbound Call Center
Outbound Call Center
Call Center Outsourcing
Call Center Services
Call Center Development
Contact Center
Contact Management Center
Call Center CRM

DSC Tech Library
Call Center Technology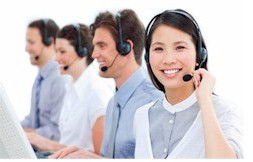 This section of our technical library presents information and documentation relating to Call Center technology and Best Practices plus software and products. DSC is a leading provider of contact center technology and software solutions as well as predictive dialer phone systems for the modern call center. Customer contact center software includes CRM software and computer telephony integration solutions. These modern products help call center phone agents communicate effectively with your customers and prospects.

The following article presents product or service information relating to call centers and customer service help desks.




---
<! ************** Beginning Of Main ************************>
Survey Reveals The Best & Worst Tools For Prescreening and Assessing New Call Center Agents
Bob Gills, CEO, Call Center Careers
Jeff Furst, CEO, FurstPerson, Inc.

BOULDER, CO., June 4, 2001 - When Call Center Careers conducted an online survey to determine which is the most accurate prescreening tool for assessing whether a job applicant would make a good call center agent, an overwhelming 52% of 598 respondents voted that a personal telephone interview is the most accurate tool.

The second most popular new agent prescreening and assessment tool was call center simulation software (27%) followed by a written test (9%), an IVR interview (7%) and web site testing (3%). The most surprising result of this survey was that agent certification was the least popular prescreening and assessment tool yielding only 2% of votes. Jeff Furst, President and CEO of FurstPerson, Inc. states, "We're not surprised that certifications are poorly viewed by the industry. Organizations may feel good about having 'certified' agents, but those certifications will not predict job performance."

The results of this survey demonstrate how important it is for an interviewer to personally assess a potential agent's industry knowledge and skill-set while physically hearing how that agent communicates and presents him or herself over the telephone.

Bob Gills, President and CEO of Call Center Careers states, "Since every job is different and each hiring manager is looking for specific personal attributes combined with certain professional skills, it makes perfect sense that a personal telephone interview would be the preferred tool for candidate evaluation. First of all - it's personal, and the rapport that is developed during a conversation is a key component of success in the call center. Secondly, a properly structured personal interview can give pretty complete evaluation information. But it's important for the hiring manager to remain objective and not let the development of personal rapport weigh too heavy in the hiring process."

Jeff Furst states, "Any screening tool will have pro's and con's to it. Assuming a personal telephone interview is based on the success factors that drive job performance, it can be an effective tool to examine what an applicant has done and how well they communicate. A personal telephone interview is also fairly efficient from an operations perspective. However, call center organizations should not rely on one tool or test to make a hiring decision. The whole-person approach, or using a variety of tests and procedures to fully assess people is the most powerful approach to hiring and also the one suggested by the Department of Labor's Testing and Assessment guidelines. If you're looking at one tool only, our experience has been that a simulation, using people role-playing, is the most effective tool at predicting job performance."


About Call Center Careers
Call Center Careers is the leading job board for the call center industry. Call Center Careers features an extensive resume database, employer job postings, personal search agents and career management tools. Headquartered in Boulder, Colorado, Call Center Careers provides employers with the most powerful and cost-effective solution for recruiting call center professionals.

Call Center Careers can be reached at 1-877-562-8588.
About FurstPerson, Inc.
FurstPerson helps call center organizations find, hire, and keep top performers. FurstPerson's integrated staffing and assessment solutions help organizations increase productivity, lower turnover, and reduce training time. FurstPerson is based in Chicago, IL.

More information can be found at www.furstperson.com or by calling 1-888-626-3412. <! ***************** End Of Page ****************>


---




<! *************** END OF MAIN *******************************************>