Call Center Company
Call Center Solutions
Call Center Equipment
Call Center Monitoring System
Call Center Simulation
Call Center IVR Simulation
Predictive Dialer Simulation
Contact Center Technology
Voice Broadcast Simulation

Information
Knowledge Management
Contact Center Software
Call Center Software
Customer Contact Center Technology
Call Center Solutions
Telemarketing Software
Linux Call Center
Call Center Technology
Telemarketing CRM
Call Center Autodialer
Call Center CTI
Inbound Call Center
Outbound Call Center
Call Center Outsourcing
Call Center Services
Call Center Development
Contact Center
Contact Management Center
Call Center CRM

DSC Tech Library
Call Center Technology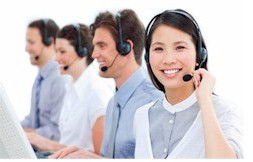 This section of our technical library presents information and documentation relating to Call Center technology and Best Practices plus software and products. DSC is a leading provider of contact center technology and software solutions as well as predictive dialer phone systems for the modern call center. Customer contact center software includes CRM software and computer telephony integration solutions. These modern products help call center phone agents communicate effectively with your customers and prospects.

The following article presents product or service information relating to call centers and customer service help desks.




---
<! ************** Beginning Of Main ************************>
A Headset is a Headset ...Or Is It?
The following is an extract from the article "Let Your Voice Do the Walking" by Allan Rosenberg from www.CallCenterMagazine.com:

" It's hard to get in over your head when you'e dealing with headsets.

Every call center-quality headset provides, at a minimum, one or two ear cushions, a microphone on a boom, a cord that leads to the quick disconnect on the amplifier (though some headset and telephone combinations let you skip the amp and connect directly to the phone), and hardware that attaches these components to an agent's head. Sure, there are a few different configurations available, noise cancellation technology has emerged in the headset market, and different headsets boast varying levels of comfort and sound quality. But the essential technology has been around for ages, and the evolution of new products proceeds at a glacial pace when compared to the rapid developments in computing power, networking technology, and software sophistication.

Headsets are fairly straightforward, and we often take them for granted — but that does not mean they are unimportant. You don't want to lose agents due to avoidable headset comfort issues, or to lose information from calls due to problems with sound quality. In this article, we're going to help you make sure that neither of these things happens.

We've limited our inquiry to wired headsets, since wireless is not practical for use by call center agents — in part due to cost, in part due to the limited number of wireless headsets that can operate within a given area, and in part because managers don't want agents wandering around (as one vendor put it, "Call center managers would bolt their agents to their seats if it were possible."). We are also looking only at headsets and amplifiers that operate with traditional telephone systems. In the future, as VoIP becomes more widespread in call centers, we no doubt will be adding PC headsets to the mix. We do note that many of the headsets that we discuss in this article come in USB versions, and many of the manufacturers sell combination amps and telephones.

First, we have some good news for you: the quality of the top of the line headsets from the major vendors is very, very good. And there's better news, too: even the highest quality headsets are cheap when compared with agent and supervisor salaries, telecom charges, computers, and software.
Clarity, Tone, and Background Noise
We compared the subjective clarity, tone, and background noise that we experienced during calls made and received using the following headset and amp combinations:
VXI (Rollinsford, NH): 10V monaural headset with a TuffSet Everon amp;
Sennheiser (Old Lyme, CT): CC 530 monaural headset, which connected directly to our NEC Dterm phones; and
GN Netcom (Nashua, NH) GN 2120 NC monaural headset with a GN 8210 amp.
All three of these products are top-line headsets with noise-canceling microphones. In addition, the GN 8210 amp features a digital signal processing chip that filters out background noise on the other end of the call. Time constraints did not allow us to test products from Plantronics (Santa Cruz, CA), ProTech (Fort Pierce, FL), or Smith Corona (New Canaan, CT) the other manufacturers we cover in this article.

As a control, we also evaluated calls made using our telephone's standard handset. We also tested a four-year-old ACS headset and amp combination, which rated far below the handset and all three headsets in all of the sound categories that we examined (in all fairness to ACS, this headset is outdated and not designed for call center use). All of our tests took place in a relatively low-noise office environment.

In all three test cases, the vocal clarity of the headset microphones was excellent. We received a report from one conversation that the microphone on the Sennheiser clipped the speaker's voice, but we did not experience that problem in any of our other tests with that unit, so we chalk that complaint up to bad microphone positioning rather than to any defect in the product, which otherwise performed quite well.

We did find some differences in vocal tone among the microphones. Persons speaking into the VXI and GN Netcom units did not sound quite as good to our ears as did those speaking into our handset or the Sennheiser headset, which appeared to have better bass response. Nevertheless, these differences were minor, with all units performing well within the range of comfortable speech.

The noise-canceling microphones on the headsets definitely work as advertised. We experienced significantly less background noise in calls made using all three headsets than we did on calls made with our phone's handset. VXI and GN Netcom edged out Sennheiser for the top honors here, but, again, the differences are minor.

We found similar results for the quality of the ear cushion speakers on the three headsets. Vocal clarity was first rate in all of our tests, though we experienced a bit more distortion with the VXI equipment than we did with the others. The Sennheiser and GN Netcom units outperformed our handset in tone, with VXI falling slightly behind.

We heard about as much background noise with the Sennheiser headset as we did when we used our telephone's handset, with VXI again slightly underperforming. We heard noticeably less background noise with the GN Netcom equipment; this confirms the result we reported in a First Look column in our October issue, in which we found reduced levels of background noise from calls placed from a cell phone on a busy New York City street. So the inbound noise reduction features of the GN 8210 do work.

Bottom line, all three top-of-the line headsets that we tested deliver sound quality that is comparable to what you'd expect from a standard telephone handset. We also conclude that noise cancellation technology really works. Noise-canceling microphones are, in our view, useful for all call centers and an absolute requirement for noisy call center environments. As inbound noise cancellation becomes available, call centers that receive a significant portion of their calls from cell phone users should definitely make the extra investment of $40 or so to purchase noise-canceling amps......"


---

To view the entire article, visit www.CallCenterMagazine.com. <! ***************** End Of Page ****************>


---




<! *************** END OF MAIN *******************************************>