ACD Automatic Call Distribution
Real Estate Marketing
Predictive Dialer
Call Center Software
Advanced Call Center Solutions
Reminder Calls
Contact Center Technology
Contact Management Software
Telecommuting Software
Virtual Call Center PBX

Information
Call Center Software
Customer Service Call Centers
India Call Centers
Offshore Call Centers
Telemarketing Call Centers
Call Center Solutions
Telemarketing Software
Linux Call Center
Call Center Technology
Telemarketing CRM
Call Center Autodialer
Call Center CTI
Inbound Call Center
Outbound Call Center
Call Center Outsourcing
Call Center Services
Call Center Development
Contact Center
Contact Management Center
Call Center CRM


<! ************** MAIN BODY ************************************************>

DSC Tech Library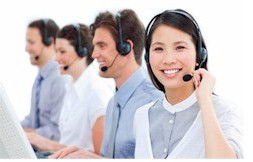 This section of our technical library presents information and documentation relating to Call Center technology and Best Practices plus software and products. Since the Company's inception in 1978, DSC has specialized in the development of communications software and systems. Beginning with our CRM and call center applications, DSC has developed computer telephony integration software and PC based phone systems. These products have been developed to run on a wide variety of telecom computer systems and environments.

The following article presents product or service information relating to call centers and customer service help desks.


Top Ten Strategies for Delivering 5-Star Customer Service
by: Bea Fields

Customer satisfaction is valuable, but customer loyalty is priceless. In today's competitive world of business, it is becoming more and more important to deliver customer service that is unbeatable. These ten creative strategies can support you in turning your customers into walking billboards for your business.

Finding out what people want is not something you, I or anyone else for that matter can pull out of thin air. If we are going to be successful online, even offline in the brick and mortar world, we have to take our eyes off of ourselves and put them onto our potential customers. So how do we do this?
1. Treat your customers like royalty.
Hire a customer service representative to greet your customers upon arrival, and offer a coat check service so that customers can comfortably get to know you, your employees, and your place of business
2. Provide valet parking.
Providing valet parking can greatly improve access to your establishment when parking is limited or on days when the weather is challenging. (Note: Tips should not be accepted.)
3. Make a wait enjoyable.
If a customer has to wait, offer a cup of hot coffee, latte, or a glass of sparkling water, a comfortable chair, and a choice of current magazines. (Make sure to update your magazines frequently.) Every ten minutes, have a customer service representative update the customer on the status of their wait.
4. Provide a concierge service.
By adding a concierge service, you can provide added value to your customers "on the spot." Support your clients by making lunch or dinner reservations, making an appointment for a hair cut, providing a list of local attractions, or helping the customer find the one special item that is not offered by your business.
5. Call your customers every Monday morning.
Call your customers every Monday morning at the same time. Call to simply say "hello" and to check in. Ask how things are going, if there is anything you can help with, or what is new in his/her life or business. Share ideas, laughter, and support. It works!
6. Provide "Same Day" or Overnight delivery service.
In today's business world, quick service means happy customers and increased profits. By offering a same day delivery service or overnight via Fed Ex or Airborne Express, you will speed up your profits by providing your goods and services FAST!
7. Call customers on days of celebration.
Keep a file of birthdays, anniversaries, milestones, and special events (graduations, weddings, Bar Mitzvahs,) and call the customer on these special days to say "Congratulations...I am thinking of you on this special day."
8. Provide a voice mail "Tip of the Day."
Make the most of voice mail and answering machines by posting a message that says "WOW!" Include a "tip of the day" on your message tape, which can prove to be highly entertaining and educational to callers, as well as a credibility and rapport builder for you.
9. Provide a cookie service.
One day each month, deliver home-baked cookies to your customers. chocolate chip or shortbread cookies are always popular. This service can be outsourced to a bakery who has a reputation of high quality, and a strategic alliance will be formed in the process.
10. Dazzle the kids!
Dazzle the kids and keep them happy while the parents do business by providing a highly creative "kids corner." Stack this area with games, coloring books, toys, and entertainment. During peak business hours, hire a magician, storyteller, musician, or balloon artist to provide a high level of interaction and pure FUN...will keep everyone happy and "coming back for more."


About The Author
Bea Fields, Southern Pines, NC, USA bea@fivestarleader.com http://www.fivestarleader.com Bea Fields is an Executive Coach and a Certified Guerrilla Marketing Coach. She is also a Consultant, Trainer, Public Speaker and author of the Five Star Leader e-course. Her area of expertise is that of Leadership Development and Marketing for Executives, Managers, Small Business Owners, and Political Leaders. <! *************** END OF MAIN *******************************************>