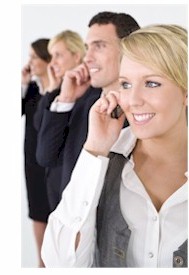 With our call center phone system, we can send reminders and broadcast public and private service announcement messages. Pre-recorded messages can be played to either answering machines or to individuals informing them of upcoming conventions, community events, doctor or dental appointment reminders, warranty repair notification, medication alarms, civil alerts, or marketing promotions. Different messages can be played to an answering machine versus an individual. Simple to complex scripts can be developed for touchphone response. Calls processed by our reminder software can be directed to operators that are standing by or can be transferred to outside third parties.

Personalized information from your custom database (such as name, appointment date and time) can be included in call reminders. In some campaigns, you may only want to leave a message if an answering machine is detected. In other campaigns, different messages can be played based upon contact with an answering machine or a person and based upon the time of day. An individual could be given a message with selection options using our interactive touchphone response system. Reminder calls can be routed to a remote company representative or to a group of service agents. Multiple message campaigns can be performed at the same time, each with its own set of business rules. Our call announcement system can conform to your specific requirements.

For a further description of this technology and our reminder service, visit our call announcement system web page.
Call Reminder Applications
Dental Appointments
Doctor's Appointment
Office Location/Hours

Payment Reminder
Collection Calls
Service Announcements

Schedule Appointments
Upcoming Events
Voice Mail Systems
<! a HREF="" > Arizona Cagers
Arizona Cagers Basketball Club, under the direction of its parent company, Baseline to Baseline L.L.C., provides the student-athlete opportunities through tournament competition, player development, camps, clinics and intense practice sessions plus much more. Using our voice broadcasting services and facility, Arizona Cagers provides calls to individuals or answering machines to notify members of events, reminders, and news.


<! a HREF="" > AT&T Wireless Network Control Center
AT&T WNCC uses our voice broadcasting center with XML Push to notify internal personnel whenever a network outage occurs (i.e Routers, TDMAs, GSMs, and general cellular infrastructure). Personnel receive up to three different notifications - when a unit fails, an interim update, and when the unit returns to operation. A dynamic message is created (text to wav) by WNCC which identifies the specific region where the outage occurred along with a list of who to call.


<! a HREF="" > B'Nai Yesurun
Voice broadcasting to answering machines and individuals for event notification - specifically death announcements and automatic appointment reminders. Voice broadcast also sent to synagogue members for other special meetings and events.


<! a HREF="" > Bayer Polymers
Bayer Material Science AG, a subsidiary or Bayer aspirin, is one of the world's largest producers of polymers and high-performance plastics. Bayer Polymers is currently utilizing Voice Broadcasting in order to notify all employees in case of an emergency as well as a reminder service for upcoming company events.


<! a HREF="" > Bayhill Home Owners Association
The Bayhill subdivision was started in 1999 and is currently finishing up with phase 3. The Ownership of the Bayhill Homeowner's Association changed hands in April 2002. Bayhill utilizes our voice broadcasting services and facility to contact members of special events, meetings, emergency alerts, etc.


<! a HREF="" > Board of Jewish Education, Inc.
Voice broadcasting to answering machines and individuals for alert notifications. Voice broadcast also sent to faculty reminding them to check emails for important messages. Part of their "Rapid Communication Network" program.


<! a HREF="" > Brainfuse Tutorial Online
Brainfuse provides live, one-to-one tutoring over the Internet. Students in grades 3-college receive instant access to carefully-selected tutors for various subjects including math, science, language arts and test preparation. Brainfuse works closely with school districts and other institutions to customize learning solutions and raise the performance of students on state assessment exams. Brainfuse uses voice broadcasting to remind students and instructors of online tutoring sessions using our XML Push phone messaging service.


<! a HREF="" > Bringmeinfo Systems
Provides personalized alerts for conditions that are important to each of its individual clients such as when it's snowing in Vail - making for great skiing. The client chooses the alert condition - and when it happens, a phone call takes place to notify client. Messages are automatically sent to our phone service using XML Push feature.


<! a HREF="" > Cardinal Health
Cardinal Health enables providers, pharmacists, and manufacturers to become best in class in quality, efficiency, and effectiveness. Database Systems Corp. provides the IT management division of Cardinal Health with an emergency voice broadcast service allowing for the team member called to provide a yes/no response with respect to conference call and meeting availability. The application also includes real-time reporting with status update.


<! a HREF="" > Connemara Condominium Association
The Connemara Community has 138 Condominiums with 2/2 Bedroom Unit, Six Units Per Floor, Swimming Pool, Sauna, Tennis Courts, Covered Parking, On-site Management, and Social Activity Room. The association uses our voice broadcasting services and facility to provide emergency voice messages to residents, delivering calls to answering machines and tenants. Phone calls may be activated by association officers via the internet or by calling an 800 number.


Page [1] [2] [3]