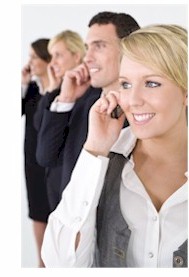 Professional service organizations such as law firms, accounting offices, financial services and brokerage firms can benefit from the technology provided by Database Systems Corp. With reliable and quality answering services, your organization can project a positive image while providing valuable information to your prospective clients and customers. Billing information, project status, and routine account data can be obtained using our 800 number answering service. Calls can be routed internally within your organization based upon the skill set required to meet the needs of your clients. This service can be provided 24 hours.

Outbound call campaigns can be automatically placed to notify clients of deadlines or meetings and as a general reminder such as a stock watch. A message can be played to your client or left on an answering machine. Clients can make selections from a menu or leave a message for your organization. If the client needs to talk with a member of your professional group, the message can be programmed to allow a "Press 1...." option and the call will be transferred to one or more designated phone numbers. Here are a few examples of how our automated phone system can benefit your professional service organization.

Database Systems Corp. provides interactive voice response IVR services and Voice Broadcasting services to a wide variety of companies and organizations. EasyIVR.com is our primary website for this service division of DSC.
Professional Service Phone Applications
Accounting Firms
Legal Firms
Consulting Firms
Tax Preparations

Billing Services
Customer Service
Meeting Reminders
Job Placement

Business Planning
Brokerage Firms
Event Notification
Voice Mail Systems
<! a HREF="" > AKQA San Francisco
AKQA implements e-commerce and content management solutions. They create websites, email marketing, online advertising and viral communications, delivering ideas on mobile phones, kiosks, digital organizers, DVDs, and Interactive TV. And they're doing it globally. AKQA utilizes our IVR Interactive Voice Response outsourcing facilities and software for handling inbound 800 number calls from individuals who wish to learn more about promotional contest rules.


<! a HREF="" > Heritage Security Services
Heritage Security Services has been providing investigative and security services to the Southern California area for more than 15 years. Heritage Security Services currently utilizes an Interactive Voice Response system to act as a virtual punch clock. The IVR provides a menu prompt that allows the guard to check in or out of an assignment by using a touchtone phone. A detailed report is generated for quality assurance purposes.


<! a HREF="" > Hometown Staffing
Hometown Staffing is a multi-purpose recruiting firm providing local jobs for local people in southern Connecticut. Hometown Staffing utilizes our voice broadcasting facilities at our outsourcing call center to perform outbound marketing calling campaigns.


<! a HREF="" > LECG
LECG provides independent testimony, authoritative studies and advisory services to corporations, legal firms and government agencies worldwide. LECG currently utilizes Interactive Voice Response, which allows potential clients to listen to information concerning a class action suit.


<! a HREF="" > MDS Global Consulting
MDS Global Consulting is a professional services firm, providing strategic and analytic solutions. With offices and expert staff around the world and around the corner they understand unique business challenges. MDS provides mailers to its customers and clients and utilizes our IVR outsourcing center. Clients call an 800 number and listen to marketing presentations. Our IVR software provides this service and validates a source code from the mailer.


<! a HREF="" > NannyMax
NannyMax provides trusted in-home childcare. Services include full and part time nanny service as well as babysitter services. NannyMax uses our voice broadcasting system to promote its professional services.


<! a HREF="" > Tradition Asiel Securities Inc.
Tradition Asiel Securities Inc. is one of the largest inter-dealer brokerage service firms in the world. Their goal is to enhance their leading presence in global over-the-counter markets by providing more wide-ranging services to their clients. TAS utilizes Voice Broadcasting to deliver informative messages concerning global market conditions to their clientele base.


<! a HREF="" > Subaru of America, Inc.
Subaru of America, Inc. is a wholly owned subsidiary of Fuji Heavy Industries Ltd. of Japan. Based out of Illinois, Subaru of America/Mid America Region currently utilizes voice broadcasting to update both field sales force personnel and automobile dealerships regarding product and promotional information.


<! a HREF="" > We The People USA, Inc.
We The People offers computerized legal document preparation service for a wide variety of legal documents. Provides the finest, most efficient and most accurate legal document preparation services for a reasonable price. We the People utilizes IVR technology to provide customers with the nearest store location based on zip code. The customer is also provided the option to connect to the store via touch tone.