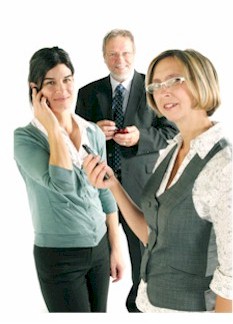 With our advanced phone answering service, communications within your marketing organization and with your customers, distributors, and affiliates can become more streamlined and effective. our 800 number service can provide ready access to any information you choose to disseminate with a 24 by 7 availability. Customers can call and obtain product and pricing information as well as product shipment and delivery dates and times. Distributors can place orders, obtain new product information, and communicate competitive information at the touch of a phone key. Satisfaction surveys can be automated such that customers and distributors alike can give you feedback on your products and marketing programs.

Outbound calling campaigns can be automatically initiated contacting your customers and distribution network. Pre-recorded messages can contain personalized information from your custom database (such as name, product information, etc.). In some campaigns, different messages can be played based upon contact with an answering machine or a person and based upon the time of day. An individual could be given a message with selection options using our interactive touch phone response system. Calls can be routed to a remote company representative or to your marketing representatives. Multiple message campaigns can be performed at the same time, each with its own set of calling rules.

Database Systems Corp. provides interactive voice response IVR services and Voice Broadcasting services to a wide variety of companies and organizations. EasyIVR.com is our primary website for this service division of DSC.
Marketing and Distribution Applications
Product Information
Competitive Analysis
Customer Surveys
Price Comparisons

Distribution Updates
New Product Promotions
Test Marketing
Literature Fulfillment
24 x 7 Service

Sales Forecasting
Order Tracking
Voice Mail Stop
Product Updates
<! a HREF="" > Autofusion
Autofusion Corporation was founded in 1998 and is headquartered in San Diego, CA. Autofusion is the leading provider of products and services for automotive e-commerce including data management and lead generation. Autofusion currently utilizes a 4-line Wizard Voice Broadcasting system to qualify leads from their database via a pre-recorded announcement.


<! a HREF="" > Awareness Corporation
Company manages several voice broadcasting campaigns communicating with members of its third party distribution channel and marketing organization.


<! a HREF="" > Healthcare Communications Group
Marketing company that calls asthma sufferers offering informational studies and medication to qualified candidates. If the call recipient is interested in the study, the call can be transferred to a call center for further qualification.


<! a HREF="" > MDS Global Consulting
MDS Global Consulting is a professional services firm, providing strategic and analytic solutions. With offices and expert staff around the world and around the corner they understand unique business challenges. MDS provides mailers to its customers and clients and utilizes our IVR outsourcing center. Clients call an 800 number and listen to marketing presentations. Our IVR software provides this service and validates a source code from the mailer.


<! a HREF="" > Meandaur Inc.
Meandaur Inc. is a Chicago based web marketing consultancy. Since 1996, Meandaur has helped companies build their brands, increase revenues, gain market share and retain and manage customer relationships through comprehensive Internet marketing solutions. Meandaur currently utilizes IVR to connect customers to live agents as well as capture data and dispense useful information.


<! a HREF="" > Platinum Financial Group
Platinum Financial is a consortium of financial planners and consultants headquartered in San Francisco, California. Platinum Financial utilizes Voice Broadcasting to inform their client base about upcoming events and new business opportunities.


<! a HREF="" > Power Wave Marketing, Inc.
Company utilizes voice broadcasting to send various messages to the members of its multi-level marketing organization.


<! a HREF="" > Real Estate Marketing Partners
Real Estate Marketing Partners utilizes our IVR call center to accept 800 number phone calls from prospective real estate buyers to obtain mortgage information or select property data including home specifications. Callers have the option to "Press Through" to talk with a real estate agent. If no agent is available the caller has the option to leave a message and this message will automatically be emailed to the agent. System is set up for multiple real estate agents and properties.


<! a HREF="" > Rights Marketing
Rights Marketing manages an Optin program allowing visitors to its web site to register and be paid while listening to advertisements from various companies. Rights Marketing utilizes our voice broadcasting and XML Push technology and services to accept information regarding the optin user including name, program to be presented, and phone number to call. We place this call to the user who listens to the advertisement and is presented with the option to talk with a live agent using touch phone responses.


<! a HREF="" > Subaru of America, Inc.
Subaru of America, Inc. is a wholly owned subsidiary of Fuji Heavy Industries Ltd. of Japan. Based out of Illinois, Subaru of America/Mid America Region currently utilizes voice broadcasting to update both field sales force personnel and automobile dealerships regarding product and promotional information.


<! a HREF="" > TNT Fireworks
TNT Fireworks has 1200 locations selling fireworks over a 20 day period in June and July months of each year. Sales personnel are required to call our 800 number service and input information relating directly to sales each day.


<! a HREF="" > Triad Communication
Triad is a communication operations agency that specializes in planning, coordinating, and managing the execution of marketing and public affairs communication programs. Triad is currently utilizing our Interactive Voice Response service to provide their customers with important updates regarding product information via a toll free number.