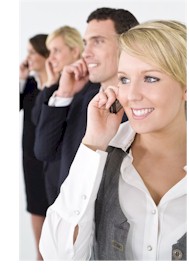 With our fund raising product from Database Systems Corp., you can achieve increased productivity and better results from your activities seeking charitable contributions. Our PACER phone system can call prospective contributors and play a pre-recorded message. This message is a high quality introduction to your charity or organization and describes your requirements, whether you are seeking donations, volunteer time, or any form of charitable contributions. If your potential donors are interested in contributing or need additional information, our phone system can instruct them how to contribute, take messages, or even connect them to your fundraiser staff. Using touch phone technology, we can design whatever scripts work best for your charity.

Now when your fundraisers speak with a prospective donor, you can be assured this person is an informed and interested potential contributor. No longer will a fund raiser spend hours dialing numbers, repeating the same greeting, and experiencing a certain level of rejection. Fewer fund raisers can take far more calls and your connected call success rate will increase dramatically.

For a further description of this technology, visit our Fund Raising System web page.
Fund Raising Phone Applications
Telethon Calls
Donation Requests
Charity Contributions
Pickup Locations

Political Fund Raising
Community Service Calls
Request Volunteers
24 x 7 Service

Schedule Pickup Times
Donations By Phone
Voice Mail Systems
<! a HREF="" > University of Kentucky Alumni Assocation
The University of Kentucky Alumni Association is an organization that fosters intellectual and emotional fellowship through quality services, programs and benefits. UK Alumni Association utilizes voice broadcasting in order to contact its members for donations and inform them of upcoming events and fundraisers.


<! a HREF="" > Youth Quest Fund Raising, Inc.
Voice broadcasting service contacting schools and other organizations to provide them with coupon booklets to be used in conjunction with their fund raising activities.