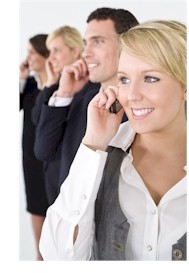 Health and Fitness Clubs can provide additional service to its members through our automated phone service. Members can schedule equipment reservations and training reservations through our touch phone response system. Health Clubs can record scheduled class times and training event phone messages which can be accessed by the club members 24 hours a day on our phone system. Membership rates and specials can be promoted using this 800 number service along with health related products. Memberships can be renewed by phone using credit cards.

Fitness clubs can initiate outbound calling campaigns to contact existing members or offer new memberships to prospective clients. New fitness products can be promoted or announced using targeted marketing prospect lists. A message can be played to a member or left on an answering machine. The member could make selections from a menu or leave a message for the health club. If the member needs to talk with a fitness club representative, the message can be programmed to allow a "Press 1...." option and the call will be transferred to one or more designated phone numbers. Here are a few examples of how our automated phone system can benefit your health club organization.

Database Systems Corp. provides interactive voice response IVR services and Voice Broadcasting services to a wide variety of companies and organizations. EasyIVR.com is our primary website for this service division of DSC.
Health And Fitness Phone Applications
Fitness Centers
Health Clubs
New Memberships
Answer Machine Messages

Membership Renewals
Health Product Marketing
Health Related Services
24 x 7 Answering Service

Equipment Reservations
Trainer Scheduling
Appointment Setting
Club Locations/Hours
<! a HREF="" > Dr. David Enterprises
David A. Lipschitz, MD, Ph.D is among the most renowned geriatricians in the world. Using decades of clinical experience and scientific research, Dr. David has developed a strong, personal philosophy for lifelong health. Dr. David currently utilizes Interactive Voice Response to give his patients medical advice. When a patient calls, the IVR will record their question and immediately forward it to Dr. David. Patients call to access their personal account and listen to Dr.Davidís diagnosis and advice.


<! a HREF="" > Menís Health Network
National menís health organization utilizing our 800 number service to dispense health information and take calcium supplement orders.


<! a HREF="" > Sports Med.
Company utilizes voice broadcasting to inform prospects of health club membership and benefit programs.


<! a HREF="" > Uniprise
Uniprise, a division of United Health Group, provides a full range of employer business services to meet the complex needs of national employers and health plans. Uniprise currently utilizes Interactive Voice Response to gather market information from their field sales force. All feedback is collected and transmitted to Uniprise in a real-time environment.