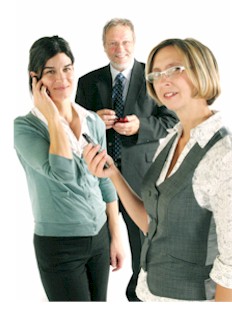 With technology from Database Systems Corp., we can pre-qualify your banking prospects, leads, and consumer lending prospects before they ever speak to your bank marketing department. Additional services include automatic bill payments. Using our call center financial services and phone system, we can call your prospects and play a highly focused and custom greeting. We can then give your prospects the option to talk with your financial services advisers, leave a voice message, hear additional information such as the latest consumer loan rates, schedule a call back, or simply decline the service. The call can further qualify your prospects by asking them demographic information and desired financial service information. Now when your employees speak with a prospect, you know there is a high level of interest. No longer will your bank marketing specialists spend hours dialing numbers, repeating the same greeting, experiencing a high level of rejection. Your calls will be with highly qualified and interested financial services prospects. Fewer advisers can process far more bank prospective customers and your call success rate will increase dramatically.

For a further description of this technology, visit our Marketing Financial Services web page.

Here are a few examples of how our call center phone services and automated phone system can benefit your credit union, bank, or other financial services organization.


Database Systems Corp. provides interactive voice response IVR services and voice broadcasting services to a wide variety of companies and organizations. EasyIVR.com is our primary website for this service division of DSC.
Banking By Phone Applications
Automobile Loans
Payment Tracking
Home Equity Loans
Office Location/Hours

Boat Loans
Credit Reports
Balances and Loan Status
24 x 7 Service

Set Bank Appointments
Get Rate Quotes
Payment Reminders
Voice Mail Systems
<! a HREF="" > 1st Advantage Properties
First Advantage Properties is a Minnesota based company offering financial services to residential property owners. First Advantage Properties utilizes Voice Broadcasting to inform homeowners about real estate related products and services.


<! a HREF="" > Affiliated Financial Corp
Affiliated Financial Corp is a Florida based company that specializes in servicing franchised and independent auto dealers. AFC currently utilizes a 4-line Wizard Voice Broadcasting System to deliver collections related information to their client base. Customers will also have the option to press a key to be connected with a live representative.


<! a HREF="" > Goldman Sachs and Company
Goldman Sachs is a leading global investment banking, securities and investment management firm that provides a wide range of services worldwide to a substantial and diversified client base that includes corporations, financial institutions, governments and high net-worth individuals. Goldman Sachs utilizes Voice Broadcasting to contact their broker dealer network regarding various product offerings.


<! a HREF="" > The Financial Coach
The Financial Coach offers programs that can help almost any financial situation, whether you are current on your monthly payment or you are behind on your monthly payment and need some IMMEDIATE relief. The Financial Coach utilizes our Utilizing Voice Broadcasting service and facilities for marketing its products and services.


<! a HREF="" > Lincoln Financial Advisors
Lincoln Financial Advisors (LFA) is a part of the Lincoln Financial Group. Through some 2,000 planners nationwide, Lincoln Financial Advisors can provide the personal attention, products and services necessary to develop and implement a financial or estate plan and make the most of one's income and assets. LFA utilizes our Utilizing Voice Broadcasting service and facilities for B2B applications to inform plan providers of its products and services.


<! a HREF="" > Lord Abbett & Company
Lord Abbett is a private, independent money management company, managing billions in assets, including a broad family of mutual funds as well as separately managed equity, fixed-income and balanced accounts for corporations, institutions and individuals. Lord Abbett and Company utilizes voice broadcasting to communicate with registered brokers nationwide.


<! a HREF="" > NonPrime LLC
Non-Prime is a provider of automobile loans. They use our 800 number answering service to collect prospect information.


<! a HREF="" > Norcal Mutual Insurance
Norcal employs our IVR services to allow its shareholders to answer Proxy voting questionaires by calling an 800 phone number service.


<! a HREF="" > Tradition Asiel Securities Inc.
Tradition Asiel Securities Inc. is one of the largest inter-dealer brokerage service firms in the world. Their goal is to enhance their leading presence in global over-the-counter markets by providing more wide-ranging services to their clients. TAS utilizes Voice Broadcasting to deliver informative messages concerning global market conditions to their clientele base.


<! a HREF="" > Veritas Financial
Veritas Financial is a mortgage and financial lending company based out of San Francisco, CA. Veritas Financial currently utilizes an 8-agent Wizard Soft Phone auto dialer to aid their live agents in dialing. The Wizard Soft Phone dials telephone numbers from a database and passes all live connects to an agent.


<! a HREF="" > Wells Real Estate Funds
Founded in 1984 by the company's president, Leo F. Wells, III, Wells Real Estate Funds is a well-respected national real estate investment firm headquartered in Atlanta. Wells is currently the only company in America to offer real estate investments in three distinct investment forms: as a REIT, as a mutual fund and as a limited partnership. Wells Real Estate Funds is utilizing our voice broadcasting for marketing financial services to update existing customers regarding new financing programs and products.