<! ************** MAIN BODY ************************************************>

DSC Tech Library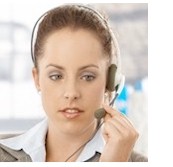 This section of our technical library presents information and documentation relating to CRM Solutions and Customer relationship management software and products. Providing customer service is vital to maintaining successful business relationships. Accurate and timely information provided in a professional manner is the key to any business and service operation. Telemation, our CRM software application, was built on this foundation. But the flexibility to change is just as important in this dynamic business environment. Telemation call center software was designed with this concept from the very beginning. That is why so many call center managers, with unique and changing requirements, have chosen and continue to use Telemation CRM software as their solution. Our Telemation CRM solution is ideally suited for call center service bureaus.



Measuring Your Company's ROC (Return on Customer)
By Foresight Software

CRM2day.com


Increased Customer Loyalty and Profitability Drive High Return on Customer
Customer loyalty is a critical business strategy for today's companies to understand. Companies that have a good reputation for "excellent service" will also have a happier customer base with a higher degree of loyalty and repeat business. Jill Griffin, in her book on Customer Loyalty writes, "To maintain a dependable clientele and curtail the expense of wooing new customers, businesses must go beyond customer satisfaction and take steps to ensure greater loyalty."

This paper will show how customer loyalty is the key for getting the highest ROC (Return on Customer) for your business.

How does a company know if they truly understand their customer? A good start would be to take the Return on Customer quiz.

Then, if you find you don't have the answers to these questions, you are more than likely, out of touch with your customer base.
Understanding Your Customer
Customers are not all the same. Each customer is complex with different needs, value systems and expectations. One basic need all customers share is a high level of customer service that allows them to save time and money. This is the key to customer loyalty. And customer loyalty is ultimately a main profitability enabler for any company.

Studies have shown that a loyal customer will provide two-to-three times more repeat business. According to Fredrick Reinchheld, author of The Loyalty Effect, it can cost six times as much to acquire a new customer as it does to keep a customer. In addition, loyal customers will reference your company to new prospects and these referrals have a higher probability of remaining loyal long-term customers. Ultimately, with customer satisfaction, your market position will strengthen by keeping these customers away from the competition. This makes your products less price sensitive. In order to reach this stage, a company must understand how to maintain customer loyalty.

Laura Patterson, director of marketing for Evolutionary Technologies, Austin, Texas, says that to manage customer loyalty, it is important to first identify which customers provide the most amount of profit for your business. You can do this by segmenting your customers and grouping them by their profitability factors. You also have to know your value proposition. This will allow you to understand what type of services has the most potential to affect loyalty among your profitable customers. Once you know this, you can better target your profiled customer segment. The ultimate goal is to increase your share of their business and to lock out the competition.

The are many positive results of managing and retaining customers through excellent customer service. Below are four main benefits that Jill Griffin discusses in her article on The Internet's Expanding Role in Building Customer Loyalty (Direct Marketing, November 1996).

Remarketing activities decrease because referrals are high resulting in lower customer acquisition amounts.

Transaction costs are lower since contract negotiations and order processing costs will decrease the more a customer trusts your business. In other words, it costs less to resell loyal customers because the actual cost per sale is reduced.

Customer turnover rate decreases resulting in fewer lost customers to replace.

Finally, the overall effect within your company will be positive. Studies have shown that the best employees prefer to work for companies that deliver superior value.
Lifetime Value of a Customer
According to Robert C. Blattberg, author of the article Managing the Firm Using Lifetime-Customer Value (Chain Store Age Executive, January 1998), the definition of LCV or the Lifetime Customer Value is the sum of all future customer revenue streams MINUS the product and servicing costs, acquisition costs and remarketing costs. More simply, the value of a pleased customer who values your customer service lowers the cost of future service to that customer. Customer loyalty promotes increased LCV, which ultimately drives company profitability growth. Organizations that understand and adopt LCV will be able to provide shareholders with above average rates of return.

How does a company start to put together an LCV database?

Blattberg explains that first, a company must obtain a detailed database of customers. This should include the purchase history of the customer--the what, where, when, how much, and most importantly WHY the customer has used the company in the past. It is also important to have the customer's interaction data, service calls/results, campaigns, promotions and account manager correspondence. Before addressing your LCV database, you need to know which customers are critical to the future of your company.
Measuring the Relationship
Organizations must have the appropriate measurement tools in order to be able to know what customers are worth. According to Vic Hunter, author of Business to Business Marketing: Creating a Community of Customers, it is important to assess your customers using some method of measuring their value to your organization. You can rank your customer by a number of criteria including; revenue, purchase pattern or product/service penetration The most important criterion is profitability.

To successfully measure your customer relationships, first determine the profitable customers. Then track the performance of the customer relationships over twelve month intervals. Finally, develop "what if" scenarios for additional product/services sold into relationships.

Once you have identified your target customers, determine what can make these customers, loyal customers. Don't try to be all things to all people. A company must focus on service processes that are valuable to customers. Move the focus from serving the customer to caring about the customer.

Within your own organization, foster self-responsibility in every position and reward the staff and customers for this responsibility. For example, have games or contests with marketing tools like tickets, clubs and specific events. If you stay within the office, utilize the web with web seminars. If you can, get out of the office and meet the customers. Communication is the key. Valuable customers deserve face to face communication.

Once you have met your customer, bring in the customer to your company. Don't make the customer an "other." Some ideas from JoAnna Brandi, author of Winning at Customer Retention-101 Ways to Keep 'em Happy, Keep 'em Loyal and Keep 'em Coming Back, include: creating customer images, stories, pictures and reserving a "chair' for the customers in company meetings. Customer retention plans and activities are central factors in bringing in customer value. Involve the customer in fixing problems as well. Creating a relationship and building loyalty will lead to the profitability of that contract or customer.
Foresight Software's ROC System
In order to increase profitability, a company must understand that ROC or customer satisfaction is a direct precursor to company profitability. In order to accomplish a high ROC, a company must have the technology to implement appropriate customer interaction practices.

Foresight Software's Service Management System automates and integrates help desk, call management, contract administration, field service, inventory logistics, repair center and financial management operations within service organizations. The company also offers Enterprise Resource Planning modules, which are fully integrated to the company's Service Management System. The ERP modules provide a solution for mid size companies who require manufacturing, distribution, financial, human resource and service operations.

Service Management System can contribute to ROC because it can show you who your best customers are based on their revenue. Service Management System lets you look at all of your customer information by product, contract, repair frequency and financial contributions.

Always remember that ROC is the key driver of cash flow in an organization. Understanding the power of customer loyalty and maintaining that loyalty will enhance your customer's loyalty and improve the relationship. In a company, this focus of ROC is not restricted to a particular department or division. It is an enterprise wide concern.
ROC and TERM
Retaining and maintaining customer relationships is a company wide obligation and is only successful if the company is equipped with the resources to integrate their sales and marketing or "front office" concerns with their business and support or "back office" operations. TERM (Technology Enabled Relationship Management) is a new concept developed by the Gartner Group that is emerging as a new way to address overall systems management. It is a process and technology re-engineering effort. The business of servicing customers has changed over the past few years. Service has become a key differentiator, and for many companies, an important competitive advantage. TERM provides a model for these progressive service and manufacturing organizations. TERM allows companies to more effectively manage their own business on their own terms. It allows the companies to increase their service organization's productivity in order to allow their customers easier access to service and information. TERM allows the company to integrate their front office to the back office thus allowing customers to receive superior service.


Financials
If a company wants to become more profitable, it needs satisfied customers to increase its profitability. To involve the enterprise, the company needs to ensure that business operations are integrated with sales and marketing departments. ROC value programs can only work if there is an enterprise-wide solution that totally integrates back office with front office systems.

Only then can a company offer the best service to their customers. This leads to happier, more productive and loyal customers, which ultimately means increased profitability for the company.

<! *************** END OF MAIN *******************************************>


---