<! ************** MAIN BODY ************************************************>

DSC Tech Library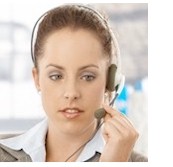 This section of our technical library presents information and documentation relating to CRM Solutions and Customer relationship management software and products. Providing customer service is vital to maintaining successful business relationships. Accurate and timely information provided in a professional manner is the key to any business and service operation. Telemation, our CRM software application, was built on this foundation. But the flexibility to change is just as important in this dynamic business environment. Telemation call center software was designed with this concept from the very beginning. That is why so many call center managers, with unique and changing requirements, have chosen and continue to use Telemation CRM software as their solution. Our Telemation CRM solution is ideally suited for call center service bureaus.



Car Dealers Rev CRM To Manage Net Leads
Sales based on leads off Web sites grow as car dealers add CRM platforms
By Laurie Sullivan

New customer-relationship-management software gets the credit for a sharp uptick in sales generated from Internet leads at George Matick Chevrolet in Redford, Mich. Until two months ago, when it installed Reynolds and Reynolds Co.'s Contact Management software, the dealership closed deals on just four to six cars per month out of the 100 or so leads it averages from its own and General Motors Corp.'s www.gmbuypower.com site. Those sales have since doubled. In the past two weeks, says marketing manager Ryan Esler, "we've sold seven cars and have had more appointments in one week than ever before."

Fewer than 30% of car dealerships use lead-management tools to improve sales, estimates Forrester Research analyst Mark BŁnger. But that's changing. A study of 26,838 new vehicle buyers or leasers released last week by J.D. Power and Associates finds that 40% used the Internet to begin shopping for a car by visiting a manufacturer's site, up from 36% in 2003, while 58% visited independent sites. By the end of the decade, 70% of all car buyers will use the Internet to initiate the car-shopping process, J.D. Power predicts.

"Dealerships are looking for software to manage leads because they can't deny the growth in Internet use by consumers," says Troy McLean, business-process and technology-consulting leader for Volkswagen of America. About 97% of VW's dealers participate in its lead program, but few of them have the tools to make the most of those leads, McLean says. The same is true at Saab Cars USA. Internet leads are imported through Firstlogic Inc.'s Data Quality Link and into TouchPoint, a system built on Siebel Systems Inc.'s Automotive CRM platform, and E-mails are sent to its 250 dealerships, which have to log on to a portal to get the information. Some of the dealerships use contact-management software to handle the leads, while others still rely on spreadsheets or paper, says Patrik Riese, Saab Cars USA's CRM manager.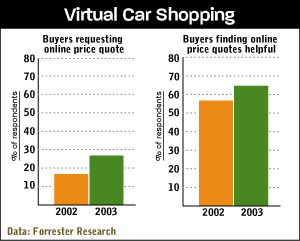 Volvo Cars of North America LLC plans to survey its dealers to find out which--if any--CRM platforms they use, and the Ford Motor Co. brand is considering a policy that would let independent dealers pick lead-management software from a list of between seven and 10 tools that meet Volvo's quality and security standards, says Phil Bienert, manager for CRM and E-business at Volvo.

Increased lead volume also is prompting Naz Sesi, VP of two Michigan dealerships--Sesi Lincoln, Mercury, Volvo in Ann Arbor, and Sesi Lincoln, Mercury, Mazda in Ypsilanti--to install a CRM platform next year to augment its Web site built on ChannelNet's software. Internet leads bring in 10% to 15% of annual sales. "The challenge is finding a CRM application that will integrate with systems at all four brands," Sesi says.

The benefits are compelling. At George Matick Chevrolet, processes are more efficient now that a third party no longer rekeys information into a database and routes it to the dealer. The CRM software lets the dealer schedule appointments for salespeople. It's also integrated with the dealer's Reynolds and Reynolds enterprise-resource-planning software, so data can be shared with financial, accounting, and service systems. "About 85% of the people that come into the showroom have done their research," Esler says. "We have to embrace technology and make sure it all works together with the auto manufacturers [so] everything is integrated to serve the customer."

<! *************** END OF MAIN *******************************************>


---