<! ************** MAIN BODY ************************************************>

DSC Tech Library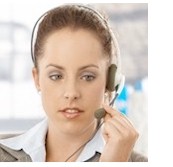 This section of our technical library presents information and documentation relating to CRM Solutions and Customer relationship management software and products. Providing customer service is vital to maintaining successful business relationships. Accurate and timely information provided in a professional manner is the key to any business and service operation. Telemation, our CRM software application, was built on this foundation. But the flexibility to change is just as important in this dynamic business environment. Telemation call center software was designed with this concept from the very beginning. That is why so many call center managers, with unique and changing requirements, have chosen and continue to use Telemation CRM software as their solution. Our Telemation CRM solution is ideally suited for call center service bureaus.



Online contact management services
Who wants to key in reams of contact details? Online services now offer to update the info in your address list automatically. We take a closer look

Simon Williams, Computeractive 06 Sep 2004

Most of us keep a list of addresses, phone numbers and email addresses on our PCs in one form or another. If you use an address book application, such as the one in Outlook, you can automatically update the details of people who email you, or add business cards you are sent as attachments to your contacts book in a few mouse clicks.

While this simplifies the task of keeping your address book up to date, it can still be a bit of a chore and it's surprising just how quickly the entries in your address book can accumulate.

Fall behind and you'll end up sending Christmas cards and emails to old, unused addresses and, if you use the contacts application on your PC for work, a regularly updated address book can mean the difference between good business and no business.

There are now plenty of services on the internet that claim to take some of the pain out of keeping contact information current. If one of your friends has signed up to one of these services, you may have already received an email inviting you to update your details in their online contacts book.

These services update the information stored in your address book automatically whenever the details of any of your contacts change. To do this, the service will email all of your contacts periodically on your behalf and invite them to update their contact information online if any of their details have changed. This new information is then added to your address book.

If your address book includes other members of your chosen online contact management service, their information will be updated automatically.

So far, it sounds ideal, and a lot of people have signed up for the more popular services. In the case of Plaxo, probably the best-known online contact management service, over two and a half million people have done so. The service is free and it seems to be a case of the internet yet again providing a handy service at no charge. So where's the catch?

Some online contact management services have come under fire because they hold all of your contacts' details on their computers. Obviously there are data security implications here. Do you trust a company, often based in another country, to keep this information safe and not to share it with third parties?

It's a good idea to check the data privacy policy of any company before you divulge contact information, either your own or those of the people in your address book. The Plaxo privacy policy, for example, states explicitly that the information you store on its computers will not be shared with a third party and will not be used to send unsolicited commercial email, or spam as it's better known.

All the services we'll look at in a moment claim to have secure servers, of the same type used by online banks and retailers, to keep your data safe. In several cases they also use encryption, where the data is scrambled so that it can only be read by someone authorised to do so, to help hide your address book information from prying eyes.

One outstanding issue, though, is that the people whose details are in your contacts list are not asked if they mind having their details held online. While they might be quite happy for you to have their phone numbers and addresses in an address book on your PC, they may well object to having them held online by a third party.

Bear in mind that Plaxo's terms and conditions don't promise to remove information about contacts who object to their details being held. Your contacts may also object to receiving emails from the contact management service you've signed up to and being nagged to update their contact details.

What this all boils down to is the fact that before signing up to an online contact management service, you need to balance the advantages of having your contacts automatically updated with some of the potential pitfalls we've just discussed.
Cardfile
This service is currently in a beta testing stage, which means that this is not the final version of the service that will be available after its official launch. Cardfile is free if you only want to maintain five or fewer contacts, but it charges $15 (about £8) for standard membership, allowing up to 50 contacts, and $25 (about £13) for a 100-contact premium membership package.

Cardfile works differently from some of the other services we've looked at here. When you sign up for one of the paid-for subscriptions you can invite people in your contacts list to join too. Your contacts can use the free membership.

Conveniently, you can maintain two different personal profiles: a full one for close friends, and a partial one for other contacts where you can select the details included.

Once you've set up your profiles, it's simply a case of entering your contacts' email addresses and Cardfile gets to work. Your contacts' details are then linked to yours and information can be automatically updated in both directions.

This is fundamentally different from Plaxo, as your contacts list doesn't leave your PC and only those contacts who have given consent are kept in sync with you automatically. Most of the individual privacy issues for your contacts that we discussed earlier therefore disappear at a stroke.

For anybody with even a modest contacts list, though, this service will be pricey and, if you work from home and have an address book with more than 100 entries, the service won't cater for your needs. Also bear in mind that the instructions on using Cardfile are far from easy to follow.
Corex AccuCard
The Corex service costs $50 (about £25) a year and for that you get quarterly updates for all members in your list. It works with Outlook and, if the service detects that any of your contacts' details need updating in the address book on your PC, it will flag them for your attention with an icon.

The AccuCard software that you must download to your computer to use the service allows you to select the contacts in your address book that you would like to be emailed by the service. This means you can opt to exclude anyone who you feel won't appreciate receiving emails asking for updated contact details while maintaining their entry in your address book.

Your address list is copied to Corex's computers, so there are the same privacy issues as with Plaxo in giving up details of your contacts without their express permission. At least Corex claims to encrypt all information it holds to the same level used by online banking services.

You can try the service for free with up to 15 contacts, so you do at least get a chance to see if it suits you before you sign up for the paid-for version.

All the contacts in your address book will be emailed with a request to update their details from time to time, and the email they receive will appear to have been sent by you. There is an opt-out clause for any contacts who do not wish to have their details held in your online address book.

The service has actually been designed to work with Corex's CardScan business card scanner, a tiny device that hooks up to a computer's USB port and allows you to scan the information on business cards straight on to your PC.

If you already own the CardScan scanner, this service has its advantages as it integrates well with the contact management software bundled with the unit. But at £180, the scanner is not cheap.

This is a very similar service to that offered by Plaxo, which you can use for free and which has a much larger membership, making this service hard to recommend.
Plaxo
One of the first services to start the online contact management craze, Plaxo is actually a service aimed at business users. However, as it's free no matter what size your contacts list, it's suitable for the personal user too.

The Plaxo toolbar integrates with Outlook and Outlook Express and, like AccuCard, you have the opportunity to allow emails requesting updated contact information to be sent out to selected contacts only.

Plaxo copies the content of your contacts list to its own computers and sends out requests for your contacts to update themselves. This does have its advantages: if you ever lose any data from your address book because of a computer crash, for example, you have a backup copy held by Plaxo to fall back on.

Any changes made by Plaxo members in your list will be updated in the address book on your PC, and any changes you make to your details filter through to any of your contacts who are also Plaxo members. The service claimed to have 2,531,381 members when we last looked, with some 802,530,900 contacts stored on its servers.
Keeping tabs
There's a wide range of different online options for keeping your contacts up to date. The online contact management services we've looked at here are easy to use and, for the most part, are free for individual use.

In most cases these services send out requests to your contacts to confirm or update their details at regular intervals and then automatically update your address book with the results. This is a useful service for anybody with more than a couple of dozen regular contacts on file.

There is a downside to these services, though. If you're at the request end of the chain, you may get a lot of forms to fill from your contacts if they have chosen to use different services. There's no current way for services to share update information and no standardisation in the details requested or the form they take.

Finally, you have to wonder how many online contact management services have your details on file without your permission or knowledge.
Keep it simple
There's nothing to stop you automating the process of updating your contacts without using an online service, of course. If you use Outlook, you can send a message to everybody in your address list by clicking on New, then To, holding down the Shift button on the keyboard and clicking on the first and last entries in the Name selector. Hold down the Ctrl button and click on any names you want to exclude from the mailing to remove them.

When you have selected your desired contacts, click on the To button and the entire list is transferred to the Message Recipients selector. If you want to send your messages without each recipient knowing who else the message has been sent to, click on the Bcc button, rather than To.

When you send the message it will go to all the contacts you've selected. You can't include the contact details you currently hold for each contact in the body of the email, but you can invite recipients to send their current contact details if they have changed in, say, the past four months.

<! *************** END OF MAIN *******************************************>


---