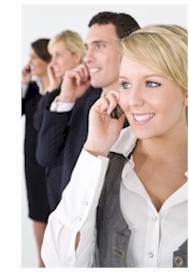 Process magazine and publication subscriptions using our advanced phone system with inbound 800 number answering service. New subscriptions can be taken by phone, allowing the caller to record mailing and billing information, including credit card processing. Likewise, callers can obtain account information and renew subscriptions using simple touch phone responses. If special attention is required, the caller can be transferred to one of your operators.

Calling campaigns can be initiated, encouraging book club memberships and renewals and other marketing publication subscription renewals. A message can be played to the subscriber or left on an answering machine. The subscriber could make selections from a menu or leave a recorded message for your operators. If the member needs to talk with an operator, the message can be programmed to allow a "Press 1...." option and the call will be transferred to your subscription department. Here are a few examples of how our automated phone system can benefit your organization.

Database Systems Corp. provides interactive voice response IVR services and Voice Broadcasting services to a wide variety of companies and organizations. EasyIVR.com is our primary website for this service division of DSC.
Publications and Subscription Applications
Magazine Subscriptions
Newspaper Subscriptions
Book Club Membership
Answer Machine Messages

Subscription Renewals
Credit Card Processing
New Book Arrivals
Special Offers

Store Locations/Hours
Voice Mail Messages
Multiple Call Attempts
24 x 7 Answering Service
<! a HREF="" >EasyIVR.com
Manage your own inbound and outbound phone campaigns online. Register for service and download phone lists and message wav files from the internet plus monitor results with reporting system.