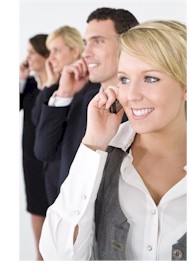 With our advanced phone answering service, we can streamline the flow of information to your customers, vendors, parts suppliers and distributors. our 800 number service can provide ready access to any information you choose to disseminate with a 24 by 7 availability. Customers can call and obtain inventory information as well as product shipment and delivery dates and times. Parts vendors can update information regarding delivery dates and quantities by simple touch phone responses. Quality control functions can be automated such that customers and vendors can give you feedback on your operation and service.

Calling campaigns can be automatically initiated. Personalized information from your custom database (such as name, product information, delivery dates and times) can be included in notification messages. In some campaigns, different messages can be played based upon contact with an answering machine or a person and based upon the time of day. An individual could be given a message with selection options using our interactive touchphone response system. Calls can be routed to a remote company representative or to a group of customer service agents. Multiple message campaigns can be performed at the same time, each with its own set of calling rules. Our manufacturing call system and services can conform to your specific requirements.

Database Systems Corp. provides interactive voice response IVR services and Voice Broadcasting services to a wide variety of companies and organizations. EasyIVR.com is our primary website for this service division of DSC.
Manufacturing Service Applications
Product Information
Inventory Updates
Delivery Schedules
Price Change Alert

Order Entry
Quality Control Survey
Product Promotions
24 x 7 Service

Delivery Notifications
Order Tracking
Voice Mail Stop
Product Recalls
<! a HREF="" > Bobcat
Bobcat produces construction equipment for landscaping, agriculture, building construction, and government operations. They employ our Voice Broadcasting services to assist their manufacturing operations in scheduling work shifts for its 800+ workforce.


<! a HREF="" > Easy-Automation Inc.
Easy Automation Inc. (EAI) based in Welcome, Minnesota, specializes in serving the feed automation needs of commercial and farm customers. Easy Automation Inc. is the GOLD STANDARD in feed and ingredient information processing systems by combining common sense with advanced technologies. Easy-Automation currently utilizes a Wizard IVR system to provide their customers with the ability to update their account and feed information.


<! a HREF="" > Keystone Bath
A leading plumbing fixture manufacturer, Keystone supplies all of the North American stores of their exclusive retail partner, The Home Depot, with a full line of quality Medicine Cabinets and Shower Doors. Keystone utilizes IVR to provide customers with their order confirmation numbers and status updates.


<! a HREF="" > Lafarge North America Inc.
Lafarge North America Inc. is the largest diversified supplier of materials for residential, commercial, institutional and public works construction in the United States and Canada. Lafarge Utilizes our Voice Broadcasting services and facilities to distribute corporate announcements by senior personnel to company employees.


<! a HREF="" > Novachem
800 toll free answering service for Novachem customers and prospects, providing product information, and transferring the calls when needed to in-house product specialists.