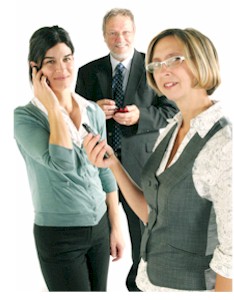 With technology from Database Systems Corp., we can help you promote products and services using telephone advertising services and business advertising phone campaigns. Using our call center phone system, we can call your prospects and play a highly focused and custom greeting identifying your organization and service. We can also give your prospects the option to talk with your sales reps or advertising staff, leave a voice message, hear additional information on your products or services, schedule a call back, or simply decline the service. The call can further qualify your prospects by asking them demographic information and desired financial or qualification information.

Using our 800 toll free number service, advertising responses can be processed using a professional IVR service that prompts the caller to either respond to your advertising promotion or to fulfill an order entry application for the purchase or distribution of your products.

Here are a few examples of how our call center phone services and automated phone system can benefit advertising agencies or sales organizations.



Business Advertising By Phone
Advertising Agencies
Promotional Products
Phone Advertising
Product Information

Business Advertising
Advertising Response
Public Relations
24 x 7 Service

Promotional Advertising
Advertising Tracking
Sales Press Through
Voice Mail Recording
AKQA San Francisco
AKQA implements e-commerce and content management solutions. They create websites, email marketing, online advertising and viral communications, delivering ideas on mobile phones, kiosks, digital organizers, DVDs, and Interactive TV. And they're doing it globally. AKQA utilizes our IVR Interactive Voice Response outsourcing facilities and software for handling inbound 800 number calls from individuals who wish to learn more about promotional contest rules.


Bandujo Donker & Brothers
Bandujo Donker & Brothers was awarded the contract to promote the State of New Jerseys Motor Vehicle Commission registration program that requires much more stringent proof of identification when registering vehicles and licenses. The State of New Jersey has published 800 numbers for residents to call to obtain the current identification requirements at MVC. The state uses our interactive voice response IVR services and facility to answer resident calls.


Choice Wireless Inc.
Company promoted a new wireless service using voice broadcasting. Contacted prospects in specific geographic area offering a free promotional digital cell phone with a minimum subscription to their service.


JSH&A
JSH&A is a public relations firm that utilizes our IVR services. The program we are providing allows consumers the ability to RSVP to a promotion held at a local nightspot in ten major cities. The product is a new alcoholic beverage being co-marketed with the release of a new book called the "Pink Drink Book."


Rights Marketing
Rights Marketing manages an Optin program allowing visitors to its web site to register and be paid while listening to advertisements from various companies. Rights Marketing utilizes our voice broadcasting and XML Push technology and services to accept information regarding the optin user including name, program to be presented, and phone number to call. We place this call to the user who listens to the advertisement and is presented with the option to talk with a live agent using touch phone responses.


Scott Advertising
Since 1940, Scott Advertising has been helping companies throughout the U.S. develop and implement Branding/Logo Design, a Corporate Identity, Product Literature, Training materials, and a host of other services. Scott Advertising currently utilizes Voice Broadcasting to contact their client base.