ACD Automatic Call Distribution
Predictive Dialer
Contact Center
Linux Software Products
Unix Software Products

Information
Linux Windows
CRM for Linux
Linux CTI
Linux Computer Telephony
Linux CRM Software
Linux IVR Solutions
Linux ACD Phone
Linux Contact Management Software
Linux Contact Center Solution
Linux Call Center Software
Linux Telephony Software
Linux Predictive Dialer
Linux Phone Systems
Linux IVR Software
Linux ACD Systems
Telemarketing Linux Systems



<! ************** MAIN BODY ************************************************>

DSC Tech Library



Linux Information

This section of our technical library presents information and documentation relating to the Linux operating system especially as it relates to the telecommunications and Linux CRM Software marketplace. Since the Company's inception in 1978, DSC has specialized in the development of software productivity tools, call center applications, computer telephony integration software, and PC based phone systems. These products have been developed to run on a wide variety of computer systems and have been tested and operational on LINUX servers and systems. The following are articles and information regarding Linux and its applications in the telecom and business environments.


Linux's Future in the Embedded Systems Market
An Executive White Paper for Senior Managers
Interested in Maximizing Growth and Profitability

Prepared by: Stephen Balacco,
Senior Analyst, Embedded Systems Research Group
Venture Development Corporation




This paper is a brief summary of VDC's analysis of Linux's future in the embedded systems market. The base year for market data and analysis is 2000, with a five year forecast period through 2005. In this study, VDC presents data on the merchant market for embedded Linux operating systems and software development tools. The merchant market is defined as products produced and sold in the open market. It does not include products developed in-house by OEM developers for use in their own products.
Market Overview
The overall embedded market is undergoing a major transformation both in design and functionality. Networking technologies are becoming increasingly more important for embedded developers. Driven by the proliferation of the Internet and the increasing ubiquity of embedded computer systems, devices that can communicate with other devices are becoming dominant in the embedded market.

The Linux operating system has been available for years for servers and desktops, and has continued to gain market share in both of these computing segments. Helping to drive this growth and lend creditability to Linux are well established companies such as IBM, Dell, Hewlett-Packard, Compaq, Oracle, and others. Linux, originally developed for the desktop and adapted for servers, is now making in-roads into the highly fragmented embedded market.

In 2000, worldwide shipments of embedded Linux OSs, software development tools, and related services reached an estimated $28.2 million (see figure, below). By 2005, VDC estimates that shipments will reach $306.6 million, a compound annual growth rate (CAGR) of 61.2%.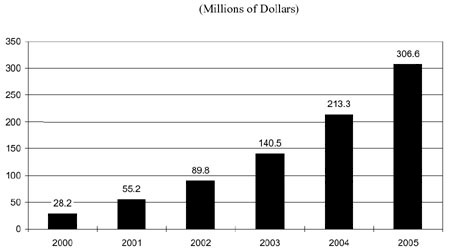 Worldwide Shipments of Embedded Linux OSs, Software Development Tools, and Related Services
Product Categories
In 2000, the annual developer fee was the largest category, followed by professional services, unbundled software development tools, and run-time royalties:
Annual Developer Fee
Professional Services
Unbundled Software Development Tools
Run-time royalties
Other
Geographic Regions
North America accounted for the greatest share of shipments in 2000. However, VDC is forecasting both Europe and Asia/Pacific to grow at faster rates over the forecast period.
Vertical Market/Application Segments
Telecom/datacom is expected to remain the largest consuming market for embedded Linux software development solutions, as indicated in the following ranked list which shows leading vertical markets and applications for embedded Linux OSs and software development tools in 2000 (in rank order by dollar volume consumption):
Telecom/Datacom
Consumer Electronics
Industrial Automation
Retail Automation
Office Automation
Military/Aerospace
Automotive
Information Automation
Medical
In 2000, VDC estimates that telecom accounted for $13.2 million in shipments. However, VDC is forecasting consumer electronics to grow at the fastest rate over the forecast period.
Leading Vendors
In 2000, the global market for Linux OSs was relatively small with no dominant market player. VDC estimates that Lineo, MontaVista, and Red Hat (in alphabetical order) are ranked in the top tier, with many companies trying to gain a foothold in this burgeoning market, focusing on specific vertical segment(s).
On Linux's Future in the Embedded Systems Market
Findings include . . .
Strategic Business Issues

Linux, originally developed for the desktop and adapted for servers, has done well in these markets, and is making in-roads into the highly fragmented embedded market.
Traditional embedded OS companies are searching for that middle ground and trying to become more open.
The open source community represents a powerful movement and open development model driving innovation.
There are several different business models for embedded Linux vendors who are focused on branding builds of their distribution and adding value.
End User Analysis

Embedded developers decision not to use Linux is based more on technical suitability and quality of long term support rather than the protection of intellectual property.
Availability of source code, royalty-free, and vendor reputation are key criteria for selecting Linux.
Embedded developers currently using Linux are satisfied with the products and support from their current Linux provider.
Real-time requirements vary from application to application and both second kernel and preemption improvements are viable alternatives to satisfying real-time for Linux.
Third Party Opportunities

VDC estimates shipments of unbundled software development tools and related services reached $4.0 million during 2000.
Increased interest from embedded developers in using Linux is driving software development tool companies to adapt their products for use with Linux.
Embedded developers recognize the benefits of software development tools and are not averse to paying for quality tools.
Going forward, VDC expects additional third party software development tool companies to announce support for embedded Linux.
Current demand for third party service opportunities is minimal and identified with application development.
<! *************** END OF MAIN *******************************************>