Call Center Company
Call Center Solutions
Call Center Monitoring System
Call Center Simulator
IVR / ACD Simulation
Predictive Dialer Simulator
Voice Broadcast Simulator

Information
Customer Interaction Center
Contact Center Software
Call Center Software
Customer Contact Center Technology
Call Center Solutions
Telemarketing Software
Linux Call Center
Outbound Call Center
Call Center Outsourcing
Call Center Services
Call Center Development
Contact Center
Contact Management Center
Call Center CRM

DSC Tech Library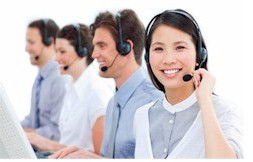 This section of our technical library presents information and documentation relating to Call Center technology and Best Practices plus software and products. Since the Company's inception in 1978, DSC has specialized in the development of communications software and systems. Beginning with our CRM and call center applications, DSC has developed computer telephony integration software and PC based phone systems. These products have been developed to run on a wide variety of telecom computer systems and environments.

The following article presents product or service information relating to call centers and customer service help desks.




---
<! ************** Beginning Of Main ************************>
The Customer Interaction Center Advantage (Part II)
The second of a two-part series, this column continues to explore channels, tools and processes that help companies provide the tailored customer service they need to stay competitive.

by Scott Stawski and Donna Arnold

---


In Part I, we discussed the need for customer-focused organizations to differentiate themselves competitively by providing customers with exceptional service. The means to this end is a Customer Interaction Center (CIC) that integrates and responds quickly to every channel of inbound communication: telephone, Web site, Web chat, e-mail, and fax.

The fully functional CIC uses several sophisticated hardware and software technologies including the following:
CRM Front Office Technology


Interactive Voice Response


Computer-telephony Integration (CTI)


Fax, e-mail and Web Chat Communication Technology


Campaign Management


Knowledge Management


Reporting and Analysis
The first three were discussed in Part I; the remaining four are the subject of this article.
Fax, E-mail and Web Chat Communication Technology
Fax. Outbound fax-back is usually the most common functionality associated with faxing in the customer contact center. Also referred to as fax-on-demand, this service to the customer is typically an automated response based on an IVR or voice request. Another fax technology is inbound optical character recognition (OCR) or fax-to-e-mail and is similar to e-mail message handling. The fax is scanned, and an e-mail message is created. When combined with e-mail solutions described in the next section, routing can be accomplished through content scanning.

E-mail response management system (ERMS). E-mail response management is necessary for all CICs. The function should route, prioritize and track customer e-mail based on content. It must automatically acknowledge the receipt of a customer e-mail by sending an immediate, standard response. A recommendation agent should then suggest answers to questions and place them immediately on a CSR's screen, thus increasing the reps ability to respond quickly and accurately. Other specifics might include the following:
Classification and sorting of incoming messages. A range of automation solutions is available for classification and sorting. Typically, the ERMS system intelligently scans the content of a message and then classifies it using keywords such as complaint or order. The sorting function may also use information such as the priority status of the sender. The latter is particularly important when an organization wishes to optimize the service to "best" customers.


Ticketing. A ticket is essentially a tracking number that allows for internal and external customer tracking. Some systems will automatically respond to a customer by e-mail with a ticket number, giving the customer additional confidence that his inquiry or request is actually being addressed.


Automated response. This functionality makes use of information from message content or other message elements, such as sender address and recipient address, in order to compose and send a message to the customer automatically. In some cases, the ERMS may create a suggested response and forward it to a CSR, allowing the agent the option of using the suggested response or modifying it.


Internet-based forms. ERMS classification, sorting and routing can be simplified by the use of Internet forms, as opposed to free-form e-mail messaging. These forms provide for a standardized outbound e-mail message that incorporates pre-defined elements for identifying the subject and origin of the message.
Web chat. The use of real-time Web chat for both business-to-consumer and business-to-business use is growing exponentially. Web chat capabilities include the following:
Historical logging/transcripts. This refers to the ability to compile a running transcript of a CSR/customer chat interaction. This transcript can be stored as a customer information element or e-mailed to another CSR, should a customer issue be escalated.


Chat bots/anteroom. Chat bot and anteroom functionality are similar to push queuing. While a customer is waiting for the initial response of a CSR, the chat bot can welcome the customer to the room, convey information to the customer and make some initial inquiries in order to prepare both the customer and the CSR for their interaction.


Advanced communication capability. This includes functions such as sending URLs, text and multimedia files and pushing a Web page to windows displayed on the customer's screen. A logical use of this feature is to answer simple, frequently asked questions and provide customers with direct links to self-service sites.
Campaign Management
The CIC can be fully integrated into an enterprise-wide campaign management system that governs overall marketing strategy, ensuring that each contact further develops the customer relationship. Such a system can be used for inbound as well as outbound marketing. The typical functions of campaign management are as follows:

Planning and designing programs. Programs can be designed using historical performance, anticipated costs and revenue and forecasted profitability and other variables. Although most commonly used for direct mail and e-mail programs, campaign management tools can govern multichannel, multistep, event-driven programs.

Records selection. Often used to choose random samples of customer records for a direct mail program, the campaign selector can also schedule multistage initiatives, choose an effort triggered by dates or, as in the case of the CIC, respond to a customer behavior trigger. The tool, using its "referee" function, can also decide, for example, whether a phone, mail or e-mail offer is most appropriate for an inbound calling customer.

Program tracking and analysis. Results of all these programs are tracked in the system that allows for traditional test and control group evaluations. Resulting data are used by the system to refine program design and selection models and to stage the next appropriate action for customers.
Knowledge Management
In order to ensure quality in customer service interactions, knowledge management solutions are often employed. These solutions provide information that can be accessed either automatically by the system or manually by the CSR. The information typically consists of scripts and outlines that assist an agent in providing support to customers. This information may also be in the form of canned e-mail responses or HTML pages that can be pushed to the customer's browser. The repository of knowledge that drives the system might consist of the following:

Corporate knowledge base. The knowledge base is at the center of knowledge management functionality. This is the repository of information in the form of scripts, canned documents for response and HTML pages.

Third-party knowledge bases. Many knowledge management solution providers have agreements with third-party organizations that gather and disseminate industry data. Through these agreements, relevant information external to the enterprise can be added to the corporate knowledge base. For example, a travel company might license the use of Frommer's knowledge base to be accessed by both customers and CSRs in the CIC.

Natural language searching. This is the ability to use natural language to search the knowledge base for information. This allows for fast access to relevant information and reduces the amount of time and effort needed to train CSRs to use the knowledge base.

Frequent issues listing. This is the ability of the knowledge base to maintain a list or grouping of the most frequently accessed knowledge solutions. It provides for a hot key or another simple method of viewing the frequent issues list.

A knowledge management tool should give users the ability to publish and classify solutions dynamically after solving customers' problems or inquiries. It provides companies with a real-time environment in which to collaborate, share and publish. The most frequently accessed content can be identified and moved up in the data hierarchy for easy use by agents. Agents can solve a problem once, publish it and then other agents can use the solution for hundreds of customers.
Reporting and Analysis
Reporting and analysis play an important role in customer contact center management. Operational data such as average response time, abandonment rate, elevation/transfer rate and call duration are vital to forecasting resources and understanding performance. Reporting can also be used to provide insight into enterprise operations. Information such as number of interactions or incidents by product can be used in product development efforts. Nearly all contact center solutions provide some reporting functionality, but usually additional third-party reporting solutions are needed in order to optimize the use of the contact center data fully.

The ability to carry out sophisticated database analysis to provide concrete recommendations to enhance marketing decision-making is integral to the success of a reporting and analysis system. This capability should include segmentation and profiling, cluster analysis, market basket analysis and predictive modeling and scoring using both customer data and input from the Web and the call center environment. Other reporting and analysis functionality might include the following:

Real-time reporting. Provides managers with up-to-the-second detail on resource allocation and activity queuing. Because these reports are dynamic--ideally live--they are typically viewed onscreen.

standard report writing. This refers to the ability to create reports based on the information available in a given database. Report writing tools tend to be graphics-based, making use of drag-and-drop functionality. Reports that focus on customer acquisition, conversion and retention metrics, customer behavior patterns, promotional effectiveness, ad evaluation, Web-site navigation, supplier optimization, pricing, merchandise assortment and customer segmentation should be available on a scheduled or ad hoc basis. The reporting system should enable users to navigate and search high-resolution, personalized content in reports that are viewable in a pure browser environment without the need for plug-ins. The system would also enable developers to build reports that access any data source, do any calculation, compose any format and seamlessly integrate with any Web site. Users should be able to generate reports on demand to be viewed immediately or generate them on a schedule and cache them to be viewed later, such as with weekly sales reports.

Multidimensional analysis. Referred to as multidimensional online analytical processing (MOLAP), this type of reporting typically requires a special tool for building cubes that provide multidimensional views of data, allowing all information to be arranged around a specific element or set of parameters, such as the customer interaction.

Interaction analyzer. The interaction analyzer is used to gather business intelligence through standard report and ad hoc analysis. Customer interaction analysis and reporting include agent activity and reporting and campaign results analysis and reporting.

Other general considerations. All systems should be extensible markup language (XML) compatible. This will enable applications to incorporate data functionality from third-party Web sites and applications. Web page collaboration click-stream agents can track a customer to see which pages the customer has already viewed and then recommend or push pages they have not yet seen.

While the technology described above is not intended to provide an all-encompassing requirements specification to build a customer interaction center, it should provide the foundation necessary to start a dialogue within an organization. That dialogue may be the first important step in an organization's desire to differentiate itself competitively through optimal customer service. Whether your business is conducted through brick and mortar or over the Internet, you are spending money to acquire customers. But that money goes to waste if you have a call service center system that falls short of delivering exceptional customer service.

<! *************** END OF MAIN *******************************************>