Call Center Company
Call Center Solutions
Call Center Monitoring System
Call Center Simulator
IVR / ACD Simulation
Predictive Dialer Simulator
Voice Broadcast Simulator

Information
Customer Interaction Center
Call Center Simulation
Call Centers Outsourcing
Call Center Help Services
Call Center Productivity
Call Center Technology
Telemarketing CRM
Call Center Autodialer
Call Center CTI
Inbound Call Center
Call Center Simulation
Call Center Modeling
Call Center Monitoring
Contact Center Software
Call Center Software
Customer Contact Center Technology
Call Center Solutions
Telemarketing Software
Linux Call Center
Outbound Call Center
Call Center Outsourcing
Call Center Services
Call Center Development
Contact Center
Contact Management Center
Call Center CRM

DSC Tech Library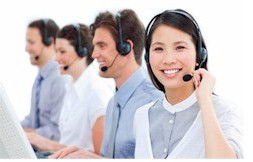 This section of our technical library presents information and documentation relating to Call Center technology and Best Practices plus software and products. Since the Company's inception in 1978, DSC has specialized in the development of communications software and systems. Beginning with our CRM and call center applications, DSC has developed computer telephony integration software and PC based phone systems. These products have been developed to run on a wide variety of telecom computer systems and environments.

The following article presents product or service information relating to call centers and customer service help desks.




---
<! ************** Beginning Of Main ************************>
The Customer Interaction Center Advantage (Part I)
In a two-part series, this column explores channels, tools and processes that help companies provide the tailored customer service they need to stay competitive.

by Scott Stawski and Donna Arnold

---


Almost everyone has a nightmarish customer service story to tell. It's not surprising. Up until the last decade, most businesses had no need to differentiate themselves through superior customer service. Consumers had little influence on how and when businesses responded to their needs for service and support. With none or few alternative choices, poorly served customers reluctantly continued to do business with service-challenged companies.

But now, consumers have their choice of more than enough businesses to meet their needs. State-of-the-art technology has dissolved many of the remaining obstacles to truly differentiated customer service. And savvy businesses have concluded that, in order to differentiate themselves from their competitors, they must provide superior customer service--regardless of the customer contact channel.

Providing exceptional customer service while continuing to manage expenses effectively is a key objective for competitive, customer-focused businesses. Two key questions are as follows:
How do we maximize the value received from our customers by optimizing the value we deliver to our customers?


How do we identify and create lasting relationships with the customers who will be of greatest value to the organization?
Customer Choice
Customers now have more choice in service contact streams than ever before. Whether they initiate contacts by telephone, Web site, Internet chat, e-mail or fax, customers are demanding high-quality interactions and personalized levels of service and support. To provide these levels of service, astute companies have recognized the CRM principle that a real-time, 360-degree view of the customer is necessary regardless of the channel of communication. In order to accomplish this goal, these businesses are designing and implementing customer interaction centers (CIC) which:
Provide consistently high-quality service access regardless of channel


Provide real-time information, customization and personalization to their customers


Use a robust customer-centric information database


Integrate with existing front and back office legacy systems.
Universal Queue
A critical component of the CIC is the universal queue. This central system receives an inbound contact, regardless of channel (phone calls, e-mails, faxes or Web chats), and routes it to the appropriate customer service representative (CSR) based on established business rules. Along with the contact notification, the CSR receives a 360-degree view of the customer's contact and transaction history as well as a recommendation for dealing with the request or problem and identification of sales opportunities.

The CIC system automatically logs every contact event and agent response. It allows agents to add notes on customer issues and problem resolution for every transaction.

The real power of such a system is that each customer issue can be matched to the agent who is best able to service the customer. This is accomplished through a contact identifier such as an in-bound 800 number, e-mail address or customer phone number. This matching process may be as simple as connecting a customer to an agent trained in the product or service that is at issue, or as complex as taking advantage of an agent's education, people skills and experience to deal with an escalated problem. High-value customers would be identified immediately and receive high-priority service.

The fully functional CIC uses several sophisticated hardware and software technologies including the following:
CRM front office technology


Interactive voice response


Computer-telephony integration (CTI)


Fax, e-mail and Web chat communication technology


Campaign management


Knowledge management


Reporting and analysis
CRM Front-Office Technology
The objective of CRM applications is to integrate all customer interactions and data, no matter what the channel, in order to provide the company's agents, partners and customers with a single view of each customer's relationship with the company. An important feature of this objective is the integration of the various points of customer interaction in such a way that any customer event is fully informed by all other customer events, regardless of the medium of communication. Finally, there should be a consistent set of business rules managing all channels.

To be fully integrated into the CIC system, Web-based interactions must be governed by the same standards, values and business processes that govern other forms of customer contact. The CRM applications should also provide real-time recommendations for customer interaction based on customer profiles, transaction histories and clickstream analysis. This CRM function focuses on customer transaction, up-sell and cross-sell potential more than the strategic aspects of customer relationships. The application makes product or service purchase recommendations and provides a personalized customer experience that is based on past history, customer segment analysis and real-time, trigger-based analysis. Having "learned" individual customer's wants, needs and interests, it then delivers the content that matters most to them.

The technology then pools the customer's updated information with knowledge gained from a community of other individuals who share similar tastes and interests in order to provide predictions of future customer behavior. Some other specific requirements might include the following:
Portal desktop: The system should be browser-based for both users and agents and have HTML support for comprehensive usage. This Web browser provides access to customer information, recommendations and knowledge management simultaneously.


Internet application architecture: The overall system can be designed with an Internet application architecture (IAA) that has best of breed functionality and accesses and aggregates resources both inside and outside the corporate firewall.


Real-time personalization capabilities: This uses clickstream tracking, self-learning analytics, collaborative filtering and real-time customer profiling to deliver highly targeted product recommendations, loyalty offers and other personalized content for Web or call center visitors.


Multichannel capability: This includes phone, e-mail, fax and Web chat.


Co-browsing: This function pushes and shares any screen or content to the customer via the Web during a customer service interaction.
Interactive Voice Response (IVR)
IVR technologies are those ubiquitous systems that enable customers to respond to voice prompt menus using a touch-tone phone or verbal input. These menus typically lead customers through a number of different processes, including placing orders, providing verification information, making inquiries and self service.
Computer-Telephony Integration
CTI connects the customer event data (such as that provided in the IVR interaction) with pre-existing customer information and campaigns that may be under way, and sends all this information to the CSR interface in what is commonly called a screen pop. Simply put, the CSRs are instantaneously provided with helpful information specific to the customer with whom they are interacting. Other technologies might include:
Analog telephony capability
Skill-based routing to transfer customers to the most suitable CSR.


<! *************** END OF MAIN *******************************************>