Call Center Company
Call Center Solutions
Call Center Monitoring System
Call Center Simulator
IVR / ACD Simulation
Predictive Dialer Simulator
Voice Broadcast Simulator

Information
Call Center Integration
Call Centers Outsourcing
Call Center Help Services
Call Center Productivity
Call Center Technology
Telemarketing CRM
Call Center Autodialer
Call Center CTI
Inbound Call Center
Call Center Simulation
Call Center Modeling
Call Center Monitoring
Contact Center Software
Call Center Software
Customer Contact Center Technology
Call Center Solutions
Telemarketing Software
Linux Call Center
Outbound Call Center
Call Center Outsourcing
Call Center Services
Call Center Development
Contact Center
Contact Management Center
Call Center CRM

DSC Tech Library
Customer Call Centers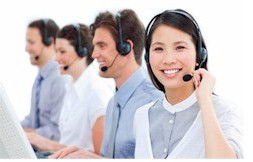 This section of our technical library presents information and documentation relating to Call Center technology and Best Practices plus software and products. Since the Company's inception in 1978, DSC has specialized in the development of communications software and systems. Beginning with our CRM and call center applications, DSC has developed computer telephony integration software and PC based phone systems. These products have been developed to run on a wide variety of telecom computer systems and environments.

The following article presents product or service information relating to call centers and customer service help desks.




---
<! ************** Beginning Of Main ************************>
Innovative Call Center Design
---


The following is an extract from the article "Innovative Call Center Design" by David Myron from CRM Magazine:

"Bell ExpressVu, a division of Bell Canada, prides itself on its ability to retain agents. Its annual agent attrition rate generally hovers at about 16 to 18 percent and only 3 percent of promoted agents leave the company annually. In January 2002, however, this nirvana was threatened.

As sales sizzled at Bell ExpressVu--Canada's largest satellite provider--it soon became evident that to meet customer service demands the company would have to double its customer service division to 400 employees, which was impossible to do in its existing Toronto offices.

So the company moved its customer service center to another of Bell Canada's multitenant buildings, a 60,000-square-foot facility about four miles away from its headquarters. This added some 20 to 30 minutes to employees' commute due to the highly congested roadways around the larger facility. "That's enough to get some people to quit," says Mark Knapton, vice president of call center sales and customer service at Bell ExpressVu. In fact, Knapton was expecting to lose as many as 40 percent of the customer service reps.

To make matters worse, he adds, agents were to leave a "highly desirable location," which featured a satellite dish farm outside and a "funky interior" in the single-level, converted warehouse. "[The previous call center] represented our culture: a fast growing, modern company with a high-tech feel to it."

Bell ExpressVu executives were concerned about the harder commute and the new environment, which Knapton says was "too uniform and too rigid." The larger office space "had a huge floor plate, which was a great opportunity," Knapton says, "but how do we create a sense of belonging and community in a space that large?"

Bell ExpressVu chose to hand over the project--its largest structural project to date--to architectural firm Julian Jacobs Architects Ltd., with which Bell had previously worked. Under the direction of Julian Jacobs Architects' interior design partner, Gail Weininger, the drab, rigid office space was completely renovated. Workstations were built in grape clusters that use less space than the traditional eggcrate grid design. A serpentine walkway of stained concrete was built to break up the large space and evoke the feel of a villa, with a soothing, comfortable flow. Vine-covered trellises were erected to mask overhead cables, and to add greenery and dappled shadows. The furniture, too, was designed with appearance and comfort in mind. Workstations were opened up to 120-degree angles, rather than traditional 90-degree angles, to create more of a sense of space at each workstation.

The new facility accommodates 773 employees at 600 workstations. Aside from solving functional needs, the new design created more space for each person, a 10 percent savings on IT (mainly because cables could rest on the overhead trellises), and most important, the attrition rate remained unchanged.

The creative design soon became "the envy of other people in the building," and set the tone for subsequent redesigns in other departments at Bell Canada, Knapton says. Julian Jacobs, principal at Julian Jacobs Architects, says that at least 100 corporate entities in the past year and a half have come from as far away as Japan to view the Bell ExpressVu call center....."


---

To view the entire article, please visit www.destinationcrm.com.


---
<! *************** END OF MAIN *******************************************>